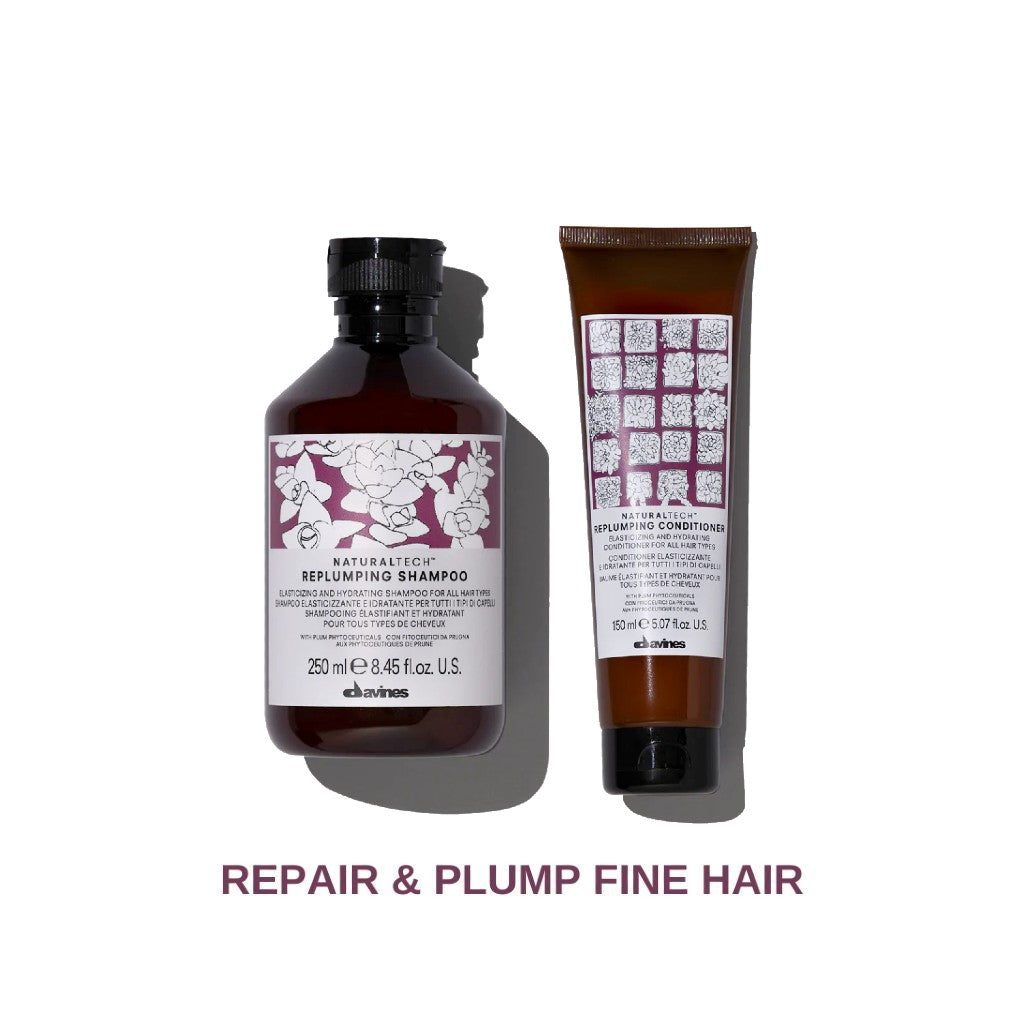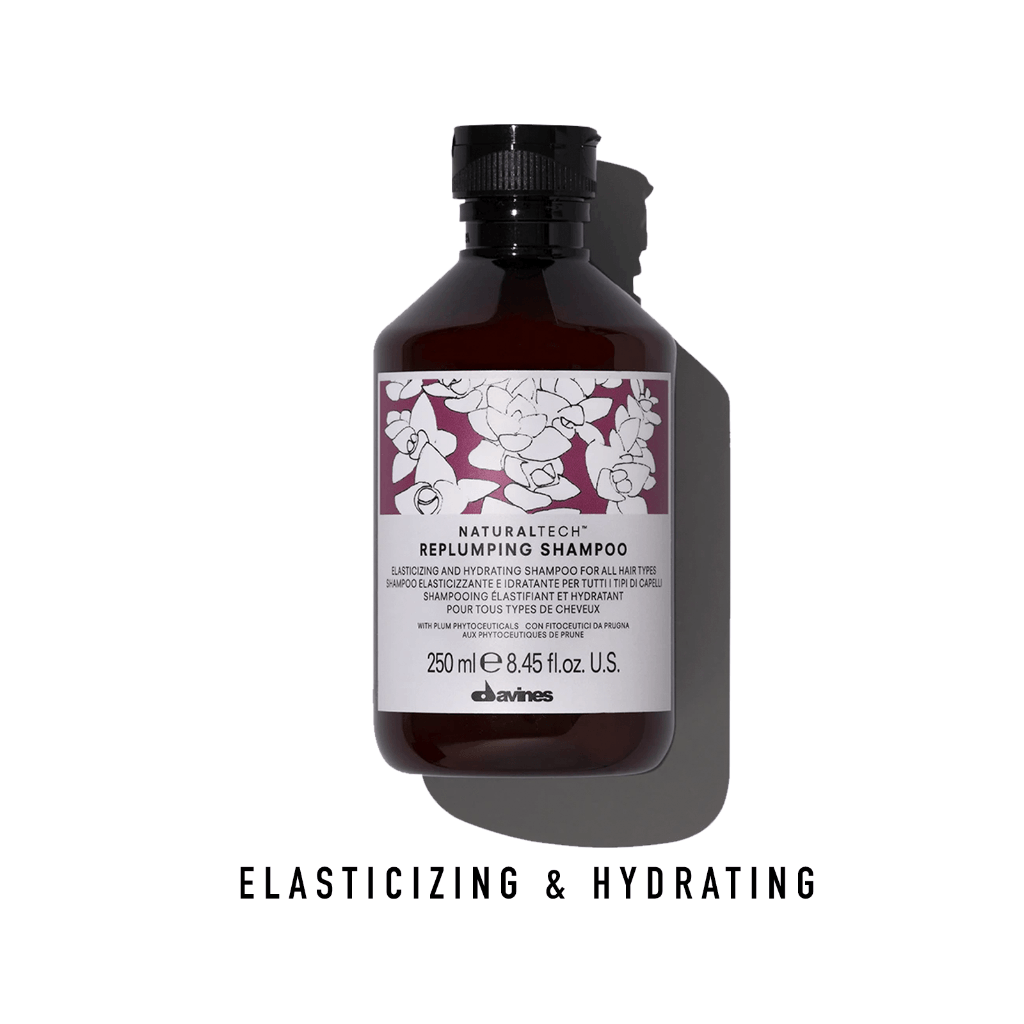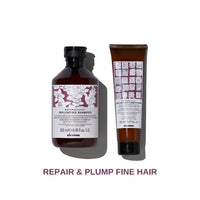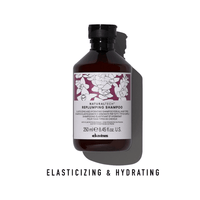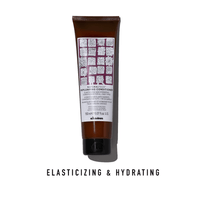 Davines Replumping & Repairing Set
Davines Replumping Shampoo 250ml
Contains surfactants that cleanse gently without altering hair structure. Its active ingredients also give elasticity, moisture, and protection for all kinds of hair.

Davines Replumping Conditioner 150ml
Formulated to untangle, compact and give renewed elasticity to the hair. The selected active ingredients moisturize and protect the hair structure.
Davines' Naturaltech line is
designed to treat specific hair or scalp problems. The Replumping range is great for strengthening and boosting volume for limp and lifeless hair.
<p><strong>Davines Replumping Shampoo 250ml</strong></p><ul><li>Hair appears thicker, fuller and is protected from breakage.</li><li>Without parabens.</li></ul><p><strong>Davines Replumping Conditioner 250ml</strong></p><ul><li>The formula is rich in polyphenols and flavonoids, antioxidants that combat free radicals and have toning and elasticizing properties.</li><li>Without parabens.</li></ul><p><strong>Davines Replumping Hair Filler Superactive 100ml</strong></p><ul><li>Hair appears thicker, fuller and is protected from breakage.</li><li>Without parabens.</li></ul>
<p><strong>REPAIRING &amp; REPLUMPING ROUTINE</strong></p><ol><li>Apply <a href="https://www.hairmnl.com/products/davines-naturaltech-replumping-shampoo-elasticizing-and-hydrating-for-all-hair-types"><strong>Davines Replumping Shampoo</strong></a> to scalp and damp hair and massage gently. Rinse out carefully and repeat application if needed.</li><li>Apply about a tablespoon of <a href="https://www.hairmnl.com/products/davines-naturaltech-replumping-conditioner-elasticizing-and-hydrating-for-all-hair-types"><strong>Davines Replumping Conditioner</strong></a> to damp hair following Replumping Shampoo, from lengths to ends (avoiding roots) and leave for 2-3 minutes. Comb through, then rinse thoroughly.</li><li>Towel dry hair thoroughly after&nbsp;applying Davines Replumping Shampoo and Conditioner. Spray <a href="https://www.hairmnl.com/products/davines-naturaltech-replumping-hair-filler-superactive-replumping-and-compacting-fluid-for-all-hair-types"><strong>Davines Replumping Hair Filler Superactive</strong></a> on (approximately 3g all over hair). Do not rinse out.&nbsp;</li></ol>
<p><strong>KEY&nbsp;INGREDIENTS</strong></p><ul><li>Plum phytoceuticals - rich in polyphenols and flavonoids with strong toning, elasticizing, and anti-oxidant properties to combat free radicals.</li><li>Gentle surfactants - for gentle cleansing.</li><li>Petit grain essential oils - for elasticity and compactness.<br>&nbsp;</li></ul><p><strong>FULL INGREDIENTS</strong></p><p><strong>Davines Replumping&nbsp;Shampoo 250ml</strong><br>AQUA / WATER / EAU, SODIUM LAUROYL METHYL ISETHIONATE, COCAMIDOPROPYL BETAINE, DISODIUM COCOAMPHODIACETATE, GLYCERIN, SODIUM LAUROYL SARCOSINATE, POLYSORBATE 20, SODIUM CHLORIDE, BENZYL ALCOHOL, PARFUM / FRAGRANCE, ACRYLATES/C10-30 ALKYL ACRYLATE CROSSPOLYMER, LIMONENE, SODIUM BENZOATE, PRUNUS DOMESTICA FRUIT EXTRACT, GLYCOL DISTEARATE, TRISODIUM ETHYLENEDIAMINE DISUCCINATE, POLYQUATERNIUM-10, DISODIUM EDTA, COCO-GLUCOSIDE, SODIUM HYDROXIDE, CITRAL, GLYCERYL STEARATE, GLYCERYL OLEATE, CITRIC ACID.<br>&nbsp;</p><p><strong>Davines Replumping Conditioner 250ml</strong><br>AQUA / WATER / EAU, GLYCERIN, CETYL ALCOHOL, CETRIMONIUM CHLORIDE, CETEARYL ALCOHOL, BENZYL ALCOHOL, PARFUM / FRAGRANCE, SIMMONDSIA CHINENSIS SEED OIL / SIMMONDSIA CHINENSIS (JOJOBA) SEED OIL, PRUNUS DOMESTICA FRUIT EXTRACT, LIMONENE, SODIUM BENZOATE, DISODIUM EDTA, CITRIC ACID, CITRAL.</p>