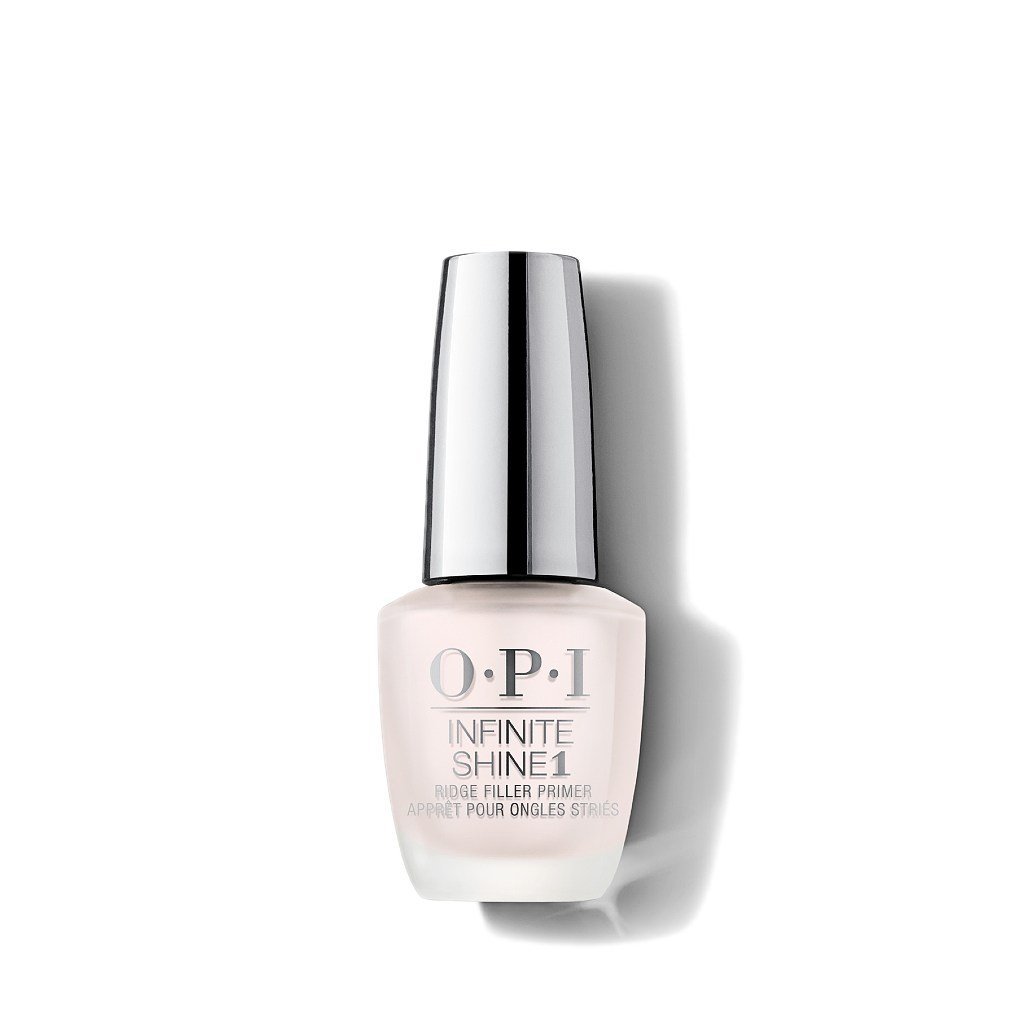 OPI Infinite Shine Ridge Filler Primer
Nail ridge filler works as a base coat, helping to smooth and fill ridges on the natural surface and provide optimum adhesion to nail color.
OPI Infinite Shine is a 3 step system to long-lasting nail polish color. With OPI's ProStay Technology, this polish remains vibrant for up to 11 days.
<br>
</div>
<div style="text-align: left;" data-mce-style="text-align: left;">
<ul>
<li>Nail ridge filler infused with antioxidant-rich lotus flower oil and bamboo extract.</li>
<li>Conditions, hydrates, and moisturizes nails.</li>
</ul>
<meta charset="utf-8">
<ul></ul>
</div>
<div style="text-align: left;" data-mce-style="text-align: left;">
</span></div>
<div style="text-align: left;" data-mce-style="text-align: left;">
<meta charset="utf-8"> <strong data-mce-fragment="1">1. Prime</strong><span data-mce-fragment="1"> - Apply one coat of the </span><strong>OPI Infinite Shine Ridge Filler Primer</strong><span data-mce-fragment="1"> to properly prepped nails.</span><br data-mce-fragment="1"><strong data-mce-fragment="1">2. Color</strong><span data-mce-fragment="1"> - Apply two coats of OPI Infinite Shine color. Ensure proper dry time between coats.</span><br data-mce-fragment="1"><strong data-mce-fragment="1">3. Gloss</strong><span data-mce-fragment="1"> - Finish with one coat of </span><a href="https://www.hairmnl.com/products/opi-infinite-shine-prostay-gloss-top-coat" title="HairMNL OPI Infinite Shine ProStay Gloss Top Coat" target="_blank">OPI Infinite Shine Gloss</a><span data-mce-fragment="1"> top coat for a durable finish that cures to a mirror shine in natural light.</span>
</div>
<div style="text-align: left;" data-mce-style="text-align: left;">
<br>
<ol></ol>
<iframe width="560" height="315" src="https://www.youtube.com/embed/e7P5ibdCLNw" frameborder="0" allow="accelerometer; autoplay; encrypted-media; gyroscope; picture-in-picture" allowfullscreen=""></iframe>
</div>
<div style="text-align: left;" data-mce-style="text-align: left;">
</div>
<div style="text-align: left;" data-mce-style="text-align: left;"><strong>KEY INGREDIENTS</strong></div>
<div style="text-align: left;" data-mce-style="text-align: left;">Contains lotus flower extract, bamboo extract, and moringa extract to help nails feel smooth and fill ridges on the natural nail surface. Moringa extract is known to help nourish and restore the perfect condition of the nail.</div>
<div style="text-align: left;" data-mce-style="text-align: left;"></div>
<div style="text-align: left;" data-mce-style="text-align: left;"><strong>FULL INGREDIENTS</strong></div>
<div style="text-align: left;" data-mce-style="text-align: left;"><span>Butyl Acetate, Ethyl Acetate, Polyvinyl Butyrate, Tosylamide/Epoxy Resin, Acetyl Tributyl Citrate, Silica, n-Butyl Alcohol, Microcrystalline Cellulose, Hydrogenated Castor Oil/Sebacic Acid Copolymer, Benzophenone-1, Tocopheryl Acetate, Aqua/Water/Eau, Caprylic/Capric Triglyceride, Helianthus Annuus (Sunflower) Seed Oil, Propylene Glycol, Moringa Oleifera Seed Oil, Quartz, Bambusa Vulgaris Extract, Potassium Sorbate, Nelumbo Nucifera Flower Extract, Sorbic Acid, Phosphoric Acid, Tocopherol, CI 77891 (Titanium Dioxide), CI 77491 (Iron Oxides), CI 19140 (Yellow 5).</span></div>