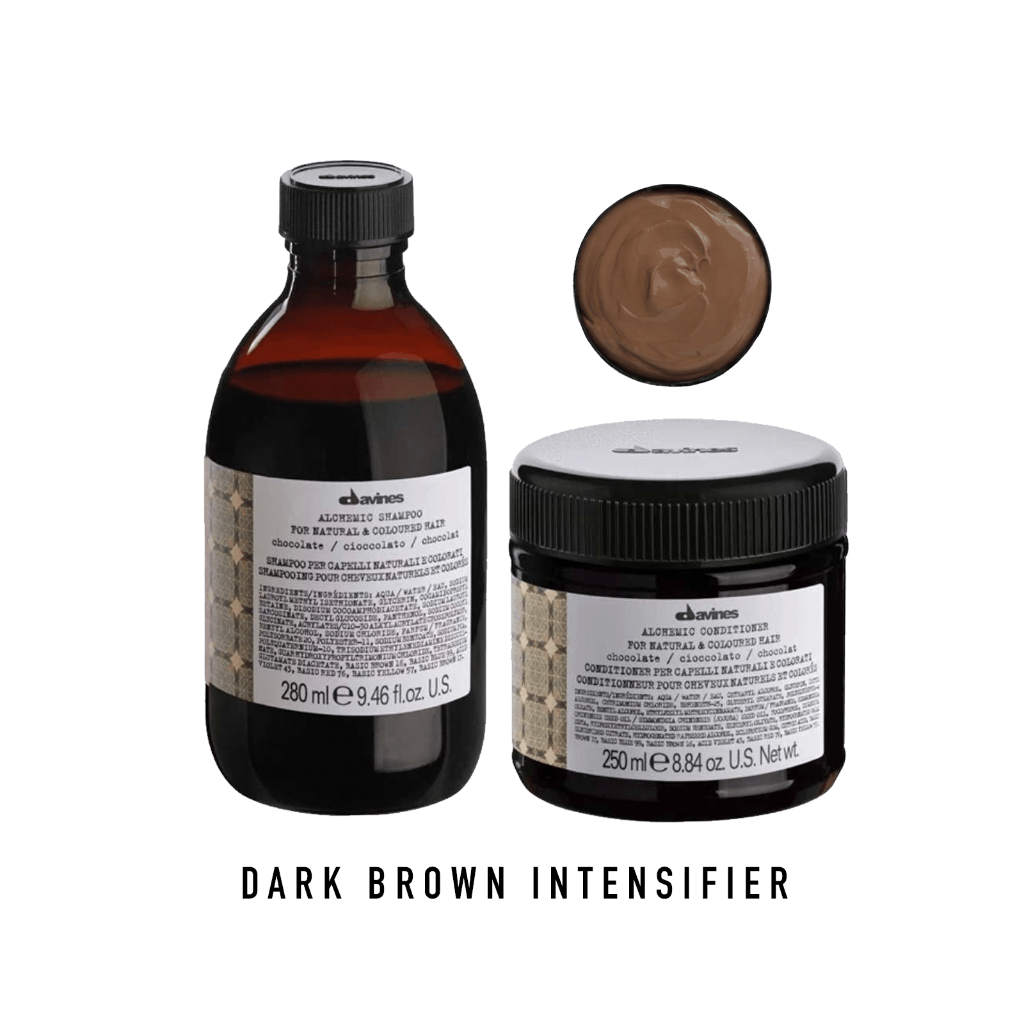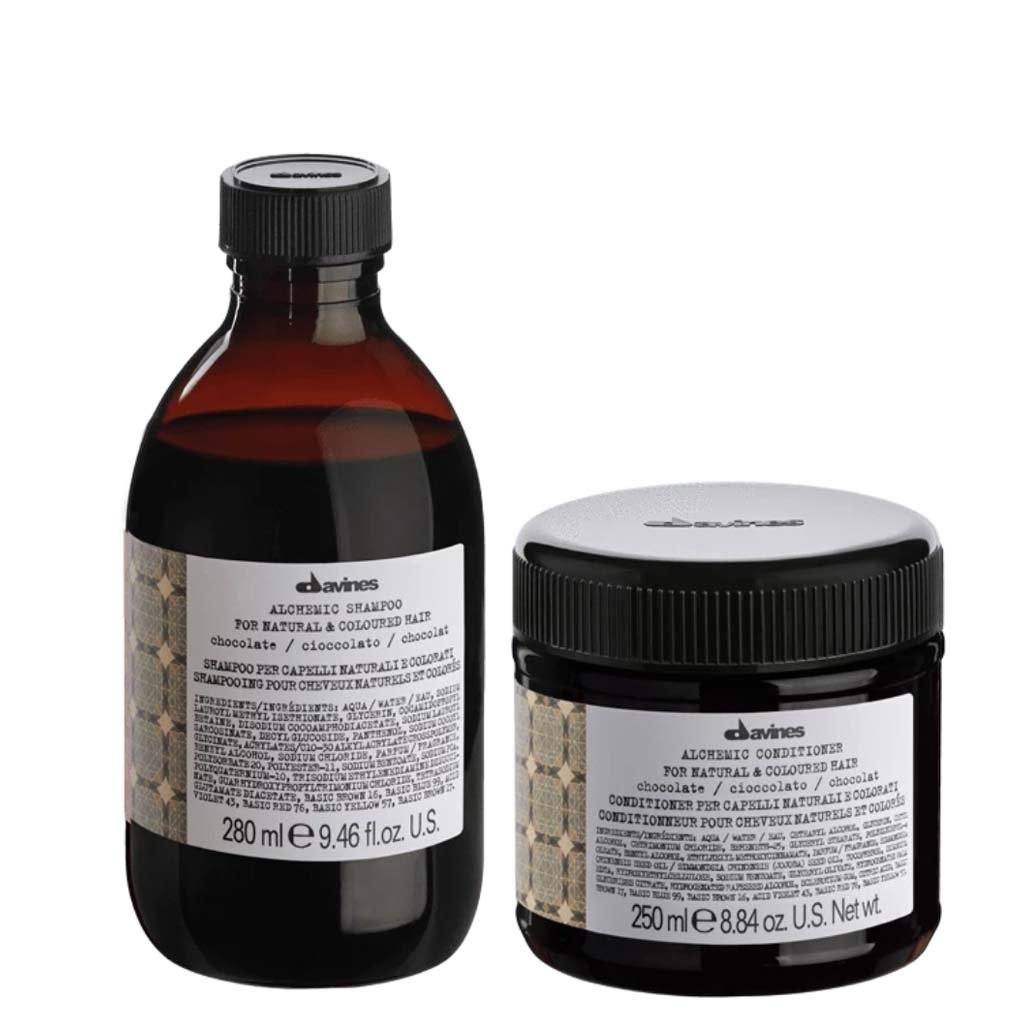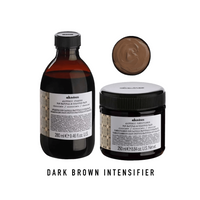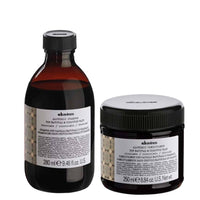 Davines Alchemic Chocolate Shampoo & Conditioner
Color-enhancing shampoo and conditioner for dark brown or black tones. Intensifies and illuminates these natural or colored dark brown shades.
Davines Alchemic Chocolate Shampoo 280ml
Its formula is enriched with Vitamin B for a strong moisturizing power while preventing hair damage to achieve healthy and softer hair.
Davines Alchemic Chocolate Conditioner 250ml
It has Jojoba Oil to give high shine, softness and conditioning effect.
Ideal for those with dark brown to black hair.
Made for those who need a quick touch up of their hair colour, this line of Alchemic Shampoos and Conditioners intensify and illuminate natural or cosmetic hair colour.
These products are improved and reformulated sustainably with ingredients up to 95% of natural origin and up to 98% biodegradable. The new formulation is also free from silicones, sulphates and parabens. Alchemic Shampoo and Conditioner containers are made using 100% recycled plastic material.
<p>Color-enhancing shampoo and conditioner for dark brown or black tones. Davines Alchemic Chocolate Shampoo and Conditioner intensifies and illuminates these natural or colored dark brown shades.</p><p><strong>Davines Alchemic Chocolate Shampoo&nbsp;280ml</strong></p><ul><li>Direct pigments deposit color without an activator.</li><li>Without sulphates, silicones and parabens.</li><li>100% surfactants from natural origin</li></ul><p><strong>Davines Alchemic Chocolate Conditioner 250ml</strong></p><ul><li>Innovative direct pigments deposit color without an activator, and hydrolyzed milk proteins condition and protect.</li><li>Without silicones and parabens</li></ul>
<ul><li>Apply <a href="https://www.hairmnl.com/products/davines-alchemic-chocolate-shampoo"><strong>Alchemic Chocolate Shampoo</strong></a> on wet hair.</li><li>Leave it for 5 minutes and the rinse.&nbsp;</li><li>queeze out excess water from hair and apply <a href="https://www.hairmnl.com/products/davines-alchemic-chocolate-conditioner"><strong>Alchemic Chocolate Conditioner</strong></a> on lengths and ends. Emulsify to make sure that every strand is coated.</li><li>Leave it for 10-20 minutes, depending on how intense you want the colour to be.&nbsp;</li></ul><p><i><strong>*Your hair must be pre-lightened to achieve intense colour.</strong></i></p>
<p><strong>Davines Alchemic Chocolate Shampoo 280ml</strong><br>AQUA / WATER / EAU, SODIUMLAUROYL METHYL ISETHIONATE, GLYCERIN, COCAMIDOPROPYLBETAINE, DISODIUM COCOAMPHODIACETATE, SODIUM LAUROYLSARCOSINATE, DECYL GLUCOSIDE, PANTHENOL, SODIUM COCOYLGLYCINATE, ACRYLATES/C10-30 ALKYL ACRYLATE CROSSPOLYMER,BENZYL ALCOHOL, SODIUM CHLORIDE, PARFUM / FRAGRANCE,POLYSORBATE 20, POLYESTER-11, SODIUM BENZOATE, SODIUM PCA,POLYQUATERNIUM-10, TRISODIUM ETHYLENEDIAMINE DISUCCINATE,GUAR HYDROXYPROPYLTRIMONIUM CHLORIDE, TETRASODIUMGLUTAMATE DIACETATE, BASIC BROWN 16, BASIC BLUE 99, ACIDVIOLET 43, BASIC RED 76, BASIC YELLOW 57, BASIC BROWN 17.</p><p><strong>Davines Alchemic Chocolate Conditioner 250ml</strong><br>AQUA / WATER / EAU, CETEARYL ALCOHOL, GLYCERIN, CETYLALCOHOL, CETRIMONIUM CHLORIDE, BEHENETH-25, GLYCERYL STEARATE, POLYGLYCERYL-4OLEATE, BENZYL ALCOHOL, ETHYLHEXYL METHOXYCINNAMATE, PARFUM / FRAGRANCE, SIMMONDSIACHINENSIS SEED OIL / SIMMONDSIA CHINENSIS (JOJOBA) SEED OIL, TOCOPHEROL, DISODIUMEDTA, HYDROXYETHYLCELLULOSE, SODIUM BENZOATE, GLYCERYL OLIVATE, HYDROGENATED PALMGLYCERIDES CITRATE, HYDROGENATED RAPESEED ALCOHOL, SCLEROTIUM GUM, CITRIC ACID, BASICBROWN 17, BASIC BLUE 99, BASIC BROWN 16, ACID VIOLET 43, BASIC RED 76, BASIC YELLOW 57.</p>