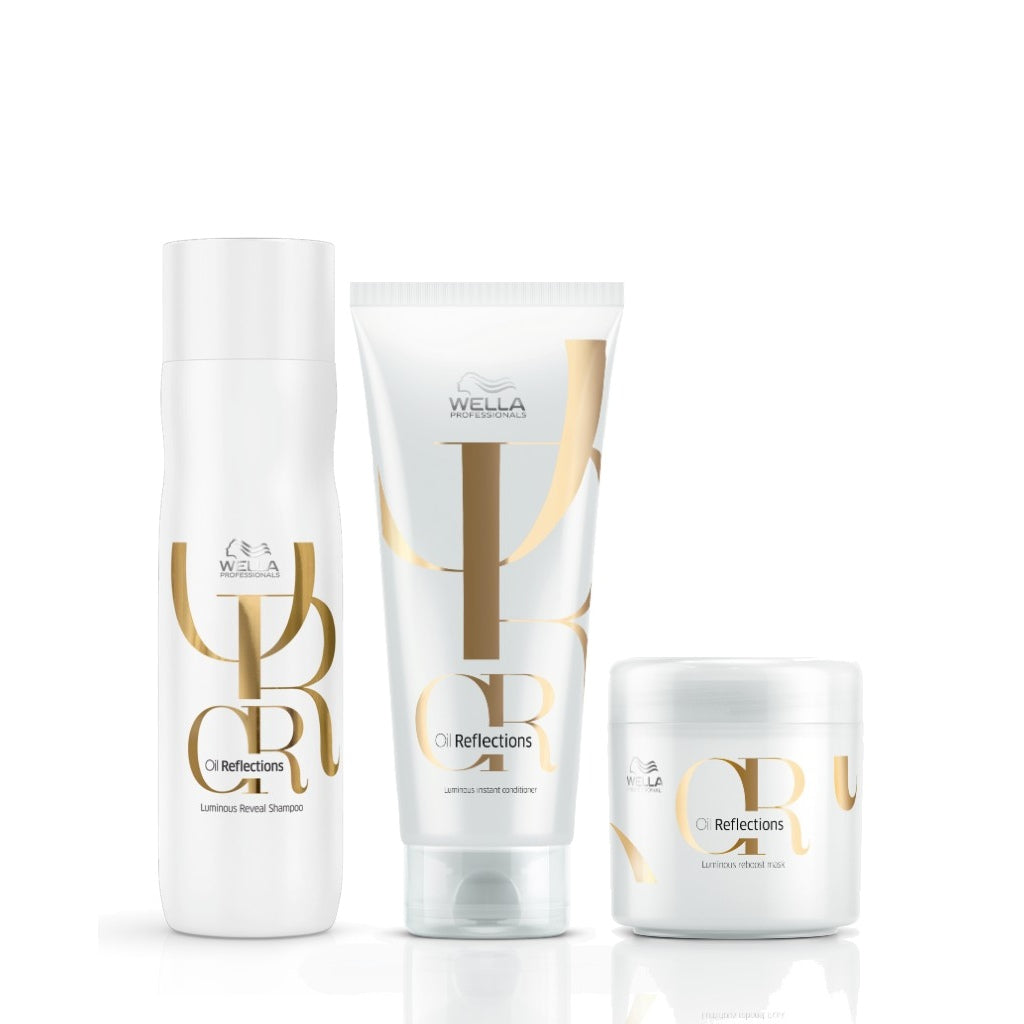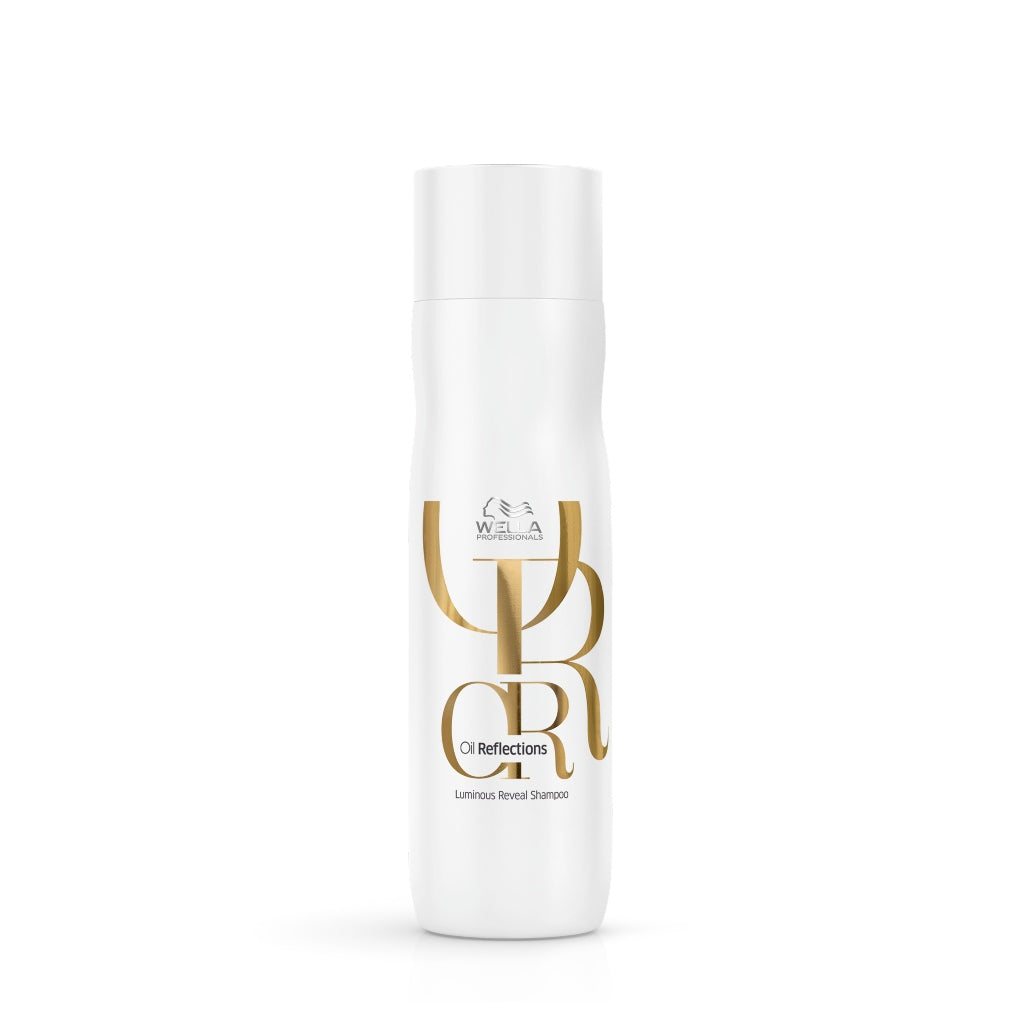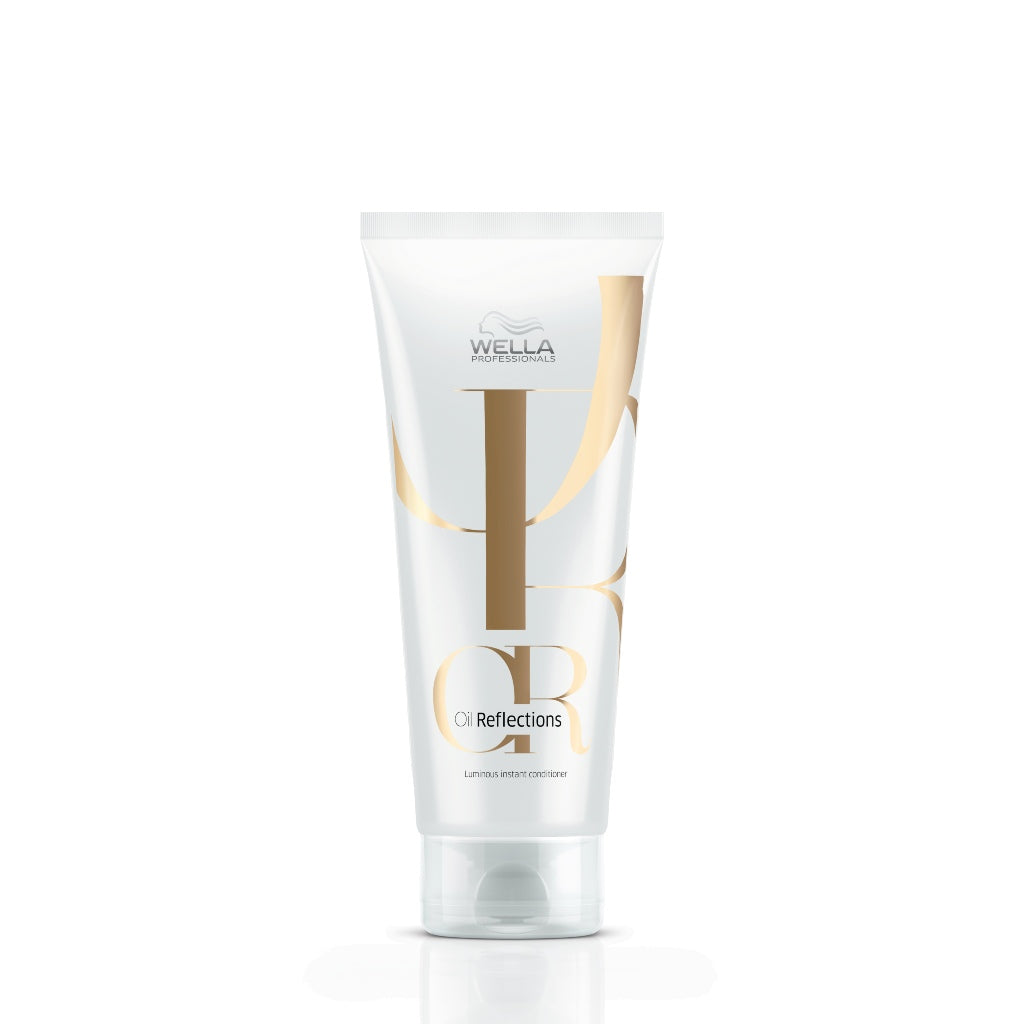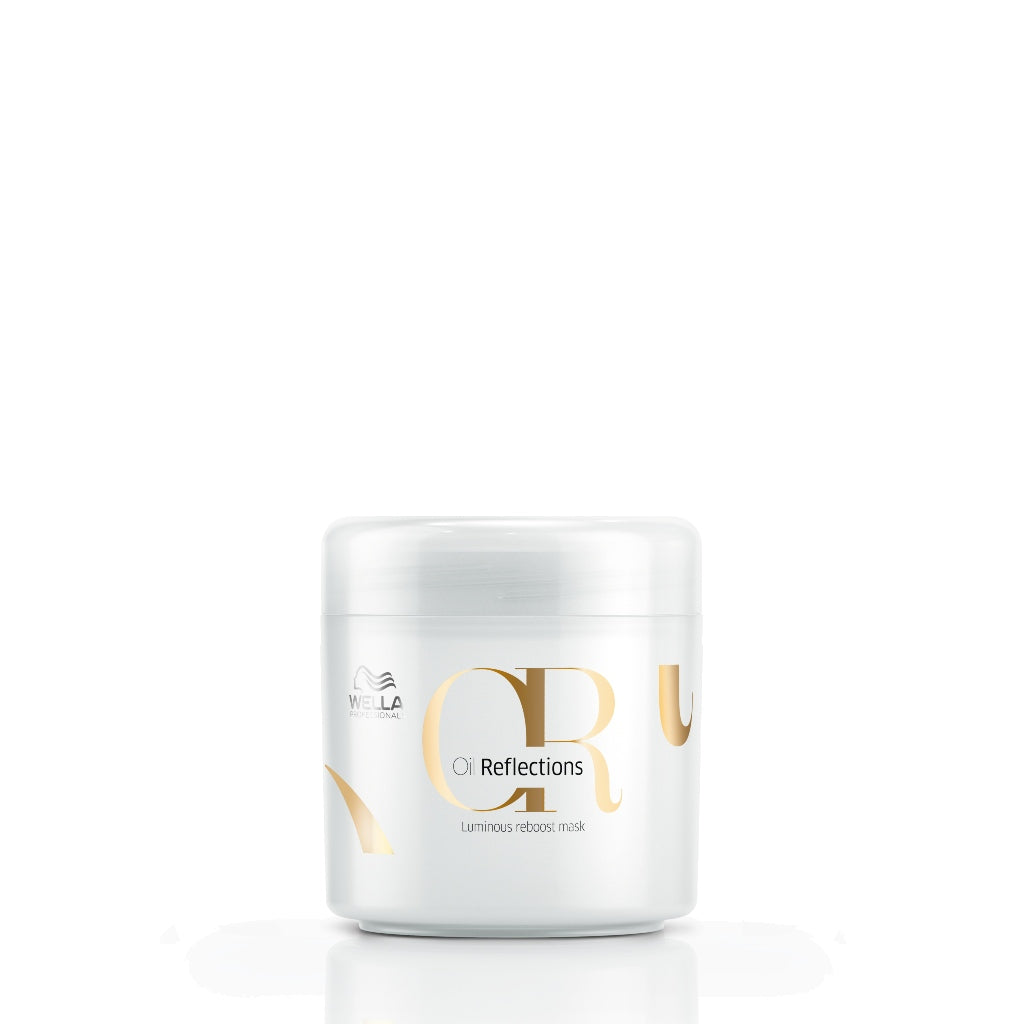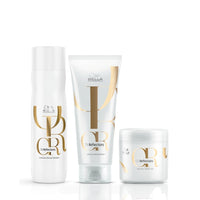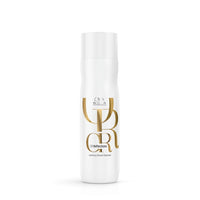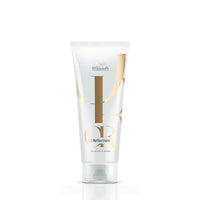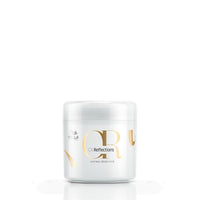 Wella Professionals Oil Reflections Luminous Set
Oil Reflections is Wella Professionals' precious oil collection of products for shiny hair. With camellia oil and white tea extract, the Oil Reflections products leave the hair up to 3 times smoother* and create instant luminosity.
Luminous Reveal Shampoo 250ml
Light moisturizing shampoo for luminous hair. It helps protect hair cuticles from free radicals. Hair surface is cleansed from impurities and protected from minerals.
Luminous Instant Conditioner 200ml
30-second smoothening conditioner created for all hair types to lock moisture in and leave the hair luminous and smooth. Made with white tea extract for luscious hair.
Luminous Reboost Mask 150ml
Created for all hair types, this moisturizing mask that nourishes and replenishes the hair structure. Formulated with essential conditioning elements like white tea extract.
*shampoo, mask and oil vs. non conditioning shampoo

<p style="margin-left:0px;"><strong>Luminous Reveal Shampoo 250ml</strong><br>The Oil Reflections shampoo and conditioner together make a killer combo providing clean and hydrated hair long with adding shine. It also suits colored hair, helping to add a glossy shine to strands, this can work wonders.</p><p style="margin-left:0px;"><strong>Luminous Instant Conditioner 200ml</strong><br>Hydrate and tame your hair in an instant with this nourishing conditioner.</p><p style="margin-left:0px;"><strong>Luminous Reboost Mask 150ml</strong><br>Oil Reflections Mask nourishes and replenishes the hair structure leaving the hair soft, smooth and luminous. The combination of ingredients and technologies protects hair against degeneration leaving the hair smoother and with instant luminosity. An absolute must with color treated hair.</p>
<p style="margin-left:0px;"><span style="color:rgb(0,0,0);"><strong>Luminous Reveal Shampoo 250ml</strong></span></p><ul><li><span style="color:rgb(0,0,0);">Wet your hair and apply a small proportion of Luminous Reveal Shampoo on the hair. Work the lather.</span></li><li>Rinse thoroughly.</li><li><span style="color:rgb(0,0,0);">Compliment it with Luminous Instant Conditioner.</span></li></ul><p style="margin-left:0px;"><span style="color:rgb(0,0,0);"><strong>Luminous Instant Conditioner 200ml</strong></span></p><ul><li><span style="color:rgb(0,0,0);">Apply a small portion of Oil Reflections Luminous Instant Conditioner on damp hair.</span></li><li><span style="color:rgb(0,0,0);">Leave the product in the hair for 30 seconds or more (depending on the frizz and dryness).</span></li><li><span style="color:rgb(0,0,0);">Wash off the product thoroughly.</span></li></ul><p style="margin-left:0px;"><span style="color:rgb(0,0,0);"><strong>Luminous Reboost Mask 150ml</strong></span></p><ul><li><span style="color:rgb(0,0,0);">Cleanse your hair with Oil Reflection Luminous Reveal Shampoo.</span></li><li><span style="color:rgb(0,0,0);">Apply the hair mask on the hair and comb through.</span></li><li><span style="color:rgb(0,0,0);">Leave the product for 3-5 minutes and then rinse thoroughly.</span></li></ul>
<p style="margin-left:0px;"><strong>KEY INGREDIENT</strong><br>White Tea Extract</p><p style="margin-left:0px;"><strong>FULL INGREDIENTS</strong></p><p style="margin-left:0px;"><strong>Luminous Reveal Shampoo 250ml</strong><br>AQUA, SODIUM LAURYL SULFATE, SODIUM LAURETH SULFATE, COCAMIDOPROPYL BETAINE, SODIUM XYLENESULFONATE, SODIUM CITRATE, PANTHENOL, PARFUM, SODIUM CHLORIDE, SODIUM BENZOATE, CITRIC ACID, HYDROXYPROPYL METHYLCELLULOSE, SALICYLIC ACID, ALLANTOIN, TETRASODIUM EDTA, SODIUM HYDROXIDE, TRISODIUM ETHYLENEDIAMINE DISUCCINATE, METHYLPARABEN, HEXYL CINNAMAL, PROPYLENE GLYCOL, LINALOOL, ALPHA-ISOMETHYL IONONE, CAMELLIA SINENSIS LEAF EXTRACT.</p><p style="margin-left:0px;"><span style="color:rgb(0,0,0);"><strong>Luminous Instant Conditioner 200ml</strong></span><br>AQUA, STEARYL ALCOHOL, BEHENTRIMONIUM CHLORIDE, CETYL ALCOHOL, ISOPROPYL ALCOHOL, PARFUM, BIS-AMINOPROPYL DIMETHICONE, BENZYL ALCOHOL, PHENOXYETHANOL, METHYLPARABEN, TOCOPHERYL ACETATE, PROPYLPARABEN, DISODIUM EDTA, HEXYL CINNAMAL, PROPYLENE GLYCOL, LINALOOL, ALPHA-ISOMETHYL IONONE, CAMELLIA SINENSIS LEAF EXTRACT, MACADAMIA TERNIFOLIA SEED OIL, CAMELLIA OLIEFERA SEED OIL.</p><p style="margin-left:0px;"><strong>Luminous Reboost Mask 150ml</strong><br>AQUA, STEARYL ALCOHOL, BEHENTRIMONIUM CHLORIDE, CETYL ALCOHOL, BIS-AMINOPROPYL DIMETHICONE, PANTHENOL, ISOPROPYL ALCOHOL, PARFUM, BENZYL ALCOHOL, PHENOXYETHANOL, PEG-2M, METHYLPARABEN, TOCOPHERYL ACETATE, PROPYLPARABEN, DISODIUM EDTA, HEXYL CINNAMAL, PROPYLENE GLYCOL, LINALOOL, ALPHA-ISOMETHYL IONONE, SILICA, CITRIC ACID, CAMELLIA SINENSIS LEAF EXTRACT, MACADAMIA TERNIFOLIA SEED OIL, CAMELLIA OLIEFERA SEED OIL, BHT.</p>