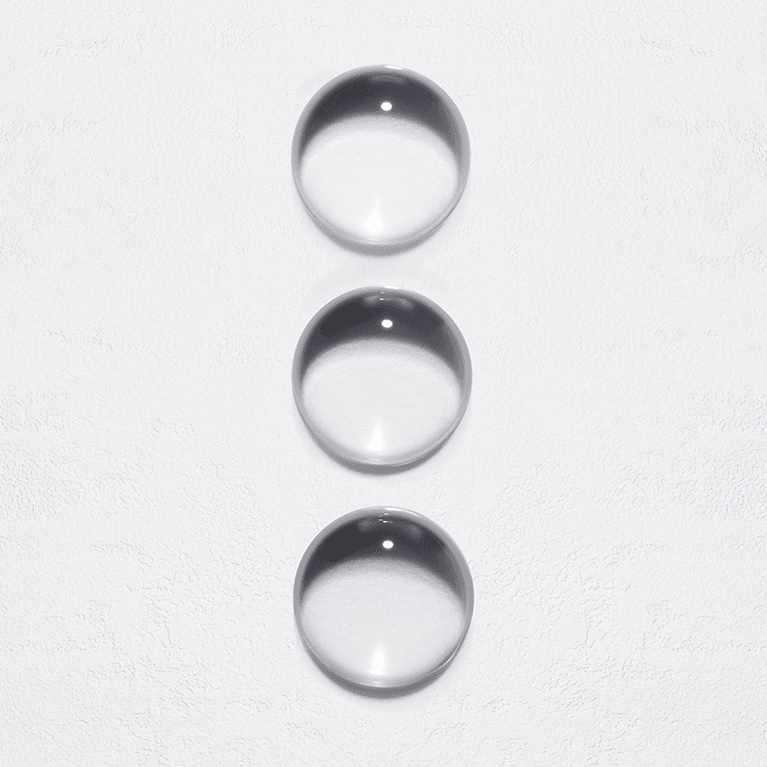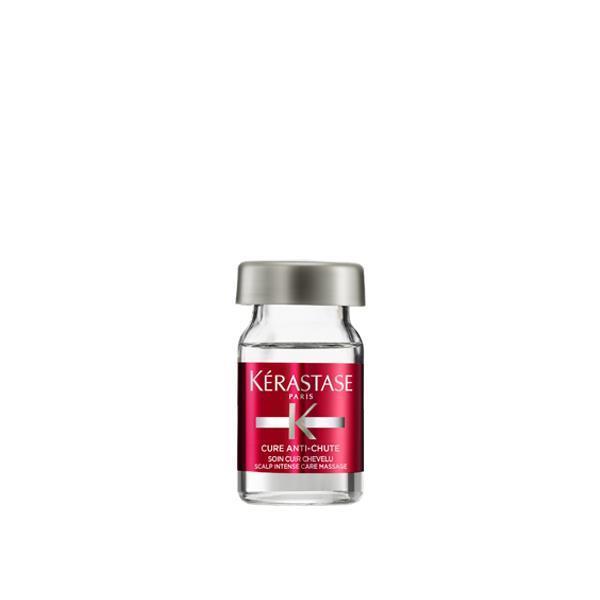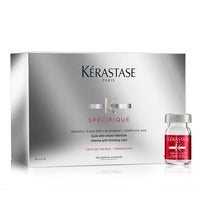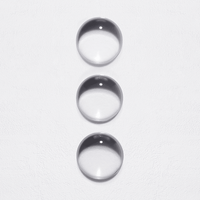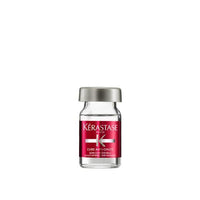 Kérastase Spécifique Cure Anti-Hairloss Treatment 6ml x 42
Intense anti-thinning care that helps maintain hair density. Daily application for 6 weeks.
This intensive anti-hair loss cure inhibits the loss of hair and acts to improve the quality of new hair and density, while protecting against oxidative stress.
Enhanced by innovative key ingredients, it restores the quality and suppleness of the scalp while delivering visible results. An added benefit for styling thanks to stronger and thicker hair with greater volume, shine and overall health.
*Clinical test. 119/130 people vs placebo. Daily application for 6 weeks.
<ul><li>Clinically proven to help reducing the rate of hair loss</li><li>Offers better resistance to traction and less breakage during styling</li><li>Hair is enhanced, thicker and stronger</li><li>It recaptures volume, shine and flexibility</li><li>Hair is silky. No grease on the roots</li></ul><p><i>*Clinical test. 119/130 people vs placebo. Daily application for 6 weeks.</i></p>
<ul><li>Apply daily for 6 weeks to dry or towel-dried hair.</li><li>One dose equals one application.</li><li>Distribute onto the scalp section by section.</li><li>Massage with fingertips.</li><li>Proceed with usual styling.</li><li>Leave-in.</li></ul>
<p><strong><iframe width="560" height="315" src="https://www.youtube.com/embed/122LM7qOUrE" frameborder="0" allow="accelerometer; autoplay; encrypted-media; gyroscope; picture-in-picture" allowfullscreen=""></iframe></strong></p>
<p><strong>KEY INGREDIENTS</strong></p><ul><li>Aminexil 15 000 PPM: The valuable blend of Aminexil®, GlucoLipide GL® and Madecassoside to help maintain hair density*. It improves the heath of tissues surrounding the hair root making them more flexible and resilient which allows the root to anchor more firmly into the scalp.</li><li>Rhamnose: Vegetable sugar with anti ageing properties, it is responsible for the production of collagen and elastin that provide support and flexibility to the skin.</li><li>Complexe AOX: To protect from oxydative stress.</li></ul><p>&nbsp;</p><p><strong>FULL INGREDIENTS</strong><br>Aqua / Water • Alcohol Denat. • Diaminopyrimidine Oxide • Peg-40 Hydrogenated Castor Oil • Madecassoside • Safflower Glucoside • Rhamnose • Hexyl Cinnamal • Linalool • Hydroxycitronellal • Citronellol • Benzyl Alcohol • Carnosine • Tocopherol • Geraniol • Glycerin • Glycine Soja Oil / Soybean Oil • Bht • Sodium Citrate • Phenoxyethanol • Moringa Pterygosperma Seed Extract • Disodium Phosphate • Citric Acid • Parfum / Fragrance</p>
Kérastase Spécifique Cure Anti-Hairloss Treatment 6ml x 42