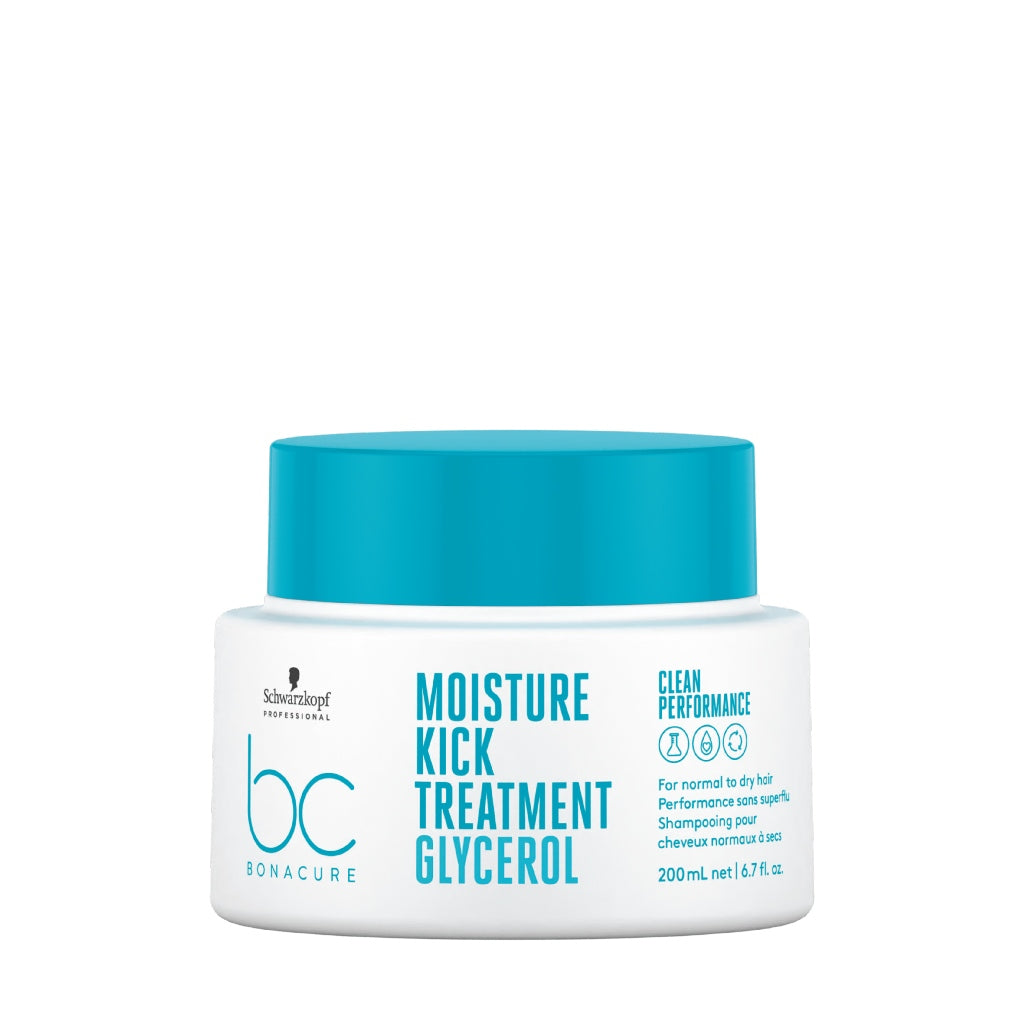 Schwarzkopf BC Bonacure Moisture Kick Glycerol Treatment 200ml
Deeply hydrating treatment for normal to dry, brittle or curly hair.
Due to the light emulsion base, the moisturising agents penetrate the hair very quickly, intensively hydrating the inner structure. The cationic Cell Equalizer action fills gaps in the hair's outer layer, ensuring a supple hair feeling. The formula enriched with Glycerol helps to rebalance the moisture level of the hair.
HAIR TYPE
Hair is dry, brittle, coarse, curly, wavy and normal to slightly porous in need of an extra dose of moisture.
The new Bonacure Clean Performance by Schwarzkopf Professional embraces clean beauty and high-performing products that are free from compromise and full of promise. Formulated with advanced vegan technology to create formulas that are full of what's good and free of what's not. Using sustainable packaging and ingredients you trust. Free from sulphates, silicones, and parabens.
<p><strong>MOISTURE KICK GLYCEROL</strong><br><strong>For&nbsp;normal to dry hair.</strong><br>Rebalances and delivers optimum levels of moisture to even the driest hair to improve manageability by up to 72%*, increase shine and eliminate static. For perfectly supple, shiny, moisturized hair full of elasticity and bounce.</p><p><strong>RESULTS</strong></p><ul><li>Provides in-depth care and a moisturized hair feel for normal to dry and textured hair types.</li><li>Provides suppleness to the hair.</li><li>Helps to retain the optimal moisture level for a lightweight hair feeling.</li><li>Helps to improves elasticity and manageability of the hair.</li><li>Adds healthy-looking shine.</li></ul><p><strong>BONACURE CLEAN PERFORMANCE</strong><br><i>The Power of Vegan Keratin in a New Professional Clean Formula</i></p><ul><li><strong>Advanced Vegan Technology</strong>&nbsp;-&nbsp;The next generation in clean and advanced technology with the new Vegan Care Complex.</li><li><strong>Clean Formula</strong>&nbsp;- New 100% vegan professional formulations without sulfates,<br>silicones, parabens, mineral oils, microplastics and artificial colors. They have a high level of biodegradability and are combined with high-performance technologies.</li><li><strong>Sustainable Packaging</strong>&nbsp;- Clean both inside and out: the new packaging is environmentally friendly, fully recyclable and made from up to 97% recycled plastic.</li></ul><p><i>*In regard to the Moisture Kick Conditioner.</i></p>
</span><span data-mce-fragment="1"></span><span data-mce-fragment="1"></span><span data-mce-fragment="1"></span>
<div style="text-align: left;" data-mce-fragment="1" data-mce-style="text-align: left;">
<ul>
<li>Wash hair with <a href="https://www.hairmnl.com/products/schwarzkopf-bc-bonacure-moisture-kick-glycerol-shampoo-250ml" title="HairMNL Schwarzkopf BC Bonacure Moisture Kick Glycerol Shampoo 250ml" target="_blank"><span style="text-decoration: underline;">Bonacure Moisture Kick Glycerol Shampoo</span></a>.</li>
<li>Apply <strong>Bonacure Moisture Kick Glycerol Treatment</strong> to towel-dried hair and work in. Leave in for up to 10 minutes. Rinse thoroughly.</li>
</ul>
<div style="text-align: left;" data-mce-fragment="1" data-mce-style="text-align: left;"></div>
<span data-mce-fragment="1">
<p><strong>KEY INGREDIENTS</strong></p><ul><li><i>Glycerol</i>&nbsp;- Provides long-lasting balanced hydration of scalp and hair, smoothing the hair surface and preventing dehydration.</li><li><i>Vegan Keratin</i> -&nbsp;Developed to refill the damaged cortex by re-building the hair's inner architecture, restoring strength and elasticity.</li></ul><p><strong>FULL INGREDIENTS</strong><br>Aqua (Water), Cetearyl Alcohol, Glycerin, Isopropyl Myristate, Behenamidopropyl Dimethylamine, Distearoylethyl Hydroxyethylmonium Methosulfate, Panthenol, Soy Amino Acids, Wheat Amino Acids, Serine, Threonine, Arginine Hcl, Phenoxyethanol, Citric Acid, Parfum (Fragrance), Behentrimonium Chloride, Butyrospermum Parkii (Shea) Butter, Guar Hydroxypropyltrimonium Chloride, Ceteareth-20, Ethylhexylglycerin, Isopropyl Alcohol, Linalool, Citronellol, Alpha-isomethyl Ionone, Geraniol, Limonene, Benzyl Alcohol, Sodium Benzoate, Potassium Sorbate.</p>