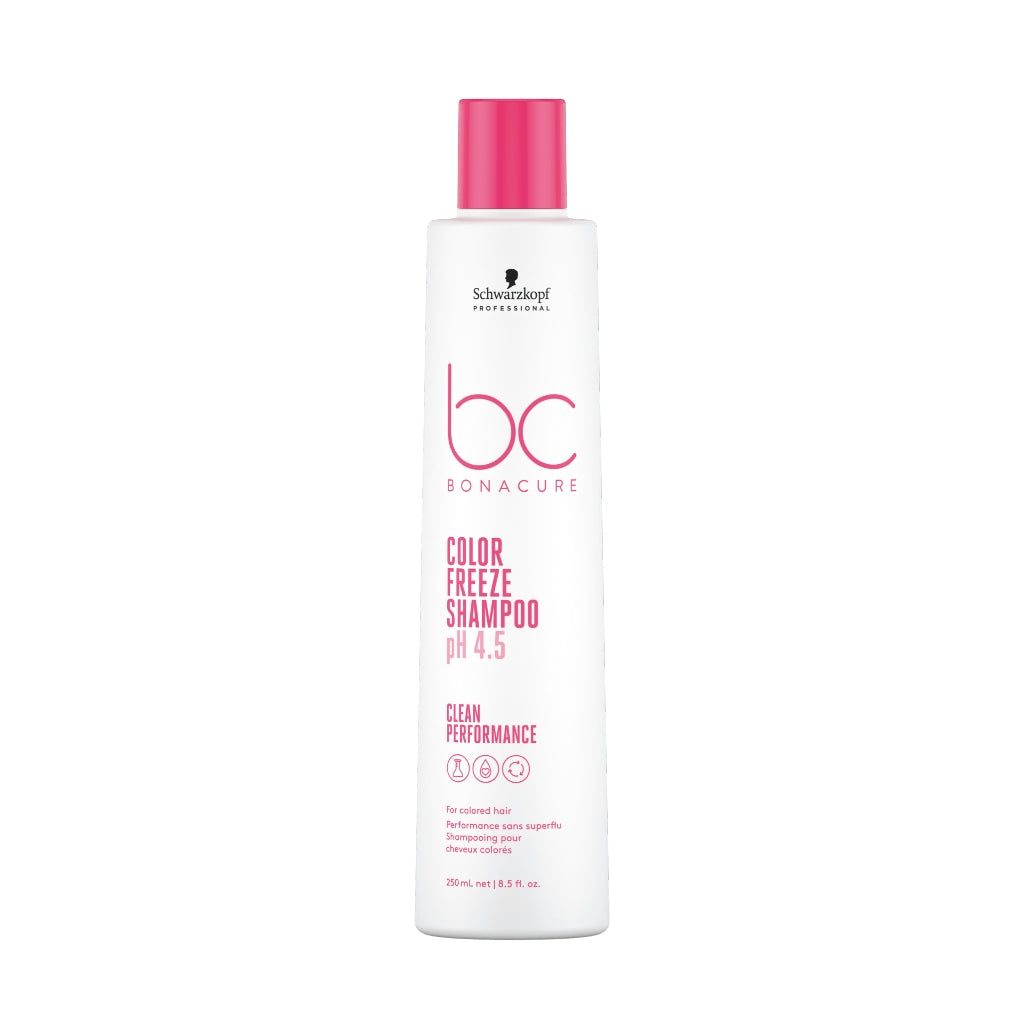 Schwarzkopf BC Bonacure Color Freeze pH 4.5 Sulfate-Free Shampoo 250ml
Gentle shampoo for color-treated hair.
Sulfate-free technology combined to pH 4.5 Balancer Technology to bring the hair to its optimal pH 4.5 and prevent actively from color fading. Color appears as vibrant as on day one until next salon visit.
HAIR TYPE
Hair is color treated, for maximizing color retention.
The new Bonacure Clean Performance by Schwarzkopf Professional embraces clean beauty and high-performing products that are free from compromise and full of promise. Formulated with advanced vegan technology to create formulas that are full of what's good and free of what's not. Using sustainable packaging and ingredients you trust. Free from sulphates, silicones, and parabens.
<p><strong>COLOR FREEZE pH 4.5</strong><br><strong>For colored hair.</strong><br>Patented pH 4.5 Balancer Technology freezes the color pigments deep inside the hair matrix for ultimate color perfection. It's the first vegan color-locking system for zero fade and long lasting color vibrancy in the Schwarzkopf portfolio, and has 90% color retention for up to 30 washes.</p><p><strong>RESULTS</strong></p><ul><li>Gently yet effectively cleanses colored hair.</li><li>Helps to bring hair back to its optimal pH level and prevent color fading.</li><li>Helps to protect hair structure both inside and out.</li></ul><p><strong>BONACURE CLEAN PERFORMANCE</strong><br><i>The Power of Vegan Keratin in a New Professional Clean Formula</i></p><ul><li><strong>Advanced Vegan Technology</strong>&nbsp;-&nbsp;The next generation in clean and advanced technology with the new Vegan Care Complex.</li><li><strong>Clean Formula</strong>&nbsp;- New 100% vegan professional formulations without sulfates,<br>silicones, parabens, mineral oils, microplastics and artificial colors. They have a high level of biodegradability and are combined with high-performance technologies.</li><li><strong>Sustainable Packaging</strong>&nbsp;- Clean both inside and out: the new packaging is environmentally friendly, fully recyclable and made from up to 97% recycled plastic.</li></ul>
</span><span data-mce-fragment="1"></span><span data-mce-fragment="1"></span><span data-mce-fragment="1"></span>
<div style="text-align: left;" data-mce-style="text-align: left;" data-mce-fragment="1">
<ul>
<li>Apply <strong>Bonacure Color Freeze pH 4.5 Sulfate-Free Shampoo</strong> to wet hair. Work in and rinse thoroughly after 1-2 minutes.</li>
<li>Follow with <a href="https://www.hairmnl.com/products/schwarzkopf-bc-bonacure-color-freeze-ph-4-5-conditioner-200ml" title="HairMNL Schwarzkopf BC Bonacure Color Freeze pH 4.5 Conditioner 200ml" data-mce-href="https://www.hairmnl.com/products/schwarzkopf-bc-bonacure-color-freeze-ph-4-5-conditioner-200ml" target="_blank"><span style="text-decoration: underline;" data-mce-style="text-decoration: underline;">Bonacure Color Freeze pH 4.5 Conditioner</span></a>, <a href="https://www.hairmnl.com/products/schwarzkopf-bc-bonacure-color-freeze-ph-4-5-spray-conditioner-200ml" title="HairMNL Schwarzkopf BC Bonacure Color Freeze pH 4.5 Spray Conditioner 200ml" data-mce-href="https://www.hairmnl.com/products/schwarzkopf-bc-bonacure-color-freeze-ph-4-5-spray-conditioner-200ml" target="_blank"><span style="text-decoration: underline;" data-mce-style="text-decoration: underline;" data-mce-fragment="1">Color Freeze pH 4.5 Spray Conditioner</span></a> or <a href="https://www.hairmnl.com/products/schwarzkopf-bc-bonacure-color-freeze-ph-4-5-treatment-200ml" title="HairMNL Schwarzkopf BC Bonacure Color Freeze pH 4.5 Treatment 200ml" data-mce-href="https://www.hairmnl.com/products/schwarzkopf-bc-bonacure-color-freeze-ph-4-5-treatment-200ml" target="_blank"><span style="text-decoration: underline;" data-mce-style="text-decoration: underline;" data-mce-fragment="1">Color Freeze pH 4.5</span> Treatment</a>.</li>
</ul>
<div style="text-align: left;" data-mce-style="text-align: left;" data-mce-fragment="1"><br></div>
<span data-mce-fragment="1">
<p><strong>KEY INGREDIENTS</strong></p><ul><li><i>pH 4.5</i>&nbsp;- Rebalances the hair structure to an optimal pH of 4.5, providing hair color protection with close to zero fade.</li><li><i>Vegan Keratin</i>&nbsp;-&nbsp;Developed to refill the damaged cortex by re-building the hair's inner architecture, restoring strength and elasticity.</li></ul><p><strong>FULL&nbsp;INGREDIENTS</strong><br>Aqua (Water), Cocamidopropyl Betaine, Sodium Methyl Cocoyl Taurate, Coco-glucoside, Sodium Chloride, Sodium Methyl 2-sulfolaurate, Peg-120 Methyl Glucose Dioleate, Magnesium Citrate, Citric Acid, Soy Amino Acids, Wheat Amino Acids, Serine, Threonine, Arginine Hcl, Peg-7 Glyceryl Cocoate, Caprylyl/capryl Glucoside, Parfum (Fragrance), Sodium Benzoate, Peg-40 Hydrogenated Castor Oil, Disodium 2-sulfolaurate, Oconut Acid, Guar Hydroxypropyltrimonium Chloride, Hydrogenated Castor Oil, Sodium Sulfate, C12-18 Fatty Acids Methyl Esters, Linalool, Benzyl Salicylate, Hexyl Cinnamal, Limonene, Citronellol, Geraniol, Propylene Glycol, Sodium Hydroxide, Benzyl Alcohol, Methyl Benzoate, Potassium Sorbate.</p>