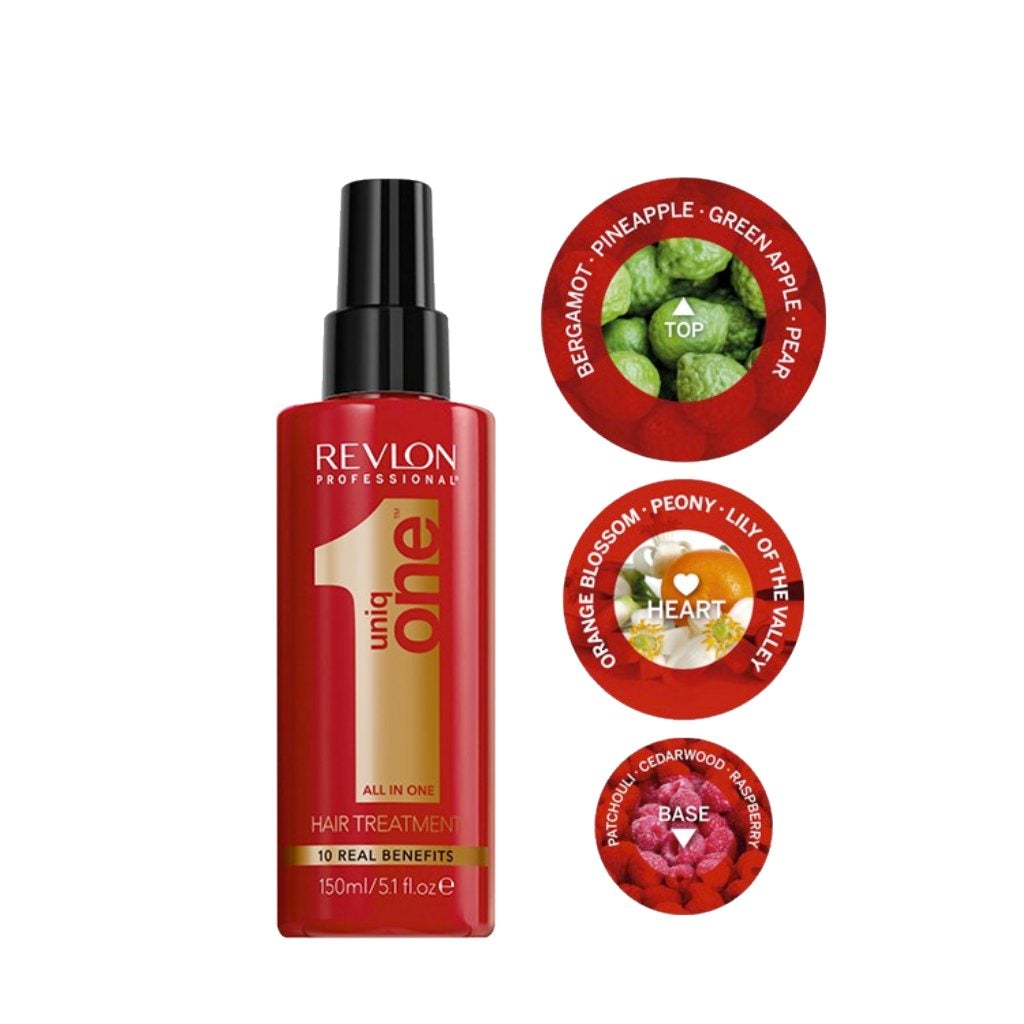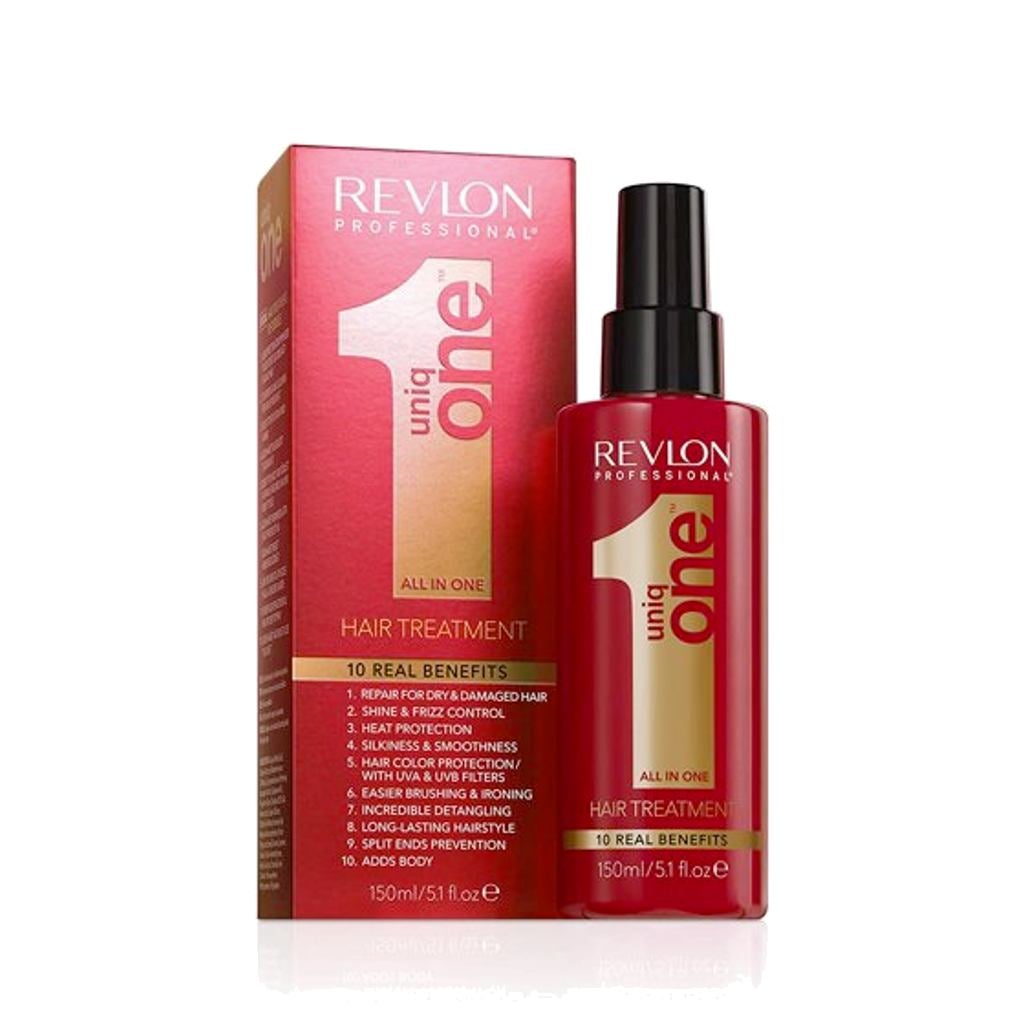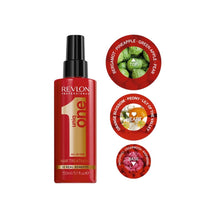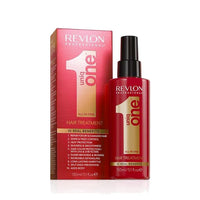 Revlon Professional UniqOne All in One Hair Treatment Classic Fragrance 150ml
The 10 real benefits that the hair needs in one single product. Because great hair is not a matter of time.
The multi-benefit leave-in hair treatment that has revolutionized the salon market worldwide featuring 10 benefits in one spectacular leave-in product. UniqOne™ Hair Treatment can do its wonders anywhere and at any time, on wet or dry hair.
Fragrance
An intensely fresh, natural fragrance that envelops the hair, making the treatment a unique sensory experience.
Hair Type

For all hair types
<div style="text-align: left;" data-mce-style="text-align: left;"><strong>10 REAL BENEFITS</strong></div>
<div style="text-align: left;" data-mce-style="text-align: left;">
<ol>
<li>Repairs Dry &amp; Damaged Hair</li>
<li>Strengthens &amp; Reduces Breakage</li>
<li>Conditions &amp; Detangles</li>
<li>Controls Frizz</li>
<li>Instantly Moisturizes</li>
<li>Heat Protection</li>
<li>Boosts Shine &amp; Protects Color</li>
<li>Softness &amp; Manageability</li>
<li>Helps To Prevent Split Ends</li>
<li>Refreshes Hairstyle</li>
</ol>
</div>
<div style="text-align: left;" data-mce-style="text-align: left;">
<strong>On wet hair</strong><br data-mce-fragment="1">
<ol>
<li>Spray from a distance of about 20 cm from hair.</li>
<li>Detangle hair with a comb.</li>
<li>Finish with the usual style: blow dry, straighten, or air dry.</li>
<li>Use the usual finishing product. Sprays according to hair length:</li>
</ol>
<ul>
<ul>
<li><span data-mce-fragment="1">Long: 10-15</span></li>
<li><span data-mce-fragment="1">Medium: 7-12</span></li>
<li><span data-mce-fragment="1">Short: 6-8</span></li>
</ul>
</ul>
</div>
<div style="text-align: left;" data-mce-style="text-align: left;">
<strong>On dry hair</strong><br data-mce-fragment="1">
<ol>
<li>Spray the product onto the palm of your hand.</li>
<li>Rub it in between your hands and apply to mid-lengths and ends.</li>
<li>If necessary, refresh style with a straightener or dryer.</li>
<li>Use the usual finishing product. Sprays according to hair length:</li>
</ol>
<meta charset="utf-8">
<ul>
<ul>
<li><span data-mce-fragment="1">Long: 4-6</span></li>
<li><span data-mce-fragment="1">Medium: 3-5</span></li>
<li><span data-mce-fragment="1">Short: 2-3</span></li>
</ul>
</ul>
</div>
<div style="text-align: left;" data-mce-style="text-align: left;">Aqua/water/eau, Cetearyl Alcohol, Behentrimonium Chloride, Cyclopentasiloxane, Disodium Edta, Isopropyl Alcohol, Panthenol, Propylene Glycol, Quaternium-80, Butyl Methoxydibenzoylmethane, Ethylhexyl Methoxycinnamate, Parfum (Fragrance), Alpha-isomethyl Ionone, Benzyl Salicylate, Citral, Citronellol, Hexyl Cinnamal, Limonene, Linalool, Ethylparaben, Methylparaben, Phenoxyethanol. B01856</div>