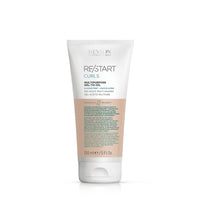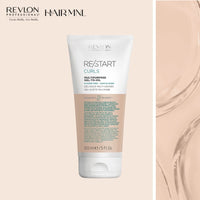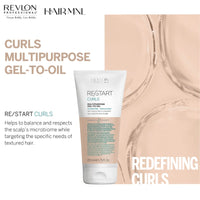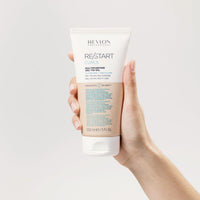 Revlon Professional ReStart Curls Multipurpose Gel-To-Oil 150ml
This innovative dual action multi-use hair gel-to-oil helps to balance the scalp's microbiome,* nourishes and defines curls.
Infused with natural oils for extra-bouncy curls, this 95% natural-origin oil formula can be used as a pre-wash, definer or refresher.
From wavy to curly or coily hair, ReStart Curls helps to balance and respects the scalp's microbiome while targeting the specific needs of textured hair thanks to its dual action approach.

*When used with Revlon Professional ReStart Curls Nourishing Cleanser 250ml.
Who is it for?
Anyone with curly hair who wants extra nourishment for bouncy curls.
<p style="margin-left:0px;"><strong>Why you should have it at home?</strong></p><p style="margin-left:0px;">Use the lightweight gel for curly hair at home in multiple ways:</p><ul><li>As a pre-wash for an extra kick of nourishment</li><li>As a leave-in for definition</li><li>As a refresher the day after</li></ul><p style="margin-left:0px;"><strong>Key benefits</strong></p><p style="margin-left:0px;">Extra nourishment for bouncy curls. Provides long-lasting curl definition and frizz-control. Transformative gel-to-oil texture.</p><ul><li>Can be used as a pre-wash, definer or refresher.</li><li>95% natural origin oil formula.</li><li>Provides extra nourishment for bouncy curls.</li><li>Long-lasting curl definition.</li><li>Keeps curls' elasticity.</li><li>Facilitates combing curly hair.</li><li>Does not weigh hair down.</li><li>Smooths hair.</li><li>Curly Girl Method compliant.</li></ul>
<p>Transformative hair gel-to-oil texture. Apply the lightweight curly hair gel to your hands and rub to transform the texture.</p><ul><li>Pre-wash (for an extra kick of nourishment): apply abundantly on dry hair from mids to ends. Leave-in for 10 minutes. Rinse thoroughly and cleanse.</li><li>Leave-on: apply a small amount on wet hair, distribute homogeneously and style. Do not rinse out. Can also be combined with <a href="https://www.hairmnl.com/products/revlon-professional-restart-curls-defining-caring-cream-150ml"><u>ReStart Curls Defining Caring Cream</u></a> or <a href="https://www.hairmnl.com/products/revlon-professional-restart-curls-nourishing-conditioner-and-leave-in-200ml">Nourishing Conditioner and Leave-In</a> for a customized result.</li><li>Use the day after to re-activate coils. Apply a small amount from mids to ends and distribute homogeneously.</li></ul>
<p style="margin-left:0px;"><strong>Key Ingredients</strong></p><p style="margin-left:0px;">Formulated with <strong>KERABIOTIC TRI-DEFY™</strong> technology.</p><ul><li>Jojoba Oil: Nourishes curly hair.</li><li>Sunflower oil: Nourishes curly hair.</li></ul><p style="margin-left:0px;">Vegan formula.</p><p style="margin-left:0px;"><strong>Full Ingredients</strong></p><p style="margin-left:0px;"><span style="background-color:rgb(255,255,255);color:rgb(0,0,0);">HELIANTHUS ANNUUS (SUNFLOWER) SEED OIL, GLYCERIN, ISOPROPYL MYRISTATE, AQUA/WATER/EAU, SIMMONDSIA CHINENSIS (JOJOBA) SEED OIL, SODIUM SURFACTIN, TOCOPHERYL ACETATE, PARFUM (FRAGRANCE), ALPHA-ISOMETHYL IONONE, BENZYL SALICYLATE, COUMARIN, GERANIOL, HEXYL CINNAMAL, HYDROXYCITRONELLAL, LIMONENE, LINALOOL. B02390.</span></p>