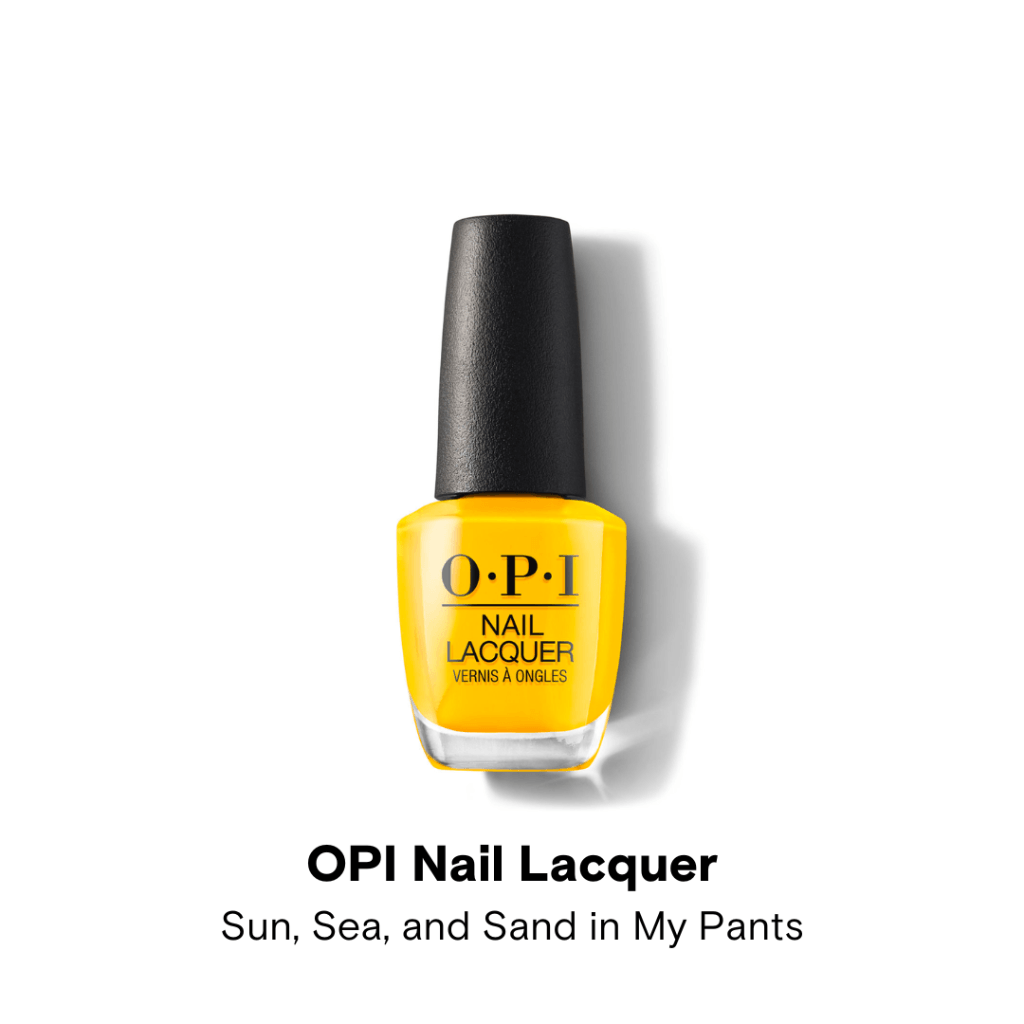 OPI Nail Lacquer in Sun, Sea, and Sand in My Pants
Shake it off and enjoy this sunshiny yellow nail polish.
Brighten up your look with this sunshiny shade.
A playful shade perfect for vacay.
Nail Lacquer is the original nail polish formula that reinvented quality nail color, your top choice if you enjoy updating your manicure weekly.
2022 Glamour Beauty Award winner for
The Best Nail Polish
Nail Lacquer Iconic Shades • Sun, Sea, and Sand in My Pants
<br></p>
<p style="text-align: left;" data-mce-style="text-align: left;"><a title="HairMNL OPI Nail Lacquer" href="https://www.hairmnl.com/collections/opi-nail-lacquer" target="_blank"><strong>OPI Nail Lacquer</strong></a><span> is the original formula you already know and love — this tried-and-true system combines high quality and fashion-forward shades with witty and iconic names making it one of the ultimate DIY nail systems.</span></p>
<div style="text-align: left;" data-mce-style="text-align: left;">
<div style="text-align: left;" data-mce-style="text-align: left;">
<div style="text-align: left;" data-mce-style="text-align: left;">
<div style="text-align: left;" data-mce-style="text-align: left;">
<ul>
<li>Up to 7 days of wear.</li>
<li>Fast-drying formula.</li>
</ul>
<p><iframe title="YouTube video player" src="https://www.youtube.com/embed/IiVFI5G9Y7Q" height="315" width="560" allowfullscreen="" allow="accelerometer; autoplay; clipboard-write; encrypted-media; gyroscope; picture-in-picture" frameborder="0"></iframe></p>
</div>
<div style="text-align: left;" data-mce-style="text-align: left;">
</div>
<div style="text-align: left;" data-mce-style="text-align: left;">
<div style="text-align: left;" data-mce-style="text-align: left;">
<ol>
<li>Start by applying<span> </span><a title="HairMNL OPI Natural Nail Base Coat" href="https://www.hairmnl.com/products/opi-natural-nail-base-coat" target="_blank">OPI Natural Nail Base Coat</a><span> </span>to clean, dry nails with cuticles pushed back.</li>
<li>For a perfect polish, apply one stroke of nail lacquer down the center of the nail, followed by one stroke along each side of the nail.</li>
<li>Then apply a second coat of<span> </span><strong>OPI Nail Lacquer</strong>, pulling color over the tips of the nails.</li>
<li>Shine, seal, and protect with one coat of<span> </span><a title="HairMNL OPI Top Coat" href="https://www.hairmnl.com/products/opi-top-coat" target="_blank">OPI Top Coat</a>, pulling it over the tips of the nails.</li>
</ol>
</div>
</div>
<div style="text-align: left;" data-mce-style="text-align: left;">
<div style="text-align: left;" data-mce-style="text-align: left;">
<div style="text-align: left;" data-mce-style="text-align: left;"><span><iframe width="560" height="315" src="https://www.youtube.com/embed/86fOzQE7pj0" title="YouTube video player" frameborder="0" allow="accelerometer; autoplay; clipboard-write; encrypted-media; gyroscope; picture-in-picture" allowfullscreen=""></iframe></span></div>
<div style="text-align: left;" data-mce-style="text-align: left;">
<span></span><br>
</div>
</div>
</div>
<p style="text-align: left;" data-mce-style="text-align: left;"><span></span><meta charset="utf-8"><span></span>
<br>
</div>
</div>
</div>
</div>
<div style="text-align: left;" data-mce-style="text-align: left;">
<div style="text-align: left;" data-mce-style="text-align: left;">
<div style="text-align: left;" data-mce-style="text-align: left;">Butyl Acetate, Ethyl Acetate, Nitrocellulose, Isopropyl Alcohol, Titanium Dioxide, Iron Oxides (CI 77491), Silica. May Contain: Barium Sulfate, Carbon Black, Mica, Tin Oxide, Tributyl Acetylcitrate, Synthetic Fluorphlogopite, Aluminum Powder, Styrene/Acrylates Copolymer, Benzophenone-1, Ferric Ammonium Ferrocyanide, Adipic Acid/Neopentyl Glycol/Trimellitic Anhydride Copolymer, 4-Hydroxy-4-Methylpentan-2-One, Calcium Aluminum Borosilicate, Trimethylpentanediyl Dibenzoate, Polyvinyl Butyral, Silicic Acid Magnesium Salt, Red 7 Calcium Lake, Yellow 5 Aluminum Lake.</div>
</div>
</div>
</div>
<div style="text-align: center;"></div>
<div style="text-align: left;" data-mce-style="text-align: left;">
<div style="text-align: left;" data-mce-style="text-align: left;"></div>
</div>
<style type="text/css"><!--
td {border: 1px solid #ccc;}br {mso-data-placement:same-cell;}
--></style>