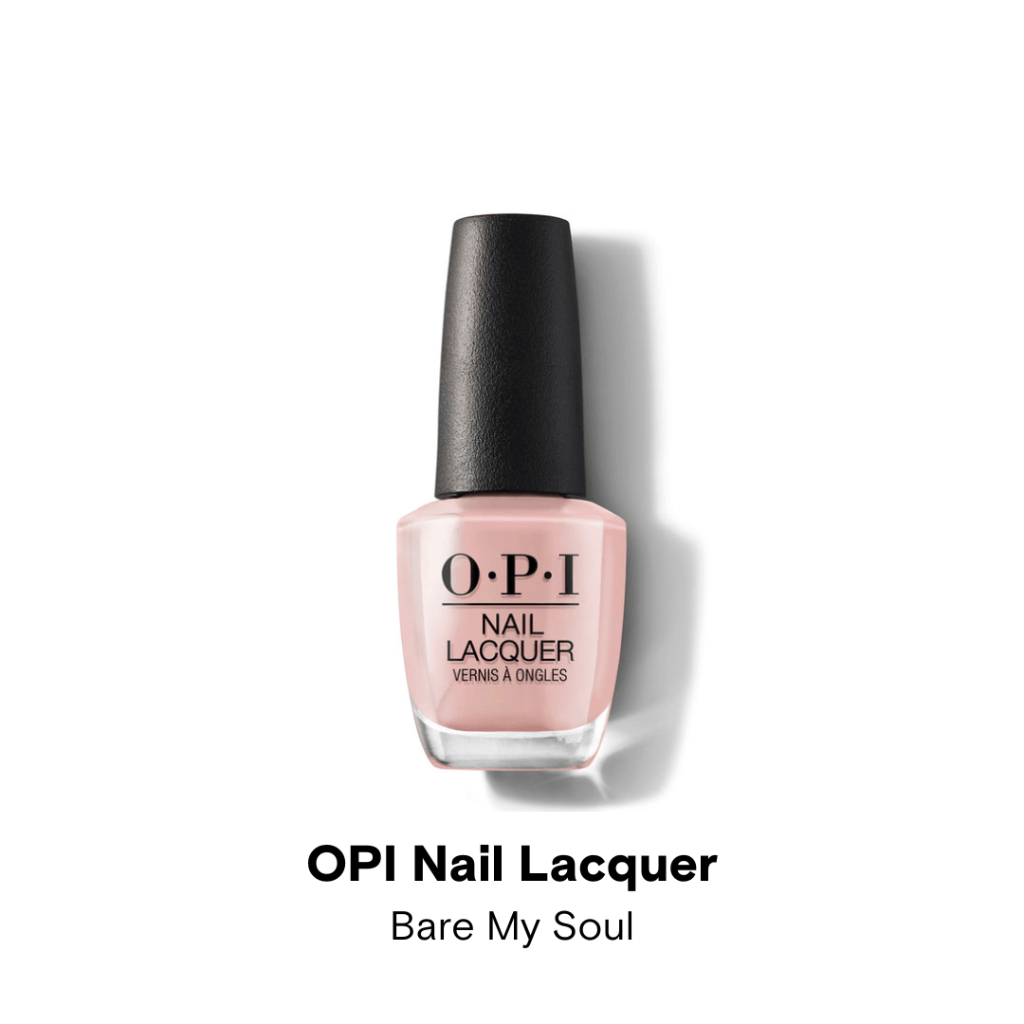 OPI Nail Lacquer in Bare My Soul
Super chic nude nail polish shade. This barely there nude is the perfect base.
A mani marriage made in heaven for sheer, natural nails.
OPI Nail Lacquer is the original nail polish formula that reinvented quality nail color, your top choice if you enjoy updating your manicure weekly.
2022 Glamour Beauty Award winner for
The Best Nail Polish
Nail Lacquer Iconic Shades • Bare My Soul
<br></p>
<p style="text-align: left;" data-mce-style="text-align: left;"><a href="https://www.hairmnl.com/collections/opi-nail-lacquer" title="HairMNL OPI Nail Lacquer" target="_blank"><strong>OPI Nail Lacquer</strong></a><span> is the original formula you already know and love — this tried-and-true system combines high quality and fashion-forward shades with witty and iconic names making it one of the ultimate DIY nail systems.</span></p>
<div style="text-align: left;" data-mce-style="text-align: left;">
<div style="text-align: left;" data-mce-style="text-align: left;">
<div style="text-align: left;" data-mce-style="text-align: left;">
<div style="text-align: left;" data-mce-style="text-align: left;">
<ul>
<li>Up to 7 days of wear.</li>
<li>Fast-drying formula.</li>
</ul>
<p><iframe width="560" height="315" src="https://www.youtube.com/embed/IiVFI5G9Y7Q" title="YouTube video player" frameborder="0" allow="accelerometer; autoplay; clipboard-write; encrypted-media; gyroscope; picture-in-picture" allowfullscreen=""></iframe></p>
</div>
<div style="text-align: left;" data-mce-style="text-align: left;">
</div>
<div style="text-align: left;" data-mce-style="text-align: left;">
<div style="text-align: left;" data-mce-style="text-align: left;">
<ol>
<li>Start by applying<span> </span><a href="https://www.hairmnl.com/products/opi-natural-nail-base-coat" title="HairMNL OPI Natural Nail Base Coat" target="_blank">OPI Natural Nail Base Coat</a><span> </span>to clean, dry nails with cuticles pushed back.</li>
<li>For a perfect polish, apply one stroke of nail lacquer down the center of the nail, followed by one stroke along each side of the nail.</li>
<li>Then apply a second coat of<span> </span><strong>OPI Nail Lacquer</strong>, pulling color over the tips of the nails.</li>
<li>Shine, seal, and protect with one coat of<span> </span><a href="https://www.hairmnl.com/products/opi-top-coat" title="HairMNL OPI Top Coat" target="_blank">OPI Top Coat</a>, pulling it over the tips of the nails.</li>
</ol>
</div>
</div>
<div style="text-align: left;" data-mce-style="text-align: left;">
<div style="text-align: left;" data-mce-style="text-align: left;">
<div style="text-align: left;" data-mce-style="text-align: left;"><span><iframe title="YouTube video player" src="https://www.youtube.com/embed/86fOzQE7pj0" height="315" width="560" allowfullscreen="" allow="accelerometer; autoplay; clipboard-write; encrypted-media; gyroscope; picture-in-picture" frameborder="0"></iframe></span></div>
<div style="text-align: left;" data-mce-style="text-align: left;">
<span></span><br>
</div>
</div>
</div>
<p style="text-align: left;" data-mce-style="text-align: left;"><span></span><meta charset="utf-8"><span></span>
<br>
</div>
</div>
</div>
</div>
<div style="text-align: left;" data-mce-style="text-align: left;">
<div style="text-align: left;" data-mce-style="text-align: left;">
<div style="text-align: left;" data-mce-style="text-align: left;">Ethyl Acetate, Butyl Acetate, Nitrocellulose, Propyl Acetate, Tosylamide/Formaldehyde Resin, Isopropyl Alcohol, Trimethyl Pentanyl Diisobutyrate, Triphenyl Phosphate, Ethyl Tosylamide, Camphor, Stearalkonium Bentonite, Diacetone Alcohol, Stearalkonium Hectorite, Benzophenone-1, Citric Acid, Dimethicone, CI 77891 (Titanium Dioxide).</div>
</div>
</div>
</div>
<div style="text-align: center;"><span></span></div>
<div style="text-align: left;" data-mce-style="text-align: left;">
<div style="text-align: left;" data-mce-style="text-align: left;"></div>
</div>
<style type="text/css"><!--
td {border: 1px solid #ccc;}br {mso-data-placement:same-cell;}
--></style>