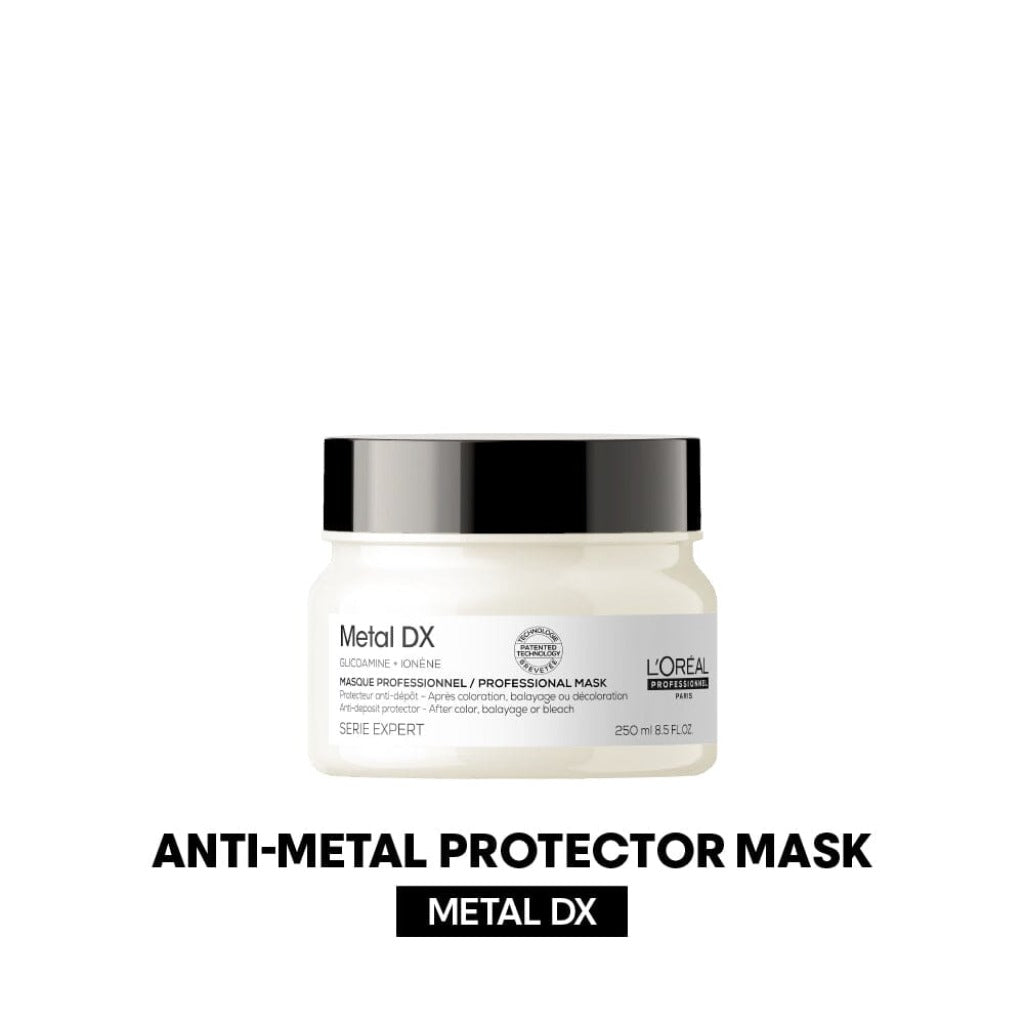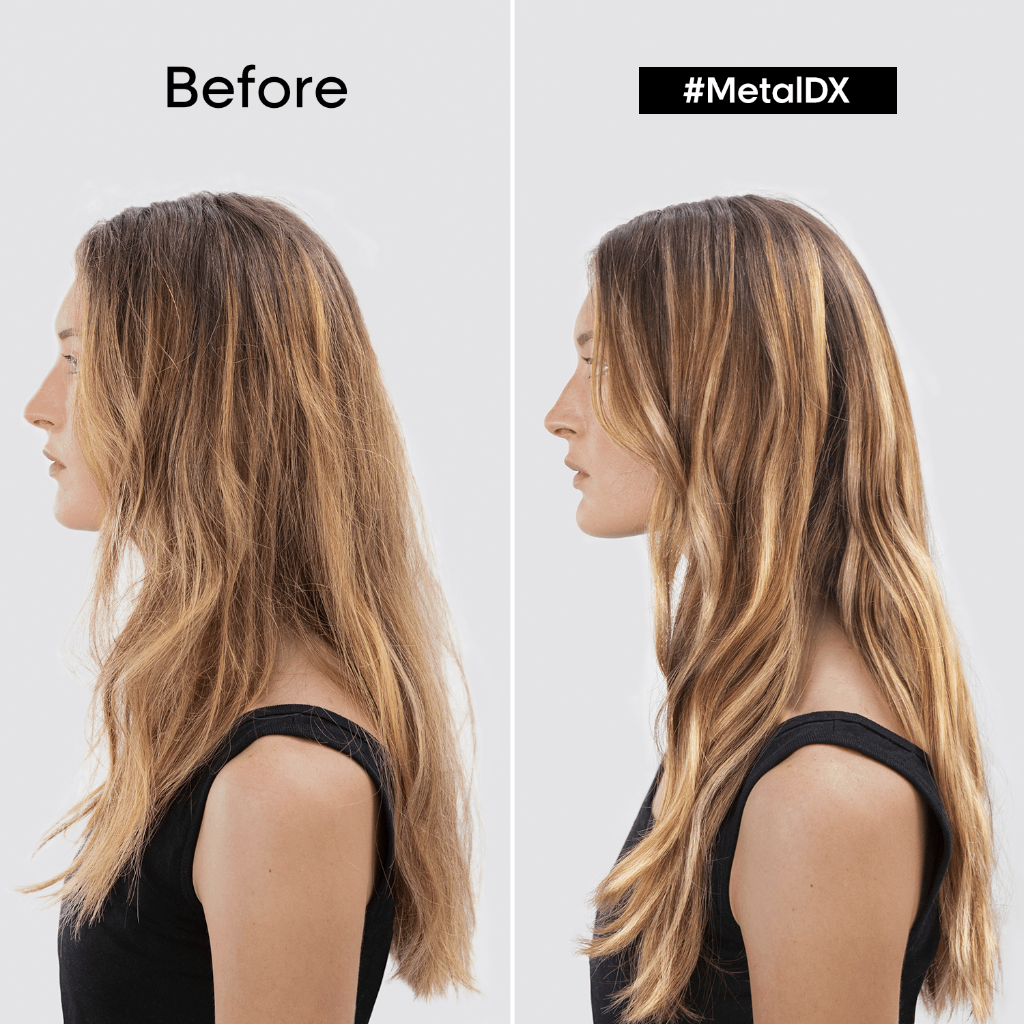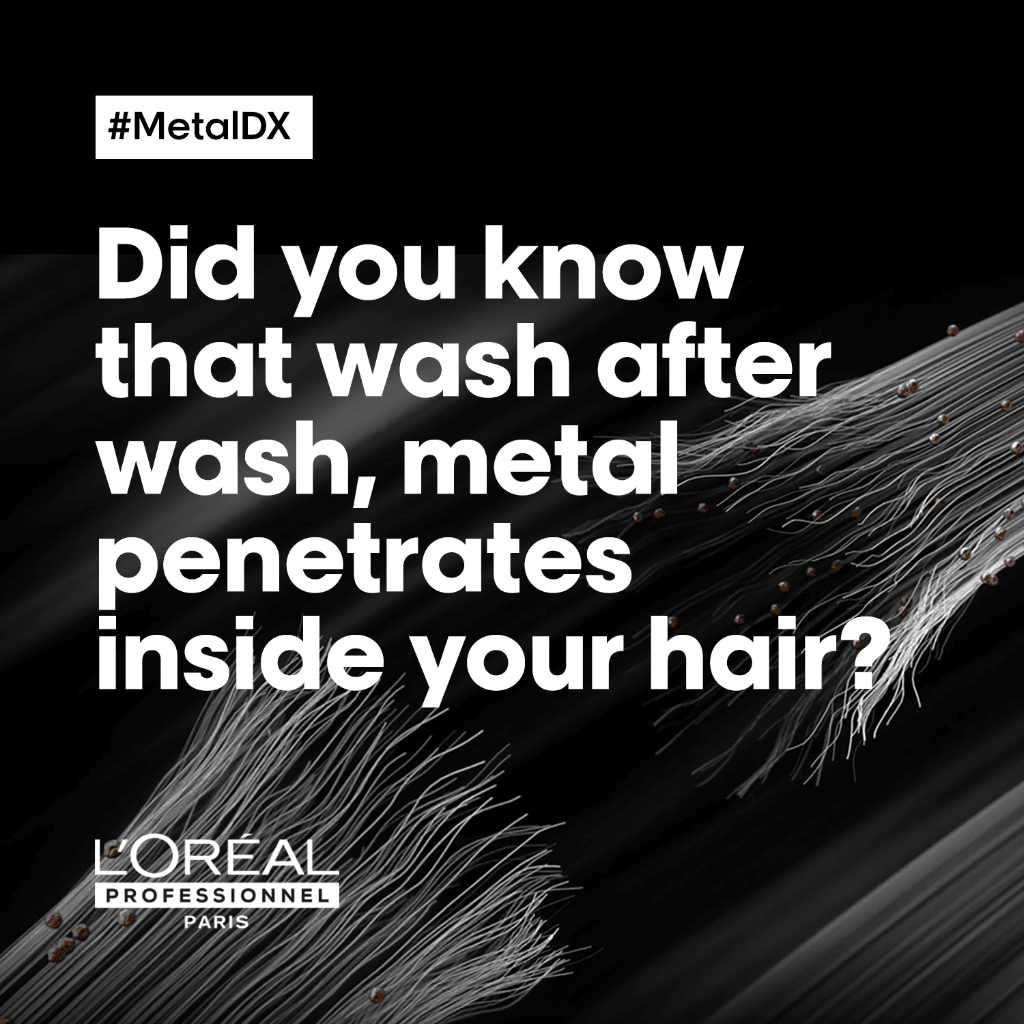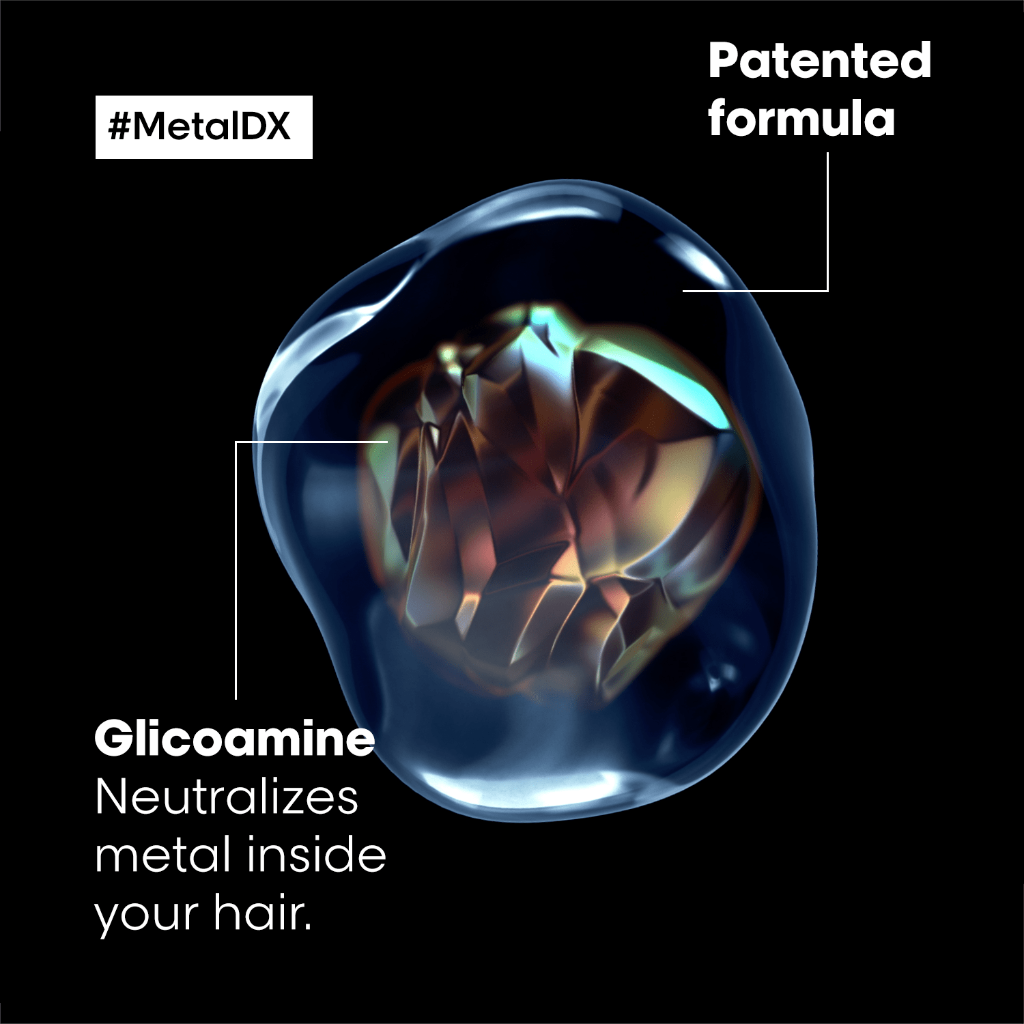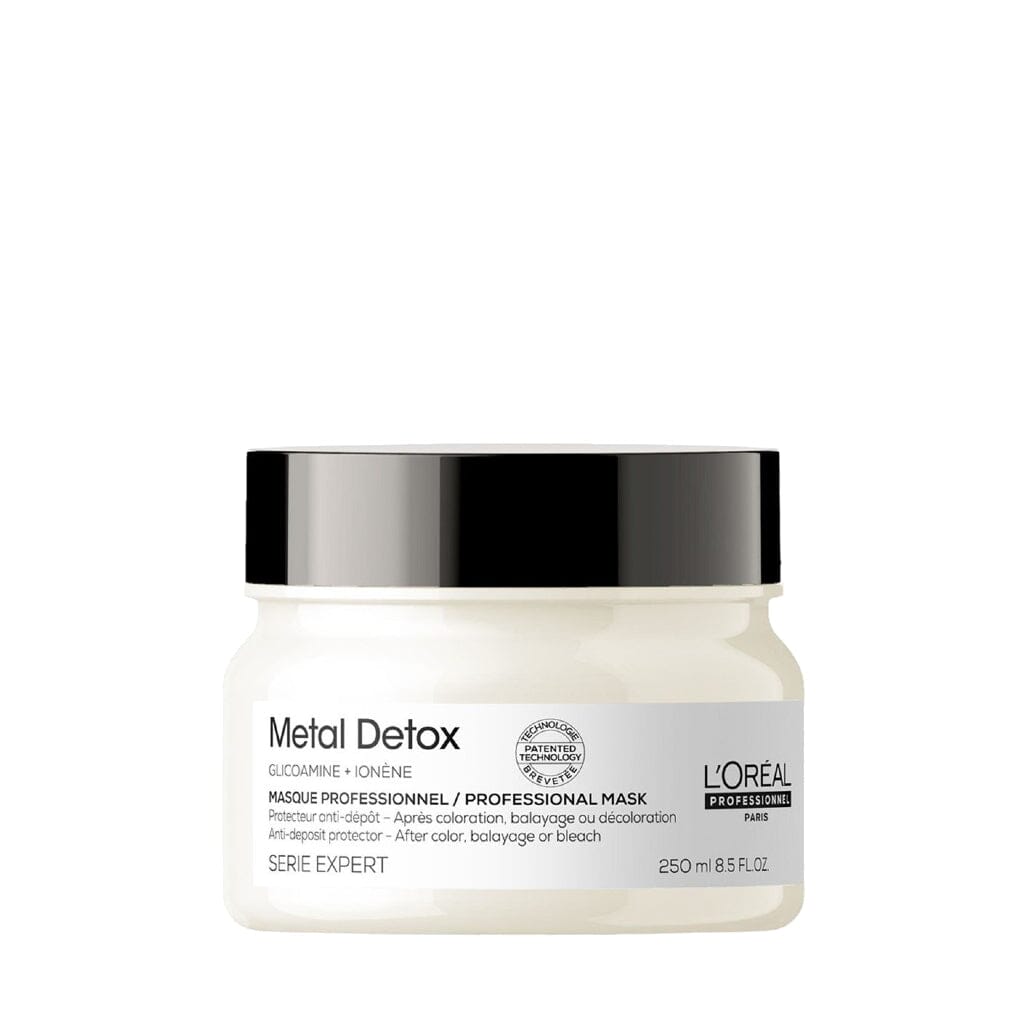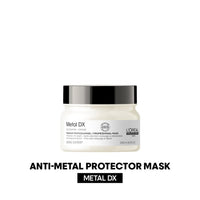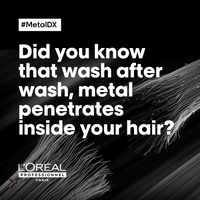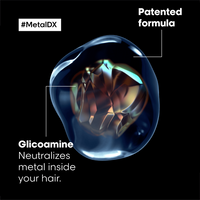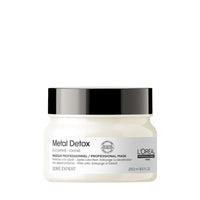 L'Oréal Professionnel Serie Expert Metal Detox Mask 250ml
Anti-deposit protector mask protects the fiber from particle deposits after any color, balayage or lightening service.
Metal inside the fiber creates both a risk of breakage and it negatively impacts color results during color, balayage and lightening services.
This rich cream mask bring cosmeticity and prevent new metal particles from coming back.
<p>Protect the fiber from particles deposits.</p><ul><li>Hair is instantly smoother, softer &amp; more nourished.</li><li>Hair is stronger.</li><li>Color lasts longer, 2x shinier.</li><li>87% less breakage.*</li><li>100% reliable color.**</li></ul><p><i>*Instrumental test: Metal Detox pre treatment + technical procedure + shampoo + mask.</i><br><i>**No impact on lift, and optimized color uptake.</i></p>
</div>
<ol>
<li><span data-sheets-value='{"1":2,"2":"For optimal results, use after the anti-metal cleansing cream shampoo.\nApply evenly on shampooed and towel-dried hair.\nLeave on for 1 minute."}' data-sheets-userformat='{"2":14845,"3":{"1":0,"3":1},"5":{"1":[{"1":2,"2":0,"5":{"1":2,"2":0}},{"1":0,"2":0,"3":3},{"1":1,"2":0,"4":1}]},"6":{"1":[{"1":2,"2":0,"5":{"1":2,"2":0}},{"1":0,"2":0,"3":3},{"1":1,"2":0,"4":1}]},"7":{"1":[{"1":2,"2":0,"5":{"1":2,"2":0}},{"1":0,"2":0,"3":3},{"1":1,"2":0,"4":1}]},"8":{"1":[{"1":2,"2":0,"5":{"1":2,"2":0}},{"1":0,"2":0,"3":3},{"1":1,"2":0,"4":1}]},"9":0,"10":1,"11":4,"14":{"1":3,"3":1},"15":"Calibri","16":10}'>For optimal results, use after the <a title="HairMNL L'Oréal Professionnel Serie Expert Metal Detox Shampoo" href="https://www.hairmnl.com/products/loreal-professionnel-serie-expert-metal-detox-shampoo" target="_blank">Serie Expert Metal Detox Shampoo</a>.</span></li>
<li><span data-sheets-value='{"1":2,"2":"For optimal results, use after the anti-metal cleansing cream shampoo.\nApply evenly on shampooed and towel-dried hair.\nLeave on for 1 minute."}' data-sheets-userformat='{"2":14845,"3":{"1":0,"3":1},"5":{"1":[{"1":2,"2":0,"5":{"1":2,"2":0}},{"1":0,"2":0,"3":3},{"1":1,"2":0,"4":1}]},"6":{"1":[{"1":2,"2":0,"5":{"1":2,"2":0}},{"1":0,"2":0,"3":3},{"1":1,"2":0,"4":1}]},"7":{"1":[{"1":2,"2":0,"5":{"1":2,"2":0}},{"1":0,"2":0,"3":3},{"1":1,"2":0,"4":1}]},"8":{"1":[{"1":2,"2":0,"5":{"1":2,"2":0}},{"1":0,"2":0,"3":3},{"1":1,"2":0,"4":1}]},"9":0,"10":1,"11":4,"14":{"1":3,"3":1},"15":"Calibri","16":10}'>Apply <strong>Serie Expert Metal Detox Mask</strong> evenly on shampooed and towel-dried hair.</span></li>
<li><span data-sheets-value='{"1":2,"2":"For optimal results, use after the anti-metal cleansing cream shampoo.\nApply evenly on shampooed and towel-dried hair.\nLeave on for 1 minute."}' data-sheets-userformat='{"2":14845,"3":{"1":0,"3":1},"5":{"1":[{"1":2,"2":0,"5":{"1":2,"2":0}},{"1":0,"2":0,"3":3},{"1":1,"2":0,"4":1}]},"6":{"1":[{"1":2,"2":0,"5":{"1":2,"2":0}},{"1":0,"2":0,"3":3},{"1":1,"2":0,"4":1}]},"7":{"1":[{"1":2,"2":0,"5":{"1":2,"2":0}},{"1":0,"2":0,"3":3},{"1":1,"2":0,"4":1}]},"8":{"1":[{"1":2,"2":0,"5":{"1":2,"2":0}},{"1":0,"2":0,"3":3},{"1":1,"2":0,"4":1}]},"9":0,"10":1,"11":4,"14":{"1":3,"3":1},"15":"Calibri","16":10}'>Leave on for 1 minute.</span></li>
</ol>
<p><strong>KEY INGREDIENT</strong><br>GLICOAMINE - A patented technology concentrated in <i>Glicoamine</i>, the molecule that tracks &amp; neutralizes metal inside hair.​</p><p><strong>FULL INGREDIENTS</strong><br>Aqua/​Water/​Eau, Cetearyl Alcohol, Amodimethicone, Behentrimonium Chloride, Cetyl Esters, Parfum/​Fragrance, Isopropyl Alcohol, Trideceth-6, Phenoxyethanol, Limonene, Cetrimonium Chloride, Hexyl Cinnamal, Linalool, Chlorhexidine Dihydrochloride, Citral, Geraniol, Glycine, Tocopherol, Polyquaternium-7, Sodium Benzoate.</p><p><i>Please be aware that ingredient lists for the products of our brand are updated regularly. Please refer to the ingredient list on your product package for the most up to date list of ingredients to ensure it is suitable to your personal use.</i></p>