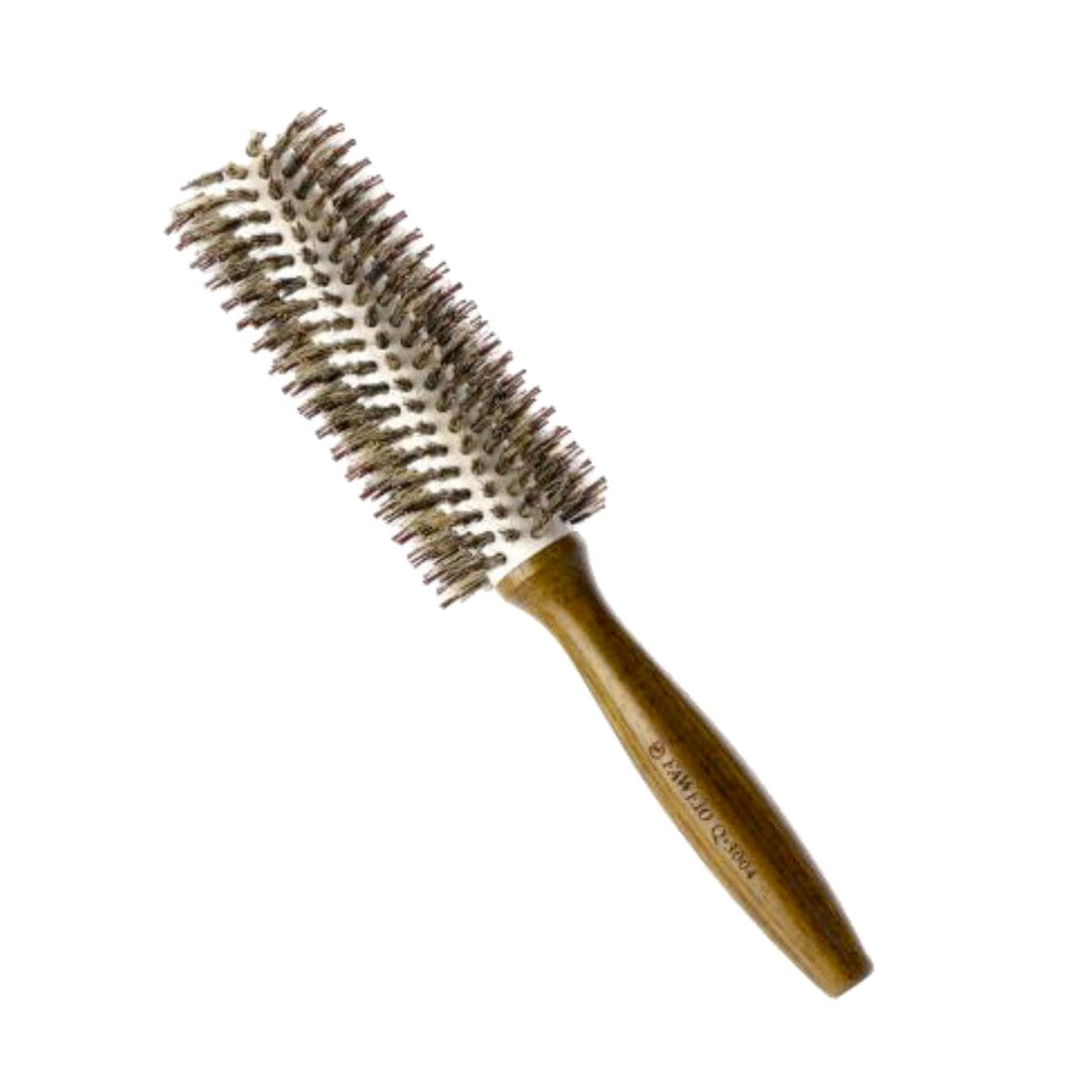 Le Couleur Roller Brush Faweio
The quadrangular tapered handle improves pulling force and is ideal for blowing and styling straight hair.
Iron plates are installed between the bristles and fiber teeth to prevent hair loss.
The twill arrangement, smooth blowing, and strong rotating grip make it easy to work fast.
The fiber teeth are 1/3 taller than the bristles to enable better styling without damaging the scalp.
A nylon tooth ball design avoids scalp irritation from too much force, while stimulating blood circulation.
Available in three (3) sizes:
<ul><li>Ceramic coated barrel</li><li>Special wavy heat-resistant bristles</li><li>Soft-tip bristles gentle on hair and scalp</li><li>Retractable sectioning pick</li><li>Eliminates frizz and fly-aways</li><li>Bristles made of boar's hair that heats up faster and retains heat longer</li><li>Restores hair balance and adds luster and sheen</li><li>Lightweight, comfort grip with ergonomic handle</li><li>Care: Regularly pick out the hair that is entangled between the comb teeth</li></ul>
<p style="margin-left:0px;"><strong>WARRANTY POLICY</strong><br>Le Couleur Professionnel will provide a 14-day warranty policy which will be effective from the date the delivery was accepted by the consumer. The products are only eligible for a warranty service if the technical staff, after examining the defect/s, thinks it is due to faulty materials, controls, or other natural causes etc.</p><p><strong>The products will </strong><i><strong>not</strong></i><strong> be eligible for warranty services for the following:</strong></p><ol><li>Damages caused by accidents, negligence or wrong handling of the product which is not in accordance with the product instruction manual. (e.g, wrong installation, etc.)</li><li>Damages caused by external repairs and services by other parties other than Le Couleur Professionnel.</li><li>Damages caused by using the product for anything other than its original purpose.</li><li>Damages caused by using parts and accessories which are not original components from Le Couleur Professionnel.</li><li>Damages caused by using the product in a country other than the Philippines where it was originally sold.</li></ol><p><strong>The following guidelines shall be observed for products eligible for warranty service:</strong></p><ol><li>The products repaired or replaced within the warranty period will not extend the warranty period.</li><li>For products sold within Metro Manila, the items may be transported through courier services to HairMNL or directly to Le Couleur business address. The items and its accessories should be packed with its original box. Completion of warranty service depends on the extent of damage of the items but not longer than five (5) days within Metro Manila. Return of repaired items may take longer for customers from the provinces and outside Metro Manila.</li></ol><p><strong>SHIPPING POLICY FOR TOOLS</strong><br>Please expect delivery within 3 to 6 working days in Metro Manila, within 4 to 20 working days to provinces.</p>