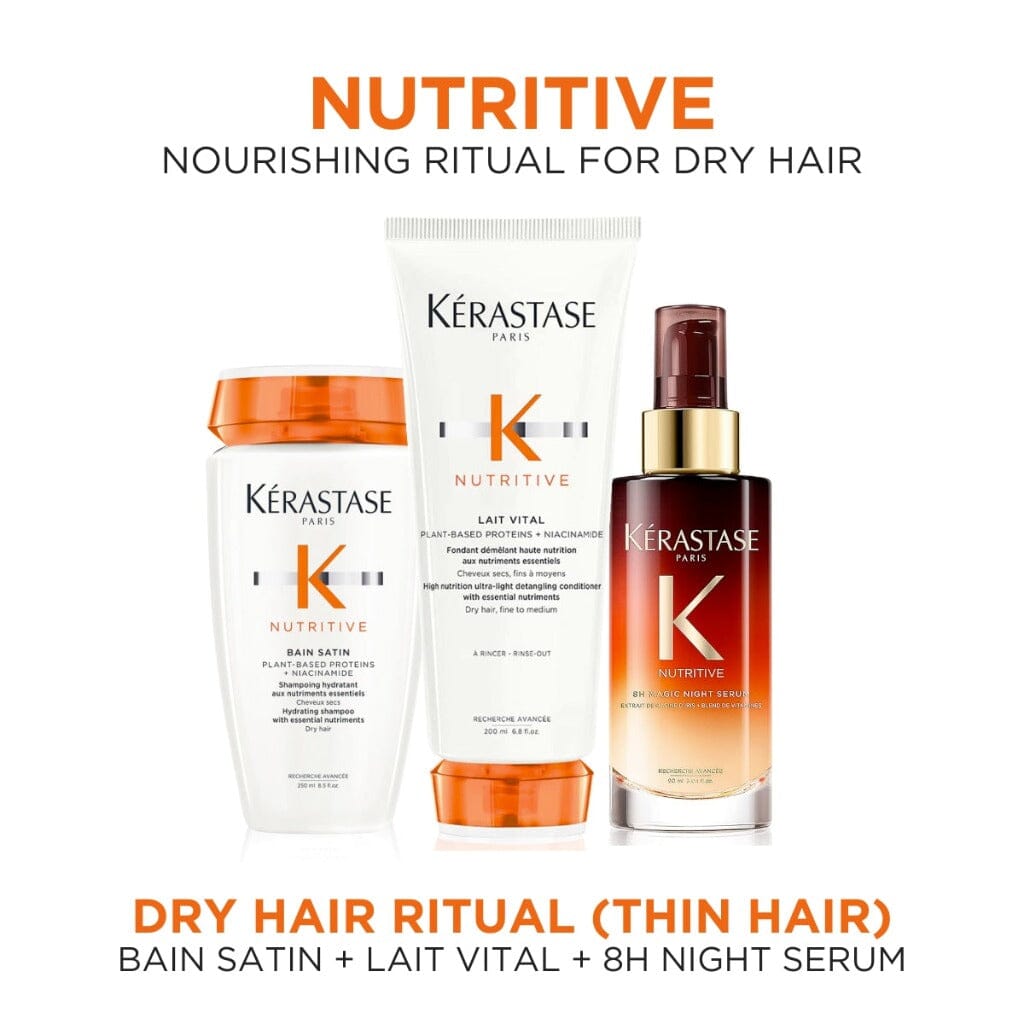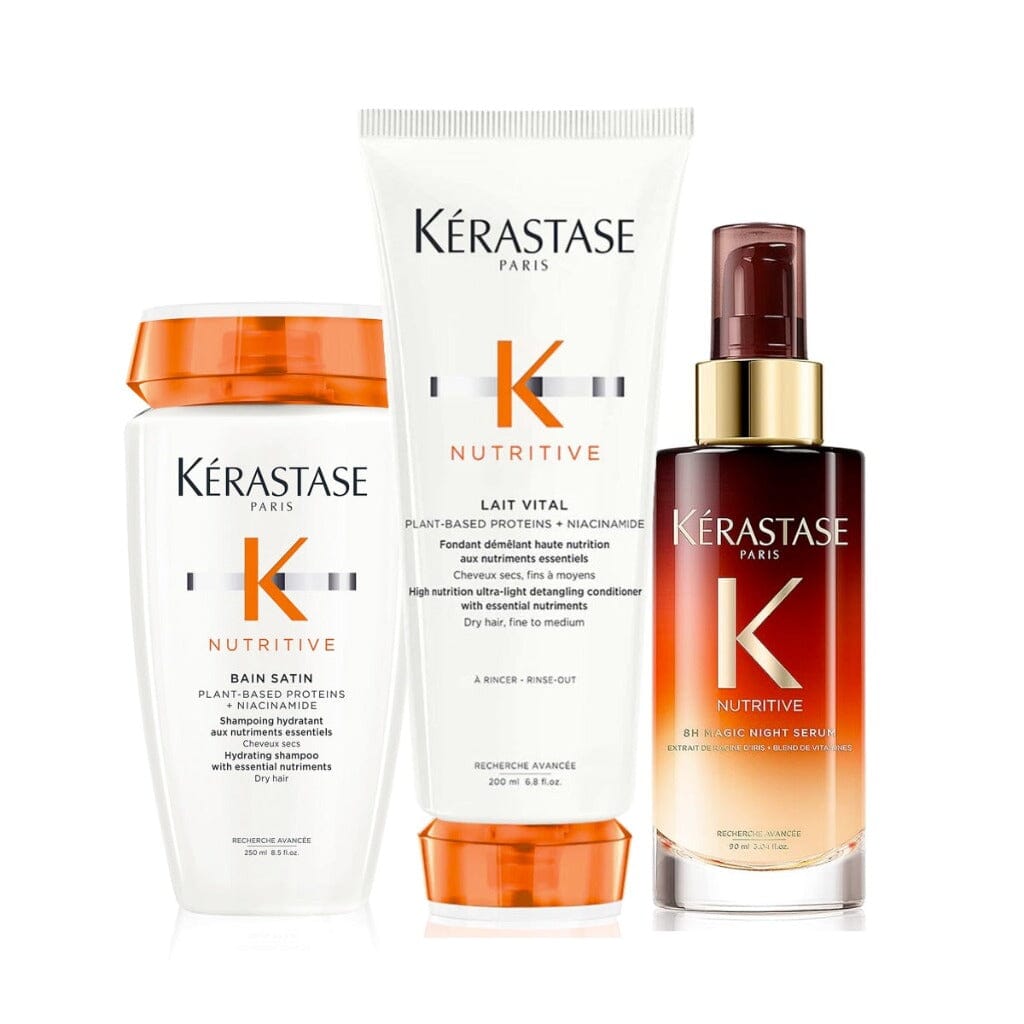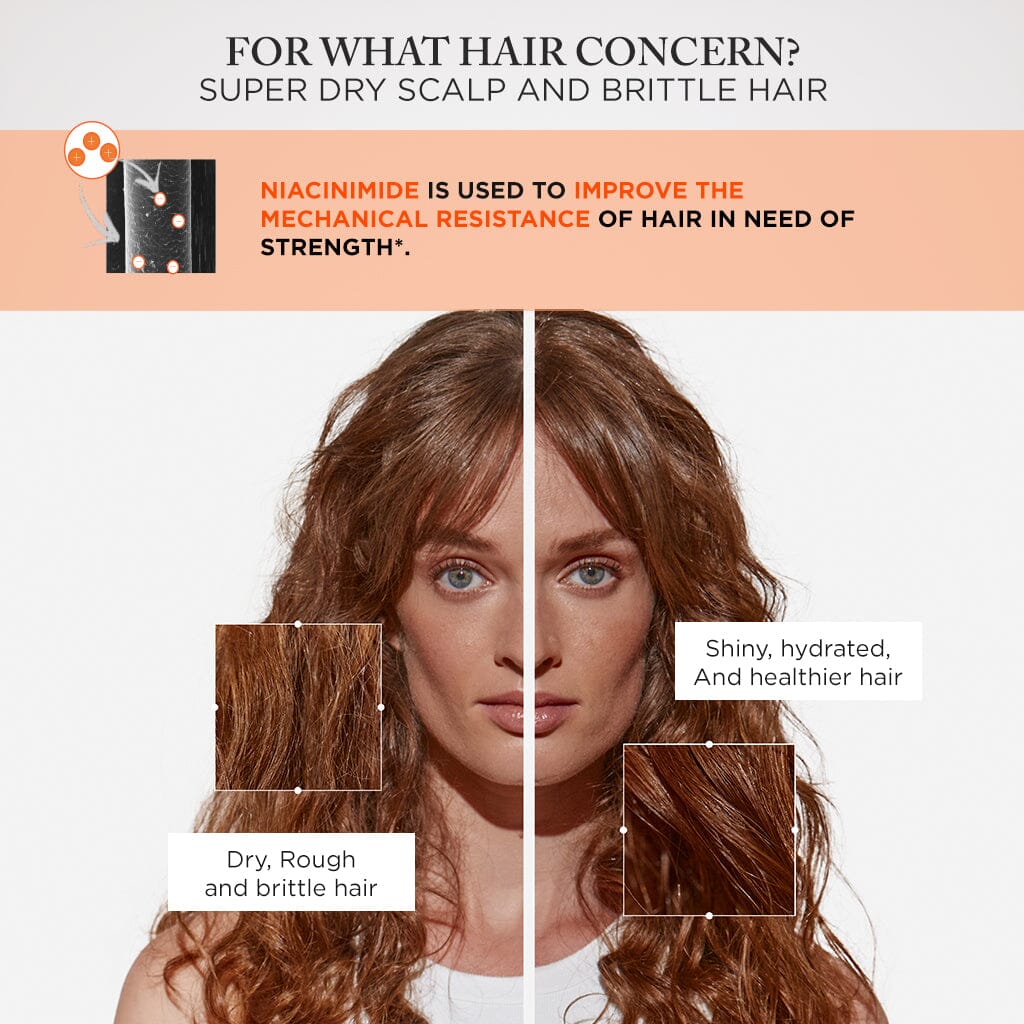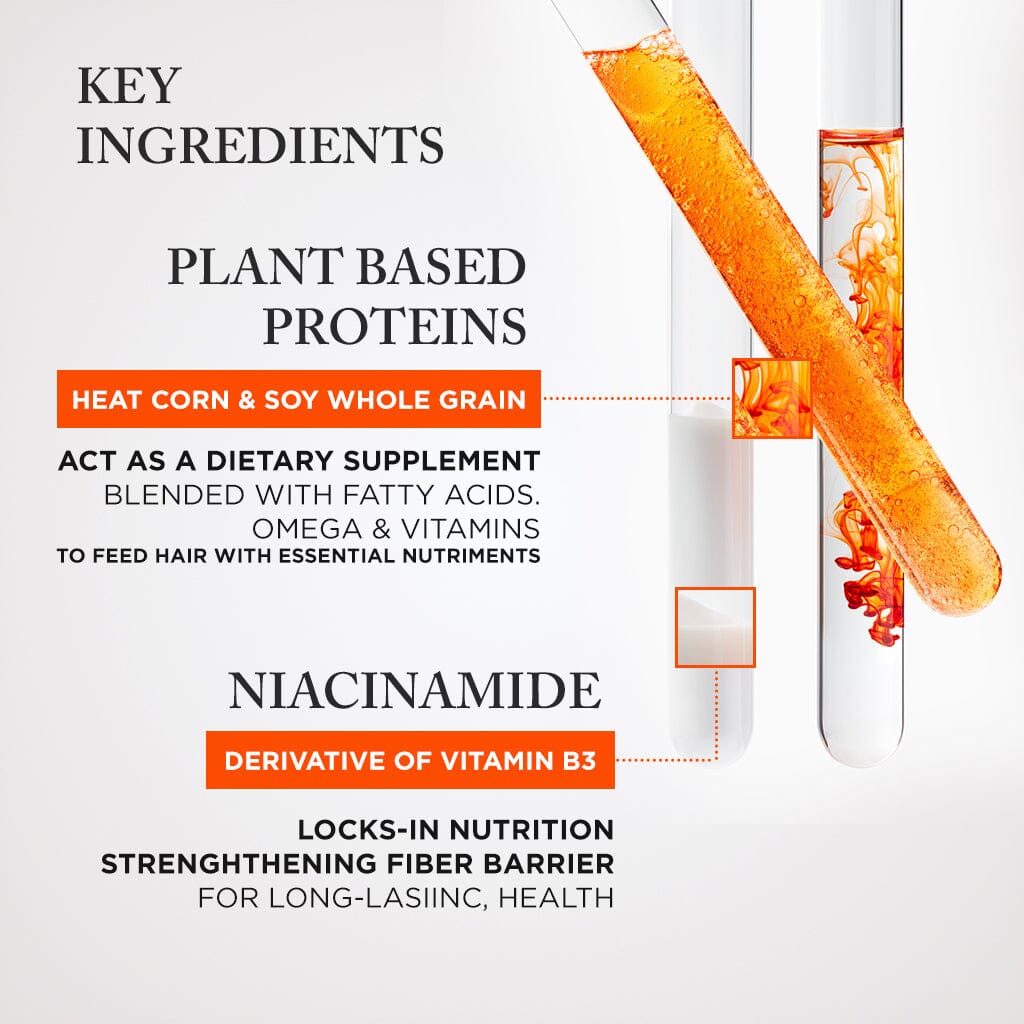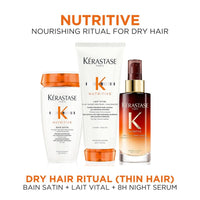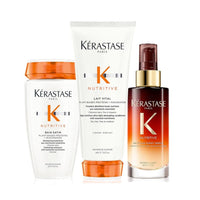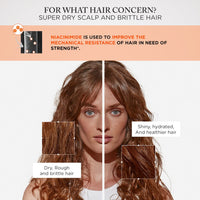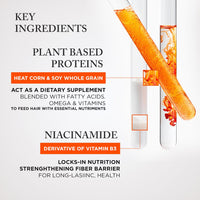 Kérastase Nutritive Dry Hair Ritual (Thin Hair)
The Kérastase Nutritive range, a healthy ritual for dry hair. Provides nutrients-rich care from scalp to ends with plant-based protiens and niacinamide. Designed to nourish and restore suppleness to the hair.

Bathe: Kérastase Nutritive Satin Shampoo 250ml
Hydrating shampoo that cleanses the hair while providing optimal fiber nutrition for normal to slightly dry hair.
Treat: Kérastase Nutritive Lait Vital Conditioner 200ml
Highly nutritious ultra-light detangling conditioner for fine to medium-dry hair.
Restores moisture, nutrition and shine. Optimal nutrition from mid-lengths to ends without weighing it down. Leaves hair supple and free-flowing for ease of styling.

Treat: Kérastase 8H Magic Night Serum 90ml
Overnight leave-in serum that intensely nourishes dry hair over 8 hours for softer and easier hair to style the next morning.
<p><strong>Kérastase Nutritive Satin Shampoo 250ml</strong></p><p>A gentle formula that deeply cleanses dry hair while replenishing moisture and comfort</p><ul><li>Revitalizes and strengthens hair to fight dehydration</li><li>Restores hair thickness and shine</li><li>Gives hair more structure and strength</li></ul><p><i>+44% of immediate hydration &amp; 72h of nutrition *</i><br><i>+45% more softness *</i><br><i>*Instrumental test, after application of Bain Satin.</i></p><p><strong>Kérastase Nutritive Lait Vital Conditioner 200ml</strong></p><p>A powerful lightweight formula for dry hair fine to medium that penetrates hair fiber to deeply hydrate and seals cuticles to hold moisture for longer:</p><ul><li>Leaves a film that protects powerfully hair against external aggressions</li><li>Reinforces hair natural hydrolipidic barrier</li><li>Restores compromised fiber barrier</li><li>Restores elasticity &amp; manageability</li></ul><p><i>+85% of immediate hydration &amp; 72H nutrition*</i><br><i>+53% more softness*</i><br><i>+115% more shine*</i><br><i>*Instrumental test, after application of Lait Vital</i></p><p>&nbsp;<strong>Kérastase&nbsp;8H Magic Night Serum 90ml</strong></p><ul><li>8h of overnight nourishment, in combination with&nbsp;<a href="https://www.hairmnl.com/products/kerastase-nutritive-satin-riche-shampoo-250ml">Bain Satin Riche</a>&nbsp;+&nbsp;<a href="https://www.hairmnl.com/products/kerastase-nutritive-masquintense-thick-hair-200ml">Masquintense</a>.</li><li>Provides easier detangling, avoiding pillow friction.</li><li>Hair fiber is softer to the touch.</li><li>Evolving fragrance to promote relaxed sleep and energy in the morning.</li><li>Increases manageability on normal to coarse hair.</li><li>Hydrates without weighting down on fine hair.</li><li>Provides definition to curly hair.</li></ul>
<p><strong>STEP 1 - BATHE</strong><br>Apply a quarter size amount of <strong>Bain Satin</strong>&nbsp;to wet hair and scalp, massage head using palms of hands, emulsify and rinse thoroughly.</p><p>&nbsp;</p><p><strong>STEP 2 - TREAT</strong><br>Apply a quarter size amount of&nbsp;<strong>Lait Vital Conditioner</strong>&nbsp;to wet hair distributing evenly throughout mid-lengths and ends. Leave on for 2-3 minutes and rinse thoroughly.</p><p>&nbsp;</p><p><strong>STEP 3 - TREAT</strong><br>Use 2 to 4 pumps of <strong>8H Magic Night Serum</strong>, depending on the length and thickness of the hair. Apply on lengths and ends. For application on wet hair, towel-dry hair before applying. Style hair as desired overnight. Leave in. No rinse necessary. Reapply as needed on dry hair for an added boost of overnight nutrition.</p><p>&nbsp;</p><p><strong>Pro Tip:&nbsp;</strong>The perfect complement to a Nutritive nourishing shower routine. To wake up with perfectly loose waves or defined curls, apply before braiding or pulling into a bun.</p>
<p><strong>Key Ingredients</strong></p><p><strong>Kérastase Nutritive Satin Shampoo / Lait Vital Conditioner</strong></p><ul><li>Plant-Based Proteins :<span style="background-color:rgb(255,255,255);color:rgb(36,36,36);"> In this protein shampoo, wheat, corn, and soy whole grains act as a dietary supplement. Blended with fatty acids, omega, and vitamins, they feed the hair with essential nutrients.</span></li><li><u>Niacinamide</u>:<span style="background-color:rgb(255,255,255);color:rgb(36,36,36);"> A derivative of vitamin B3 that locks-in nutrition, making this niacinamide shampoo able to strengthen the fiber barrier for long-lasting health.</span></li><li><u>Glycerin</u>:<span style="background-color:rgb(255,255,255);color:rgb(36,36,36);"> From vegetal origin, glycerin boosts the global hydrating performance of the formula.</span></li></ul><p><strong>Kérastase&nbsp;8H Magic Night Serum</strong></p><ul><li>Iris Root extract: Nourishes progressively &amp; durably over 8h (reverses daytime loss of nutrients &amp; creates a beauty coat on fiber).</li><li>5 vitamins blend: Seals cuticles with a satin finish (progressive nutrient penetration &amp; durable anchoring).</li></ul><p><strong>Full Ingredients</strong></p><p><strong>Kérastase Nutritive Satin Shampoo</strong><br><span style="background-color:rgb(255,255,255);color:rgb(50,46,52);">COCO-BETAINE, COCAMIDOPROPYL BETAINE, SODIUM LAURYL SULFATE, SODIUM LAURETH SULFATE, CARBOMER, PPG-5-CETEH-20, GUAR HYDROXYPROPYLTRIMONIUM CHLORIDE, HYDROLYZED WHEAT PROTEIN (and) HYDROLYZED CORN PROTEIN (and) HYDROLYZED SOY PROTEIN, NIACINAMIDE, ASCORBYL GLUCOSIDE, PANTHENOL, ISOSTEARYL NEOPENTANOATE, GLYCOL DISTEARATE, GLYCERIN, DIMETHICONE</span></p><p>&nbsp;</p><p><strong>Kérastase Nutritive Lait Vital Conditioner</strong><br><span style="background-color:rgb(255,255,255);color:rgb(0,0,0);">OCTYLDODECANOL, CETYL ALCOHOL, GLYCERIN, AMODIMETHICONE, TRIDECETH-6, CETRIMONIUM CHLORIDE, CETRIMONIUM CHLORIDE, BEHENTRIMONIUM CHLORIDE, HYDROLYZED WHEAT PROTEIN, HYDROLYZED CORN PROTEIN, HYDROLYZED SOY PROTEIN, NIACINAMIDE, ASCORBYL GLUCOSIDE, PANTHENOL, GLYCOL DISTEARATE</span></p><p>&nbsp;</p><p><strong>Kérastase&nbsp;8H Magic Night Serum</strong><br>Aqua / Water / Eau - Cyclohexasiloxane - C13-16 Isoparaffin - Glycerin - Polyacrylamide - Phenoxyethanol - Dimethicone - C13-14 Isoparaffin - Laureth-7 - Linalool - Tocopherol - Niacinamide - Pyridoxine Hcl - Panthenol - Butylene Glycol - Hydroxycitronellal - Glyceryl Linoleate - Benzyl Salicylate - Benzyl Alcohol - Hexyl Cinnamal - Citronellol - Glyceryl Oleate - Alpha-Isomethyl Ionone - Ascorbyl Glucoside - Safflower Glucoside - Coumarin - Limonene - Hydroxypropyltrimonium Hydrolyzed Wheat Protein - Iris Florentina Root Extract - Glyceryl Linolenate - Ci 19140 / Yellow 5 - Ci 14700 / Red 4 - Bht - Sodium Citrate - Parfum / Fragrance</p>