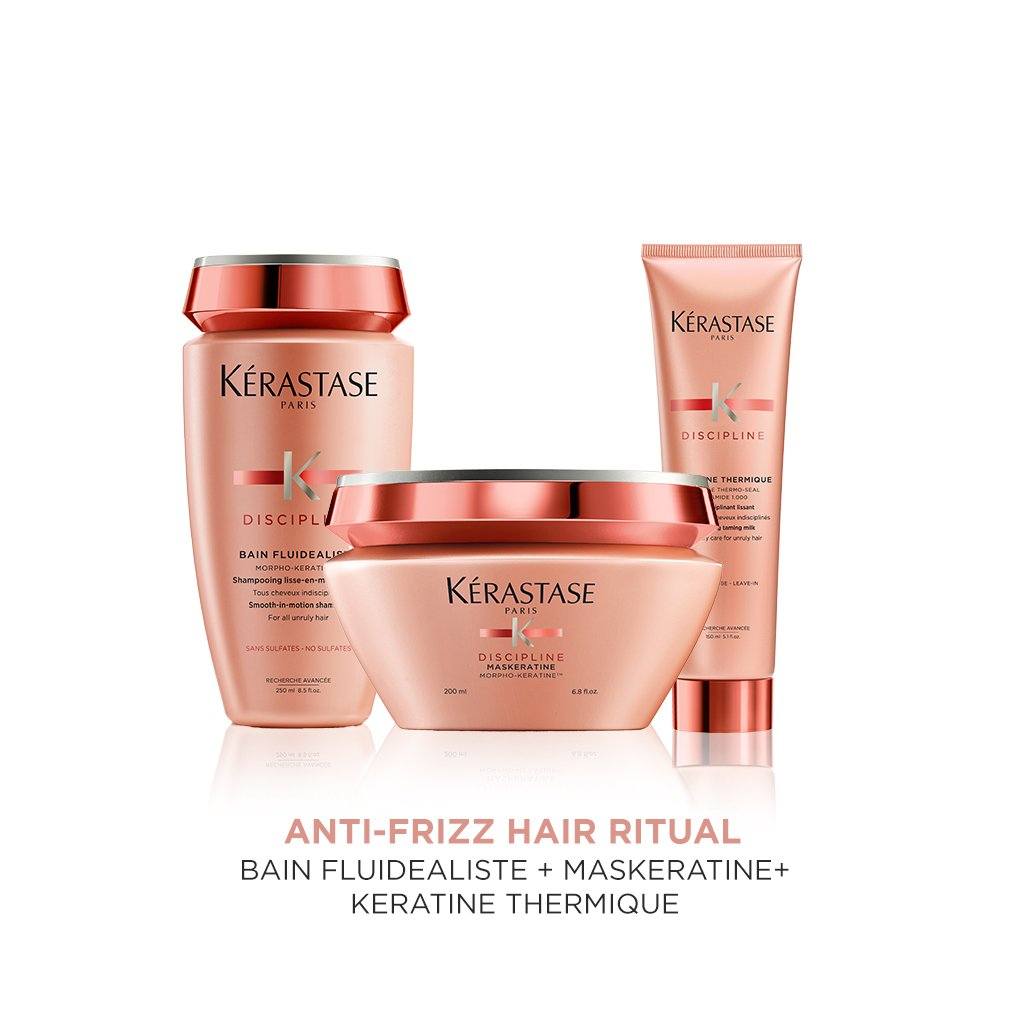 Kérastase Discipline Fluidealiste Anti-Frizz Masque Hair Ritual (Thick Hair)
This set aims to smooth each fiber, control its movement and guarantee fluidity. Using breakthrough Morpho-Keratine technology, these products envelop each hair fiber in feather-light coating and tame rebellious hair, bringing manageability, suppleness and shine while sublimating hair's movement. The result is weightless control, anti-frizz action and anti-humidity protection.
Bathe: Kérastase Discipline Bain Fluidealiste 250ml
Sulfate-free smoothing shampoo gently cleanses hair while providing discipline and fluidity. Delivers optimal nourishment without weight to unruly, sensitized or chemically-treated hair.
Treat: Kérastase Discipline Maskeratine Mask 200ml
Daily deep conditioning mask provides maximum frizz control, extreme softness and suppleness for fine to coarse, unruly hair. Seals the ends to help prevent future blow-dry heat damage.
Texturize: Kérastase Discipline Keratin Thermique Blow-Dry Primer 150ml
Excellent leave-in-care for 85% less breakage from blow-dry. Smooths frizz and flyaways with humidity protection.
<p><strong>Kérastase&nbsp;Discipline&nbsp;Bain Fluidealiste 250ml</strong></p><ul><li>Anti-frizz protection.</li><li>Enhances the fluidity &amp; natural movement of hair.</li><li>Greater hair manageability.</li><li>Eases detangling.</li><li>Smoothness and softness.</li><li>Ideal for color-treated or chemically-treated hair.</li></ul><p><strong>Kérastase Discipline&nbsp;Maskeratine Mask&nbsp;200ml</strong></p><ul><li>Hair is deeply treated.</li><li>Smoothness &amp; softness.</li><li>Enhanced manageability.</li><li>Anti-frizz protection.</li><li>Softened and replenished fiber.</li><li>No resistance to styling.</li><li>Easy detangling.</li><li>Speeds blowdrying.</li></ul><p><strong>Kérastase Discipline Keratin Thermique Blow-Dry Primer 150ml</strong></p><ul><li>Thermo-protection &nbsp; up to 180°C.</li><li>Hair is strengthened, breakage is reduced.</li><li>Anti-frizz/anti-humidity action.</li><li>Shiny and perfect glazed-like finish.</li><li>Facilitates blow-dry &amp; reduces styling time.</li><li>Perfect fluid and light movement in hair.</li><li>Smoothes &amp; tames hair fiber.</li></ul>
</div>
<p><strong><span class="s1">Kérastase <meta charset="utf-8">Discipline Bain Fluidealiste 250ml</span></strong><br>Apply a quarter size amount to wet hair and scalp. Massage head using palms of the hands. Emulsify and rinse thoroughly.</p>
<p data-mce-fragment="1"><strong data-mce-fragment="1"><iframe width="560" height="315" src="https://www.youtube.com/embed/0JO3uk_k3DA" data-mce-fragment="1" data-mce-src="https://www.youtube.com/embed/0JO3uk_k3DA" frameborder="0" allow="accelerometer; autoplay; encrypted-media; gyroscope; picture-in-picture" allowfullscreen=""></iframe></strong></p>
<p><meta charset="utf-8"><meta charset="utf-8"><br data-mce-fragment="1"><meta charset="utf-8"><strong data-mce-fragment="1"><span class="s1" data-mce-fragment="1">Kérastase Discipline Maskeratine Mask 200ml<meta charset="utf-8"></span></strong><br>Use once a week for sensitized hair or with every wash for thicker hair. Apply to washed and towel-dried hair. Massage onto lengths and ends. Leave in for 5 minutes. Emulsify and rinse thoroughly.</p>
<p><strong>Pro Tip:</strong><span> </span>Ensure hair is properly wrung before application of the mask as water is the primary barrier preventing active ingredients to properly penetrate the hair fiber.</p>
<p><strong><iframe src="https://www.youtube.com/embed/eHr1iMRXWrQ" height="315" width="560" allowfullscreen="" allow="accelerometer; autoplay; encrypted-media; gyroscope; picture-in-picture" frameborder="0"></iframe></strong></p>
<strong data-mce-fragment="1"><span class="s1" data-mce-fragment="1"></span></strong><br><meta charset="utf-8"><strong data-mce-fragment="1"><span class="s1" data-mce-fragment="1">Kérastase Discipline Keratin Thermique Blow-Dry Primer 150ml</span></strong><br>Apply a quarter size amount to washed and towel-dried hair. Massage onto lengths and ends and detangle with a comb, but do not rinse. Blow-dry, then heat style as usual to achieve desired look.
<div style="text-align: left;">
<p><strong>Kérastase Discipline&nbsp;Bain Fluidealiste 250ml</strong></p><p><strong>Key Ingredients</strong></p><ul><li>Morpho-Constituing Agents + Surface-Morphing Polymers: Restores the hair fiber's homogeneity and coats the fiber to provide manageability and anti-frizz protection.</li><li>Surface Perfector: Makes the hair smooth, soft and easy to detangle.</li><li>High Precision Care Agent: Restoration with a natural touch. Weightless effect.</li></ul><p><strong>Full Ingredients</strong><br>Aqua / Water - Sodium Cocoyl Isethionate - Sodium Lauryl Sulfoacetate - Disodium Laureth Sulfosuccinate - Sodium Lauroyl Sarcosinate - Glycol Distearate - Cocamidopropyl Betaine - Glycereth-26 - Decyl Glucoside - Hydrogenated Coconut Acid - Coco-Betaine - Ppg-5-Ceteth-20 - Sodium Benzoate - Divinyldimethicone/Dimethicone Copolymer - Sodium Chloride - Polyquaternium-7 • Amodimethicone - Polyquaternium-10 - Sodium Isethionate - Salicylic Acid - Peg-55 Propylene Glycol Oleate - Propylene Glycol - Carbomer - C11-15 Pareth-7 - Benzoic Acid - Arginine - Glutamic Acid • Benzyl Salicylate - Laureth-9 - Benzyl Alcohol - Glycerin - Serine - Hydroxypropyltrimonium Hydrolyzed Wheat Protein - Trideceth-12 - C12-13 Pareth-23 - 2-Oleamido-1,3-Octadecanediol - Linalool - Alpha-Isomethyl Ionone - C12-13 Pareth-3 - Sodium Hydroxide - Citric Acid - Parfum / Fragrance</p><p><strong>Kérastase Discipline Maskeratine Mask 200ml</strong></p><p><strong>Key Ingredients</strong></p><ul><li>Morpho-Constituing Agents + Surface-Morphing Polymers: Restores the hair fiber's homogeneity and coats the fiber to provide manageability and anti-frizz protection.</li><li>Softening Agents: Bring extreme softness to the fiber.</li><li>Lipid Agents: Association of cosmetic lipids for coating action and anti-frizz protection.</li><li>Optimized Starch: coats the fiber to maintain the hair's texture</li></ul><p><strong>Full Ingredients</strong><br>Aqua / Water - Cetearyl Alcohol - Behentrimonium Chloride - Glycerin - Amodimethicone - Cetyl Esters - Potato Starch Modified - Isopropyl Alcohol - Methylparaben - Trideceth-6 - Benzyl Salicylate - Benzyl Alcohol - Chlorhexidine Dihydrochloride - Cetrimonium Chloride - 2-Oleamido-1,3-Octadecanediol -Linalool - Alpha-Isomethyl Ionone - Arginine - Serine - Glutamic Acid - Sodium Hydroxide - Hydroxypropyltrimonium Hydrolyzed Wheat Protein - Parfum / Fragrance</p><p><strong>Kérastase Discipline Keratin Thermique Blow-Dry Primer 150ml</strong></p><p><strong>Key Ingredients</strong></p><ul><li>Morpho-Kératine™ (Morpho-Constituing Agents + Surface-Morphing Polymers) coats each hair fiber in feather-light coating, restoring the fiber's uniformity, solidity and smoothness for perfectly tamed hair.</li><li>Auto-Reticular Polymer creates a hydrophobic film that tames frizz and protect against humidity.</li><li>Ceramide 1.000: highest concentration of ceramides to protect from breakage and strengthen hair.</li><li>Xylose: active ingredient known for its heat protecting properties.</li></ul><p><strong>Full Ingredients</strong><br>Aqua / Water - C13-16 Isoparaffin - Dimethicone - Polyacrylamide - C13-14 Isoparaffin -Phenoxyethanol - Amodimethicone - Laureth-7 - 2-Oleamido-1,3- Octadecanediol - Benzyl Salicylate - Trideceth-5 - Arginine - Glutamic Acid - Chlorhexidine Digluconate - Benzyl Alcohol - Serine - Hydroxypropyltrimonium Hydrolyzed Wheat Protein - Trideceth-10 - Linalool - Xylose - Alpha-Isomethyl Ionone - Geraniol - Citronellol - Cinnamyl Alcohol - Parfum / Fragrance</p>