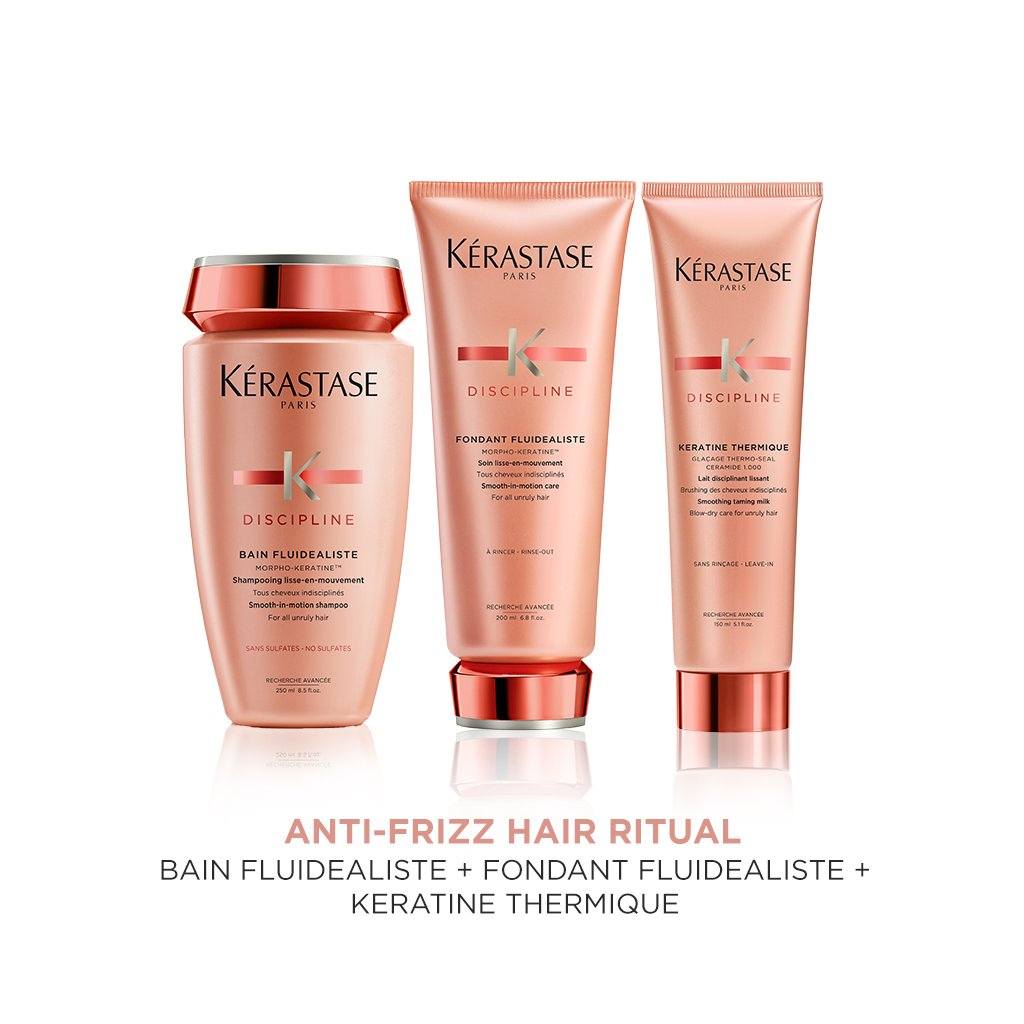 Kérastase Discipline Fluidealiste Anti-Frizz Hair Ritual (Thin Hair)
This set aims to smooth each fiber, control its movement and guarantee fluidity. Using breakthrough Morpho-Keratine technology, these products envelop each hair fiber in feather-light coating and tame rebellious hair, bringing manageability, suppleness and shine while sublimating hair's movement. The result is weightless control, anti-frizz action and anti-humidity protection.
Bathe: Kérastase Discipline Bain Fluidealiste 250ml
Sulfate-free smoothing shampoo gently cleanses hair while providing discipline and fluidity. Delivers optimal nourishment without weight to unruly, sensitized or chemically-treated hair.
Treat: Kérastase Discipline Fluidealiste Conditioner 200ml
Daily conditioner instantly transforms hair to be softer, smoother and more fluid for fine to normal, unruly hair. Latina 2016 Beauty Awards Winner.
Texturize: Kérastase Discipline Keratin Thermique Blow-Dry Primer 150ml
Excellent leave-in-care for 85% less breakage from blow-dry. Smooths frizz and flyaways with humidity protection.
<p><strong>Kérastase&nbsp;Discipline&nbsp;Bain Fluidealiste 250ml</strong></p><ul><li>Anti-frizz protection.</li><li>Enhances the fluidity &amp; natural movement of hair.</li><li>Greater hair manageability.</li><li>Eases detangling.</li><li>Smoothness and softness.</li><li>Ideal for color-treated or chemically-treated hair.</li></ul><p><strong>Kérastase Discipline Fluidealiste Conditioner 200ml</strong></p><ul><li>Softness to the fiber.</li><li>Anti-frizz control.</li><li>Greater hair manageability.</li><li>Weightless finish.</li><li>Fluidity and tamed hair.</li><li>Facilitates blowdrying.</li><li>Hair is smoother.</li></ul><p><strong>Kérastase Discipline Keratin Thermique Blow-Dry Primer 150ml</strong></p><ul><li>Thermo-protection&nbsp;up to 180°C.</li><li>Hair is strengthened, breakage is reduced.</li><li>Anti-frizz/anti-humidity action.</li><li>Shiny and perfect glazed-like finish.</li><li>Facilitates blow-dry &amp; reduces styling time.</li><li>Perfect fluid and light movement in hair.</li><li>Smoothes &amp; tames hair fiber.</li></ul>
</div>
<p><meta charset="utf-8"><strong><span class="s1">Kérastase <meta charset="utf-8">Discipline Bain Fluidealiste 250ml</span></strong><br>Apply a quarter size amount to wet hair and scalp. Massage head using palms of the hands. Emulsify and rinse thoroughly.</p>
<p data-mce-fragment="1"><strong data-mce-fragment="1"><iframe data-mce-fragment="1" src="https://www.youtube.com/embed/0JO3uk_k3DA" height="315" width="560" allowfullscreen="" allow="accelerometer; autoplay; encrypted-media; gyroscope; picture-in-picture" frameborder="0" data-mce-src="https://www.youtube.com/embed/0JO3uk_k3DA"></iframe></strong></p>
<p><meta charset="utf-8"><meta charset="utf-8"><br data-mce-fragment="1"><meta charset="utf-8"><strong data-mce-fragment="1"><span data-mce-fragment="1" class="s1">Kérastase Discipline Fluidealiste Conditioner 200ml</span></strong><br>Apply a quarter size amount to wet hair on the mid-lengths and ends, distributing evenly. Leave on for 2-3 minutes and rinse thoroughly.</p>
<p><iframe title="YouTube video player" src="https://www.youtube.com/embed/-WE8Lu7bDAA" height="315" width="560" allowfullscreen="" allow="accelerometer; autoplay; clipboard-write; encrypted-media; gyroscope; picture-in-picture; web-share" frameborder="0"></iframe></p>
<meta charset="utf-8"><strong data-mce-fragment="1"><span data-mce-fragment="1" class="s1">Kérastase Discipline Keratin Thermique Blow-Dry Primer 150ml</span></strong><br>Apply a quarter size amount to washed and towel-dried hair. Massage onto lengths and ends and detangle with a comb, but do not rinse. Blow-dry, then heat style as usual to achieve desired look.
<div style="text-align: left;">
<p><strong>Kérastase Discipline&nbsp;Bain Fluidealiste 250ml</strong></p><p><strong>Key Ingredients</strong></p><ul><li>Morpho-Constituing Agents + Surface-Morphing Polymers: Restores the hair fiber's homogeneity and coats the fiber to provide manageability and anti-frizz protection.</li><li>Surface Perfector: Makes the hair smooth, soft and easy to detangle.</li><li>High Precision Care Agent: Restoration with a natural touch. Weightless effect.</li></ul><p><strong>Full Ingredients</strong><br>Aqua / Water - Sodium Cocoyl Isethionate - Sodium Lauryl Sulfoacetate - Disodium Laureth Sulfosuccinate - Sodium Lauroyl Sarcosinate - Glycol Distearate - Cocamidopropyl Betaine - Glycereth-26 - Decyl Glucoside - Hydrogenated Coconut Acid - Coco-Betaine - Ppg-5-Ceteth-20 - Sodium Benzoate - Divinyldimethicone/Dimethicone Copolymer - Sodium Chloride - Polyquaternium-7 • Amodimethicone - Polyquaternium-10 - Sodium Isethionate - Salicylic Acid - Peg-55 Propylene Glycol Oleate - Propylene Glycol - Carbomer - C11-15 Pareth-7 - Benzoic Acid - Arginine - Glutamic Acid - Benzyl Salicylate - Laureth-9 - Benzyl Alcohol - Glycerin - Serine - Hydroxypropyltrimonium Hydrolyzed Wheat Protein - Trideceth-12 - C12-13 Pareth-23 - 2-Oleamido-1,3-Octadecanediol - Linalool - Alpha-Isomethyl Ionone - C12-13 Pareth-3 - Sodium Hydroxide - Citric Acid - Parfum / Fragrance</p><p><strong>Kérastase Discipline Fluidealiste Conditioner 200ml</strong></p><p><strong>Key Ingredients</strong></p><ul><li>Morpho-Constituing Agents + Surface-Morphing Polymers: Restores the hair fiber's homogeneity and coats the fiber to provide manageability and anti-frizz protection.</li><li>Softening Agents: Bring extreme softness to the fiber.</li><li>Lipid Agents: Association of cosmetic lipids for coating action and anti-frizz protection.</li></ul><p><strong>Full Ingredients</strong><br>Aqua / Water - Cetearyl Alcohol - Amodimethicone - Glycerin - Cetyl Esters - Cetrimonium Chloride - Dipalmitoylethyl Hydroxyethylmonium Methosulfate - Trideceth-6 - Phenoxyethanol - Arginine - Glutamic Acid - Citric Acid - Benzyl Salicylate - Serine - Hydroxypropyltrimonium Hydrolyzed Wheat Protein - Benzyl Alcohol - Chlorhexidine Digluconate - 2-Oleamido-1,3-Octadecanediol - Linalool - Alpha-Isomethyl Ionone - Parfum / Fragrance</p><p><strong>Kérastase Discipline&nbsp;Keratin Blow-Dry Primer&nbsp;150ml</strong></p><p><strong>Key Ingredients</strong></p><ul><li>Morpho-Kératine™ (Morpho-Constituing Agents + Surface-Morphing Polymers) coats each hair fiber in feather-light coating, restoring the fiber's uniformity, solidity and smoothness for perfectly tamed hair.</li><li>Auto-Reticular Polymer creates a hydrophobic film that tames frizz and protect against humidity.</li><li>Ceramide 1.000: highest concentration of ceramides to protect from breakage and strengthen hair.</li><li>Xylose: active ingredient known for its heat protecting properties.</li></ul><p><strong>Full Ingredients</strong><br>Aqua / Water - C13-16 Isoparaffin - Dimethicone - Polyacrylamide - C13-14 Isoparaffin -Phenoxyethanol - Amodimethicone - Laureth-7 - 2-Oleamido-1,3- Octadecanediol - Benzyl Salicylate - Trideceth-5 - Arginine - Glutamic Acid - Chlorhexidine Digluconate - Benzyl Alcohol - Serine - Hydroxypropyltrimonium Hydrolyzed Wheat Protein - Trideceth-10 - Linalool - Xylose - Alpha-Isomethyl Ionone - Geraniol - Citronellol - Cinnamyl Alcohol - Parfum / Fragrance</p>