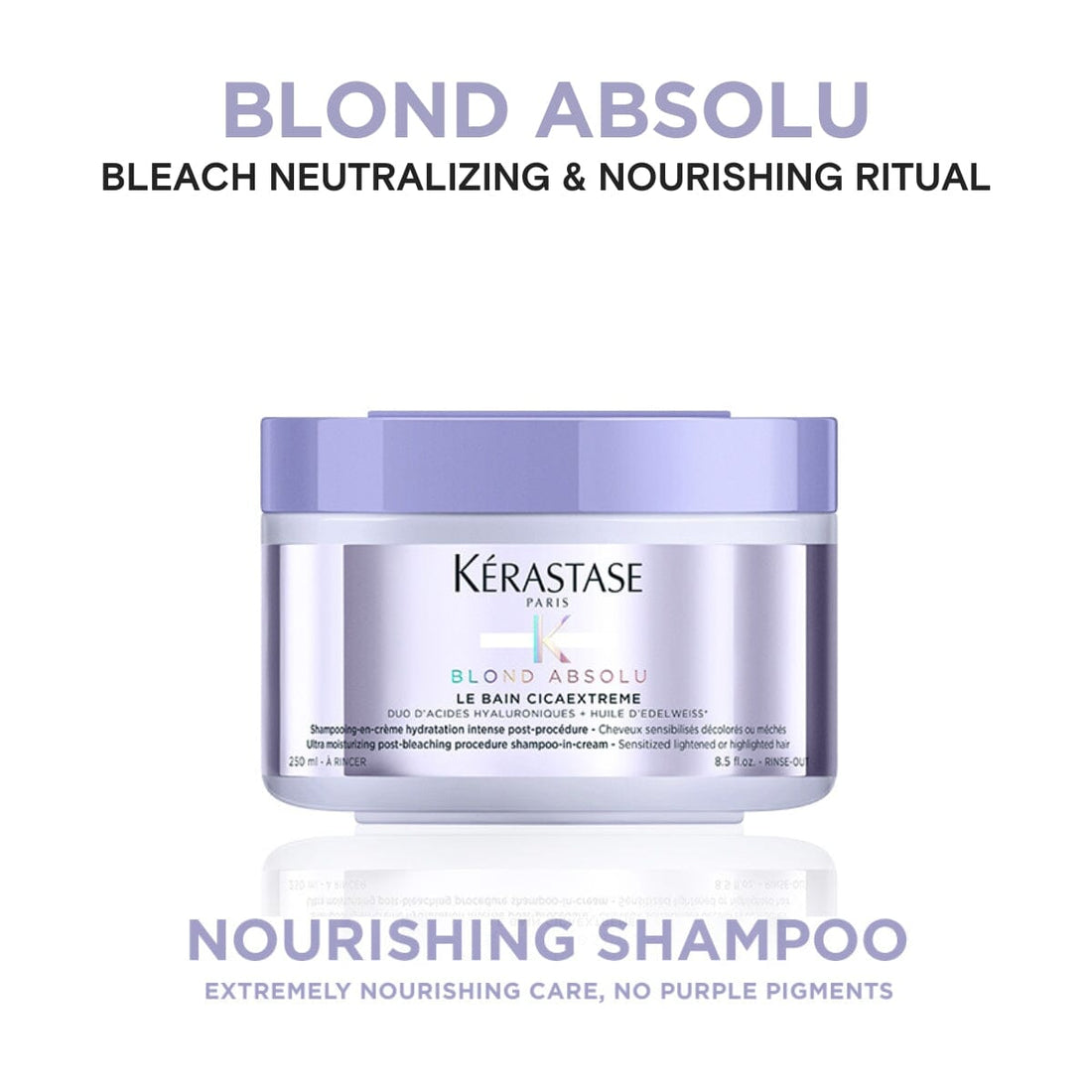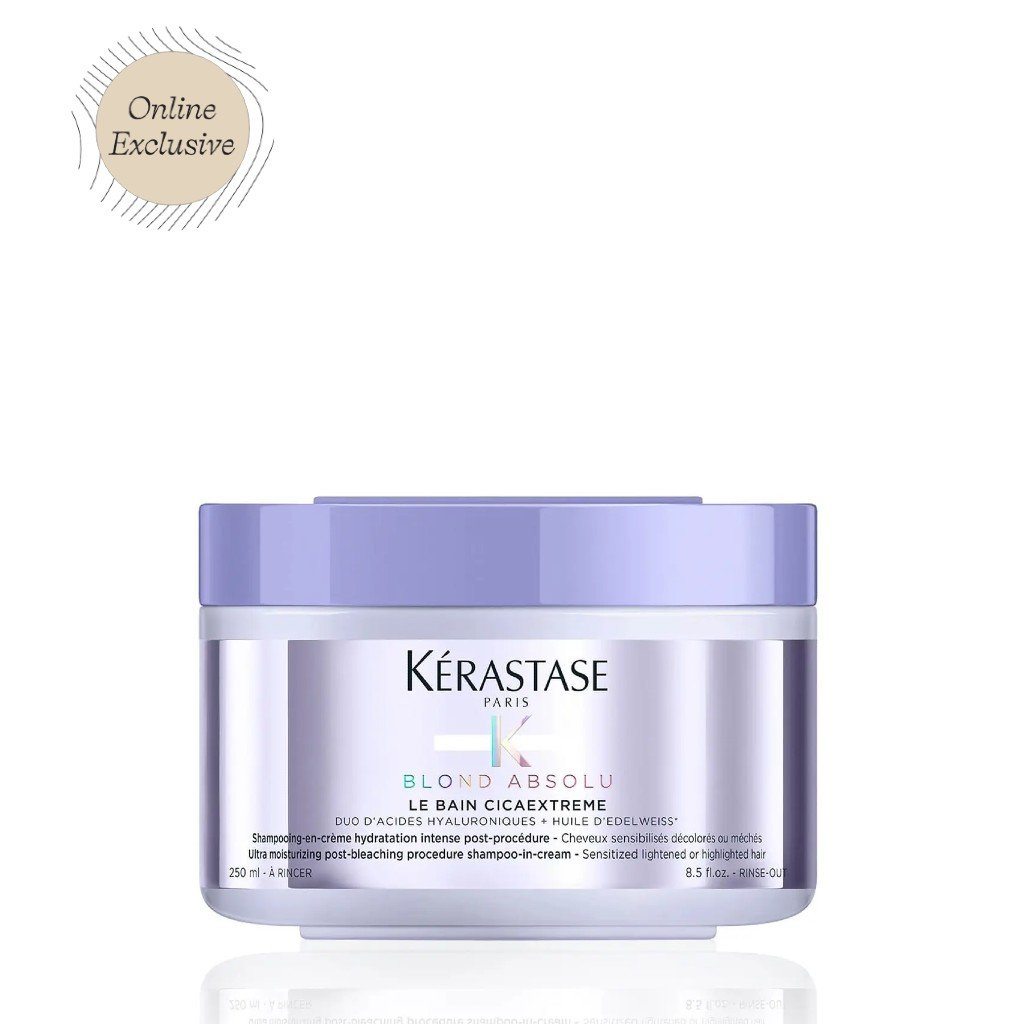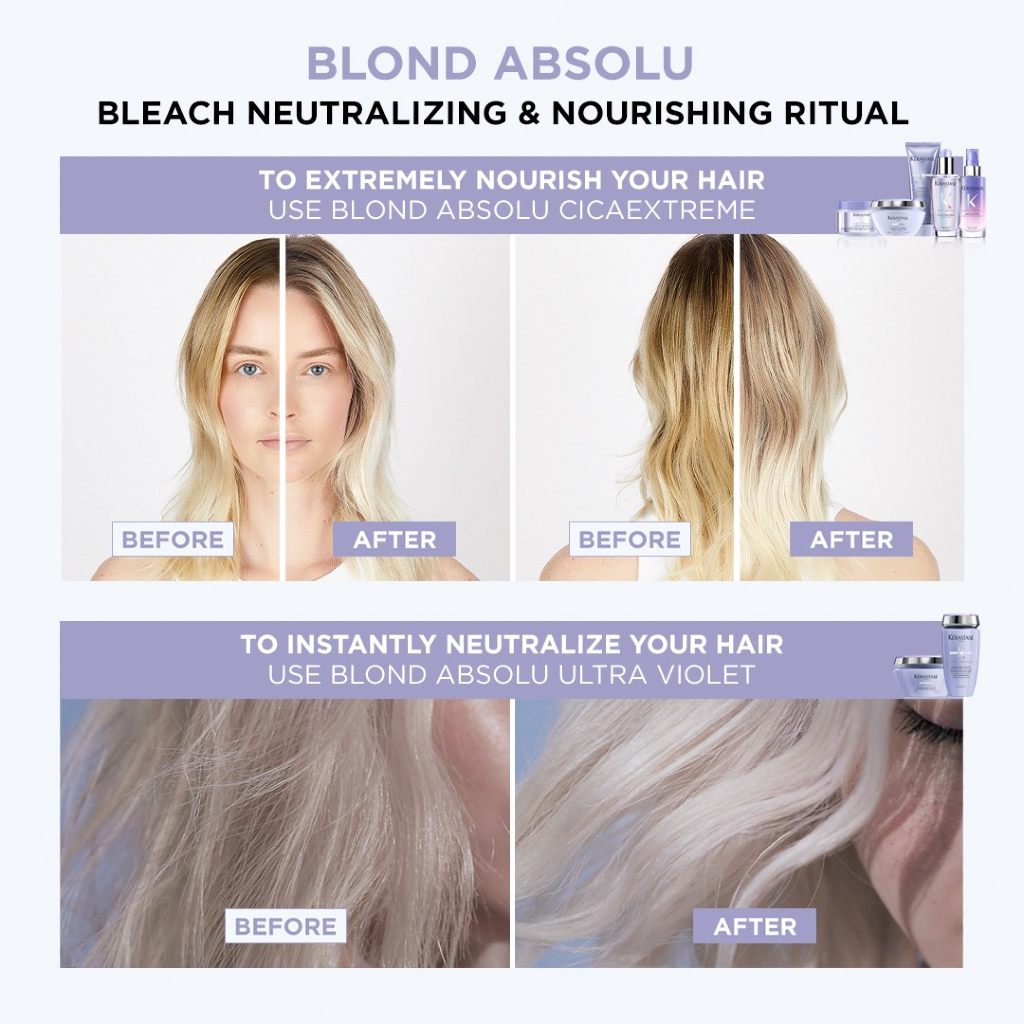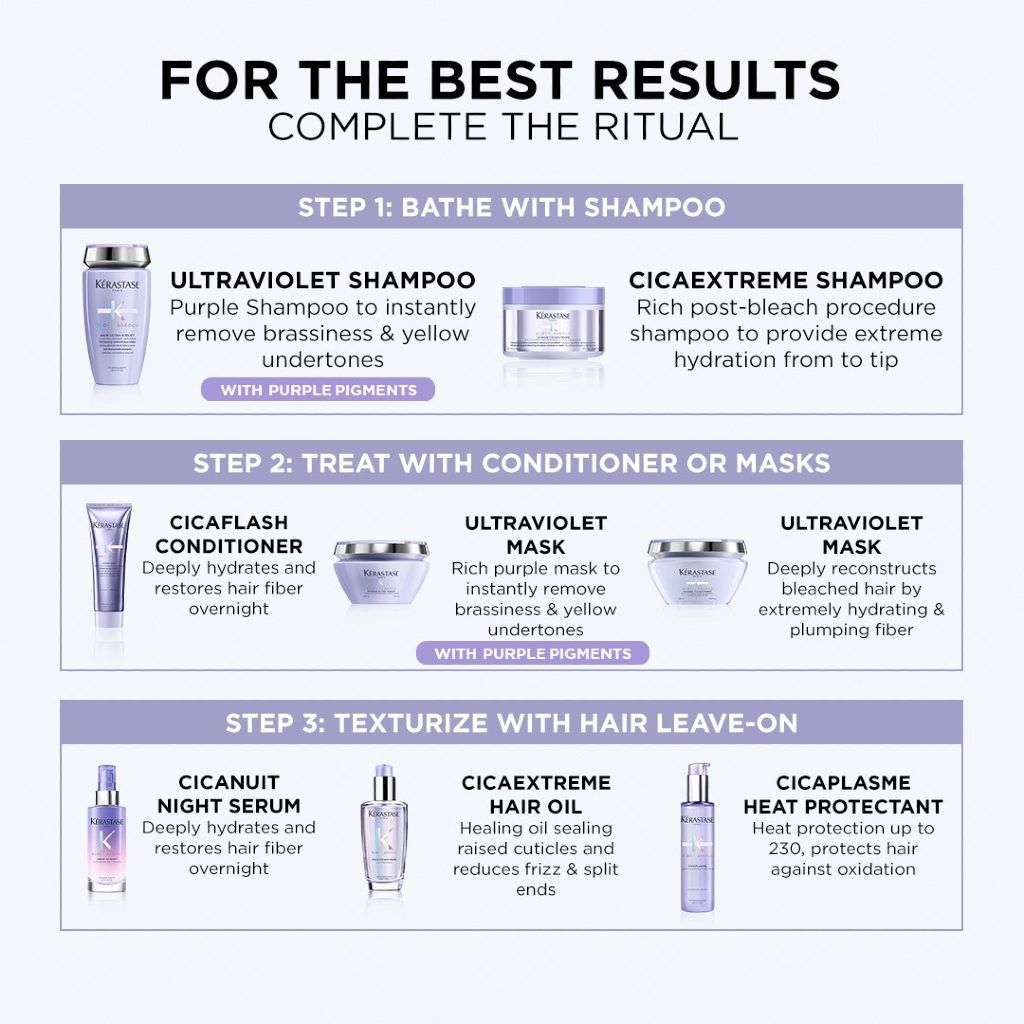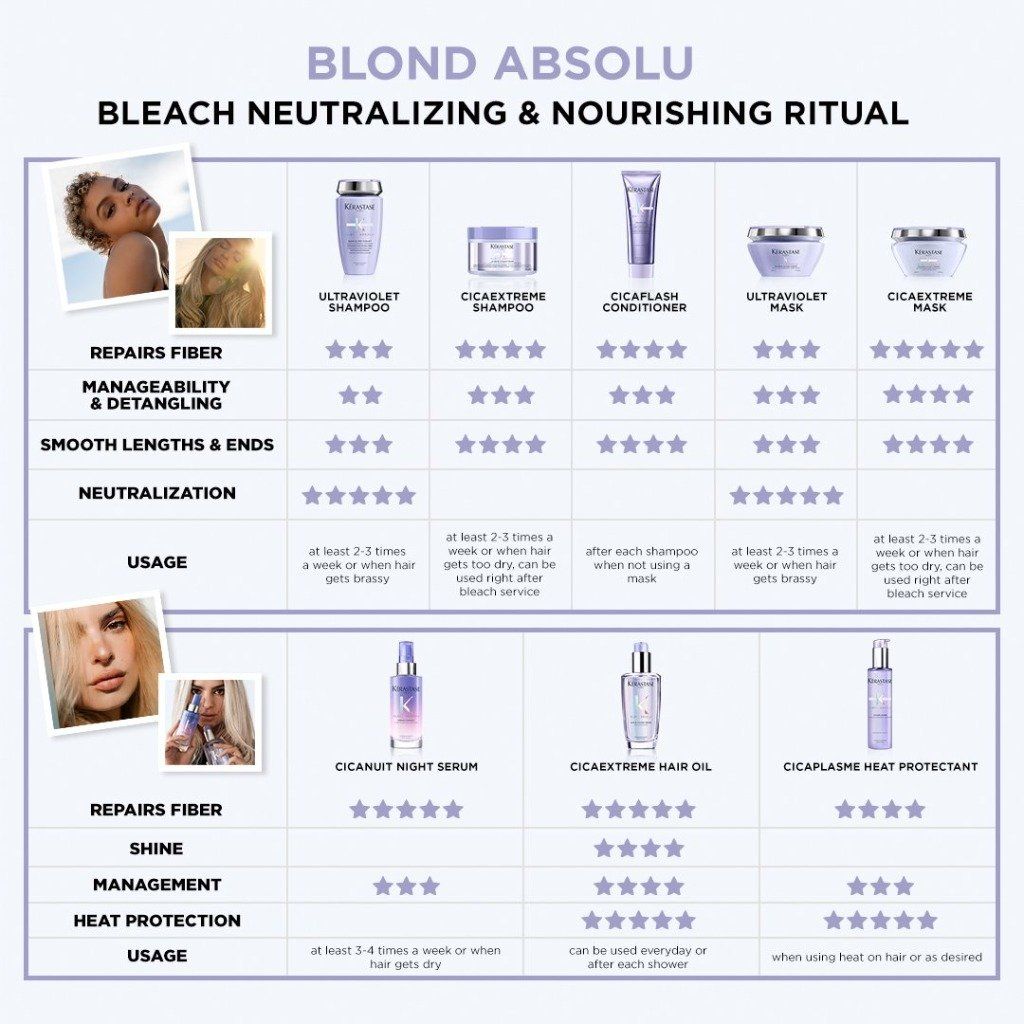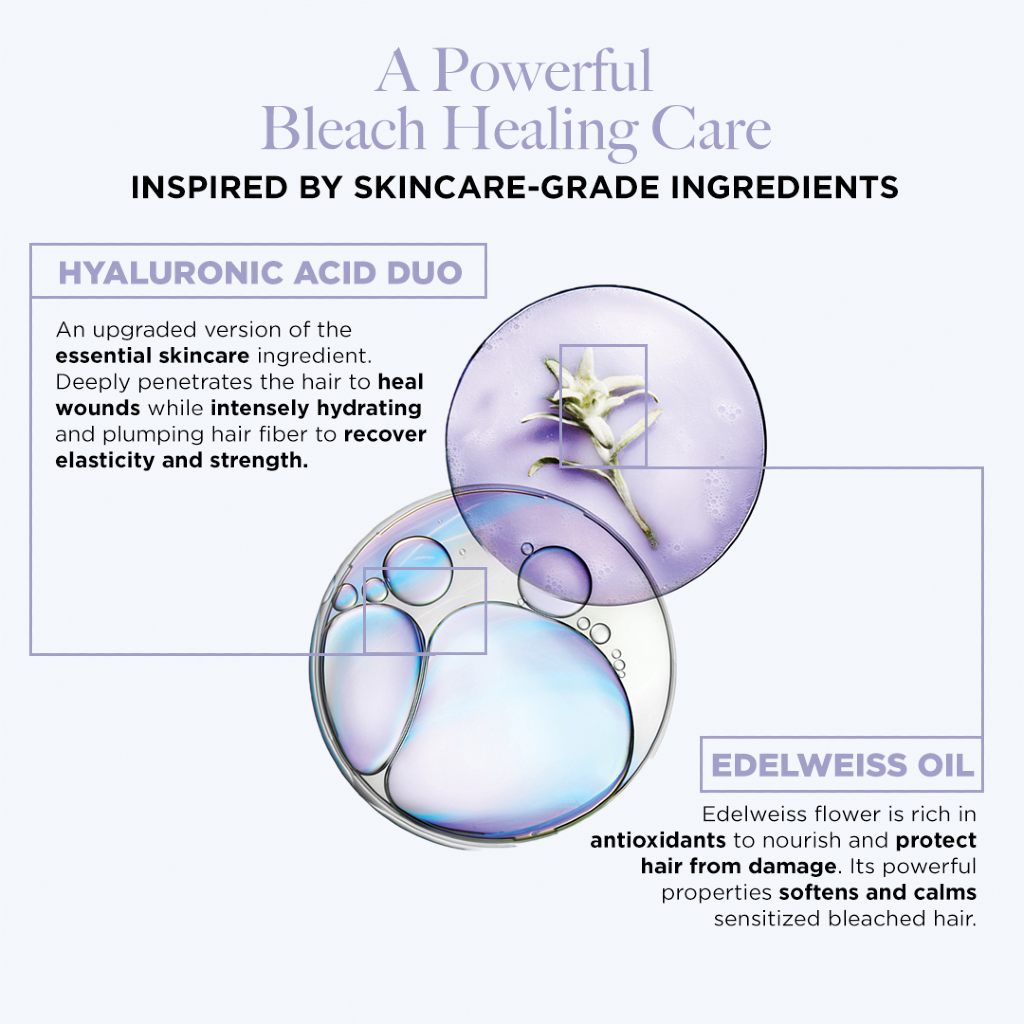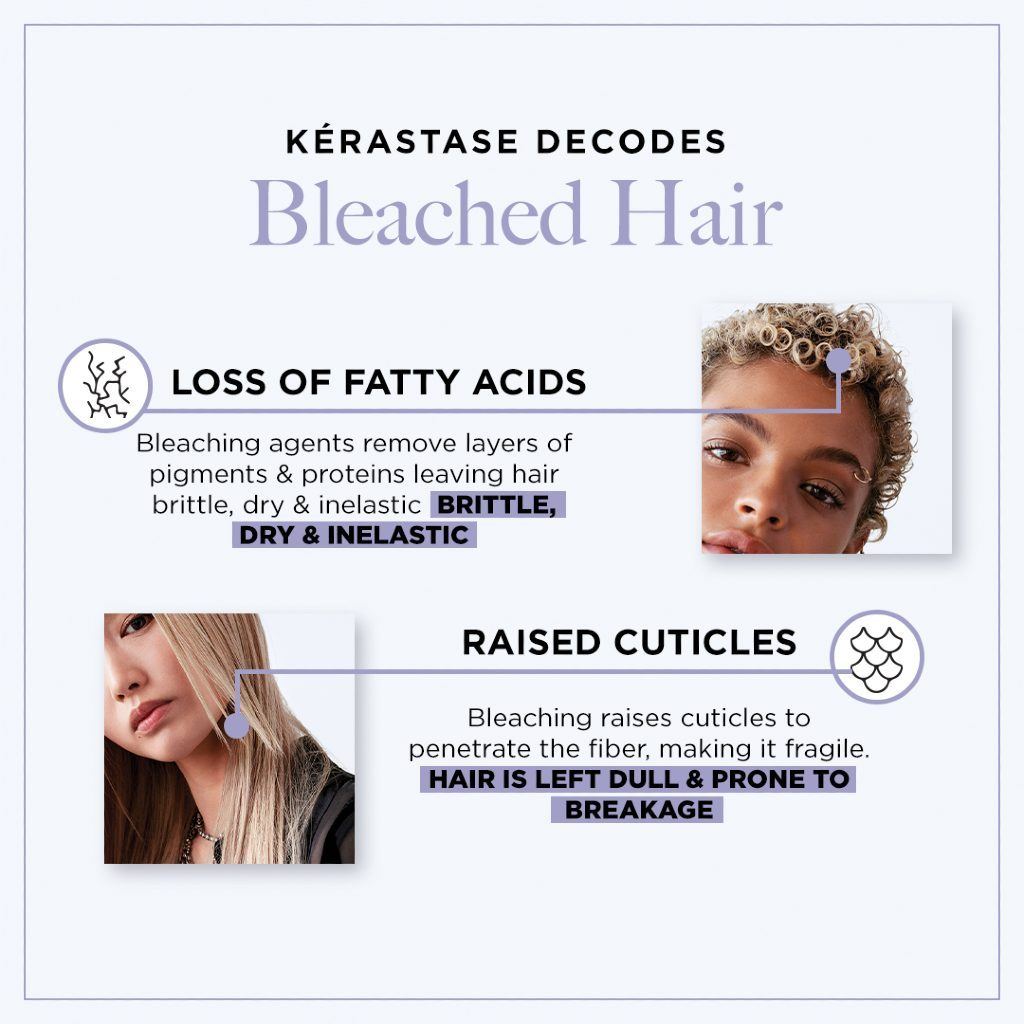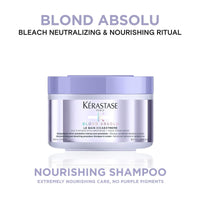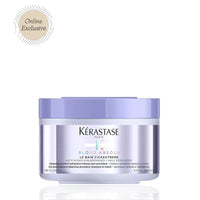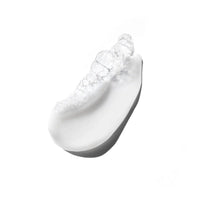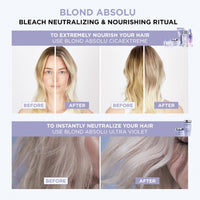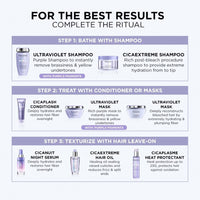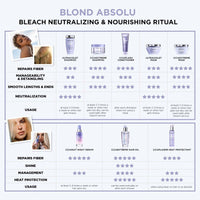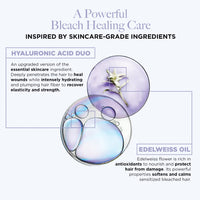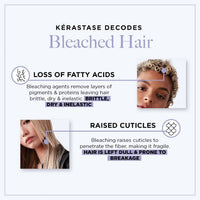 Kérastase Blond Absolu Cicaextreme Shampoo 250ml
Ultra moisturizing shampoo-in-cream to gently cleanse and reconstruct sensitized post-bleached hair.
Infused with Hyaluronic Acid, this post-bleaching procedure shampoo-in-cream provides an ultimate bathing experience for sensitized blonde hair.
Its ultra soft, rich and creamy texture indulges hair in a highly sensorial dense foam, that cleanses without friction while providing intense hydration yet a lightweight fiber feeling. This breakthrough shampoo-in-cream technology intensively moisturizes hair from root to tip, restoring and protecting blonde hair for a stronger and healthier fiber.
Enriched with a powerful combination of Hyaluronic Acid Duo and Edelweiss Oil, the formula deeply replenishes and restore elasticity, repairing post-bleached hair for a stronger, more hesitant, shinier blonde without frizz or split ends.
</div><span>• </span>Indulgent frictionless formula gently cleanses sensitized hair.<br><span>• Strengthens hair by 94% when followed by the <a title="HairMNL Kérastase Blond Absolu Cicaextreme Masque 200ml" href="https://www.hairmnl.com/products/kerastase-blond-absolu-cicaextreme-masque-200ml" target="_blank">Masque Cicaextreme</a>.</span><br><span>• Hair is 51% more hydrated and 65% softer.</span><br><span>• Hair is 2X shinier.</span><div style="text-align: left;">
</div>
<p><strong>Le Bain Cicaextreme Shampoo-in-Cream</strong> can be used in duo with <a title="HairMNL Kérastase Blond Absolu Purple Shampoo 250ml" href="https://www.hairmnl.com/products/kerastase-blond-absolu-purple-shampoo-250ml" target="_blank"><span style="text-decoration: underline;">Bain Ultra-Violet</span></a> as a first caring shampoo or alone in two applications.</p>
<p>Apply to wet hair. Add water to develop the rich dense foam. Lather. Rinse. Repeat.<br></p>
<iframe width="560" height="315" src="https://www.youtube.com/embed/L8_xZk0Ntqk" frameborder="0" allow="accelerometer; autoplay; encrypted-media; gyroscope; picture-in-picture" allowfullscreen=""></iframe><div style="text-align: left;">
<p><strong>Key Ingredients</strong><br>Two powerful actives to heal blond hair:</p><ul><li>An upgraded version of this essential skincare ingredient, a duo of low and high molecular weight <strong>Hyaluronic Acid</strong>. Two different weight molecules for an improved action and deeper penetration. Low weight Hyaluronic Acid is known to deeply penetrate hair and heal profound wounds. High weight Hyaluronic Acid has an intense hydrating function, plumping fiber to recover elasticity and strength.</li><li><strong>Edelweiss oil</strong>, extracted from this immortal flower, rich in anti-oxidants to deeply nourishes fiber and protect hair against daily damage. Its powerful properties softens and calms sensitized bleached hair.</li></ul><p><strong>Full Ingredients</strong><br>Aqua / Water / Eau - Sodium Laureth Sulfate - Cocamidopropyl Betaine - Cetearyl Alcohol - Ammonium Lauryl Sulfate - Sodium Chloride - Parfum / Fragrance - Bis(C13-15 Alkoxy) Pg-amodimethicone - Sodium Benzoate - Hydroxypropyl Guar Hydroxypropyltrimonium Chloride - Acrylates/c10-30 Alkyl Acrylate Crosspolymer - Salicylic Acid - Polyquaternium-7 - Citric Acid - Limonene - Caprylyl Glycol - Benzoic Acid - Peg-30 Dipolyhydroxystearate - Trideceth-6 - Helianthus Annuus Seed Oil / Sunflower Seed Oil - Linalool - Sodium Hyaluronate - Tocopherol - Leontopodium Alpinum Flower/leaf Extract</p>
Kérastase Blond Absolu Cicaextreme Shampoo 250ml