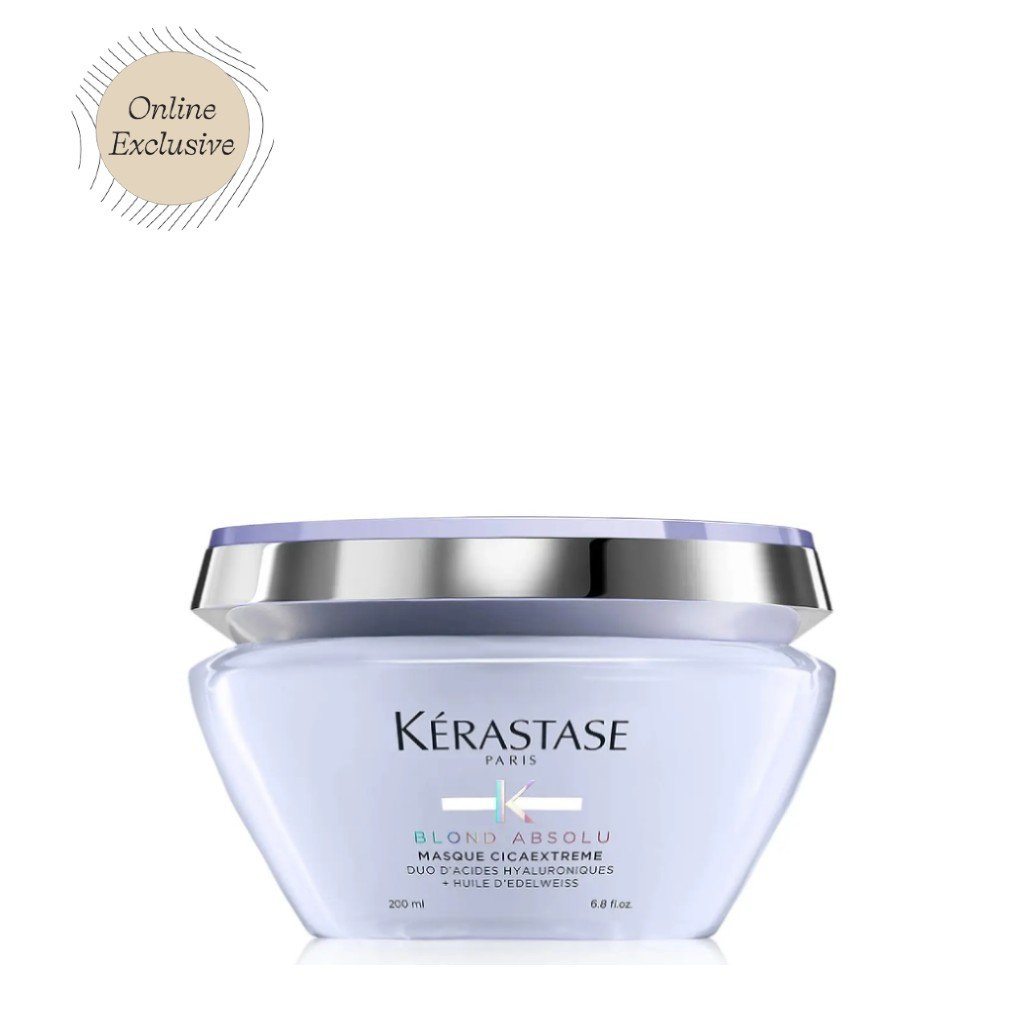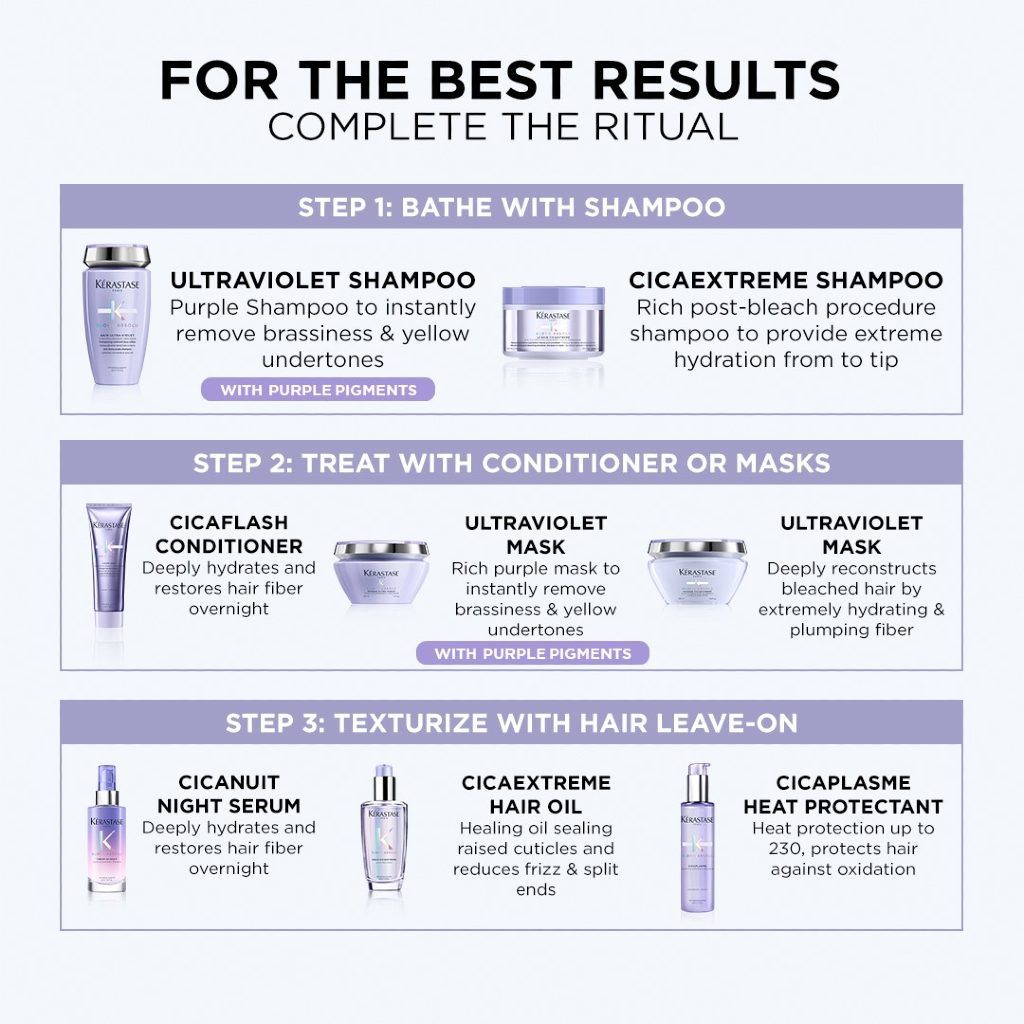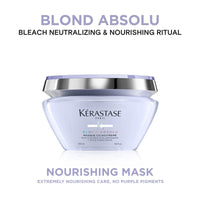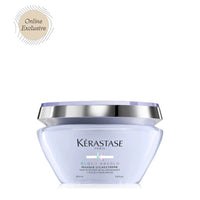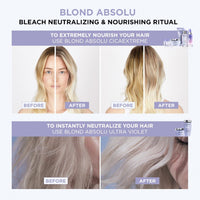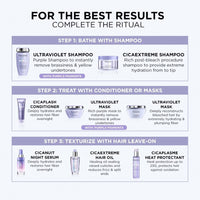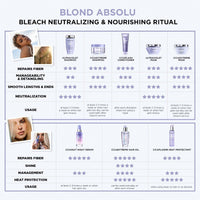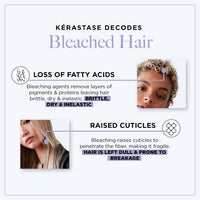 Kérastase Blond Absolu Cicaextreme Masque 200ml
Intense conditioning and deep restorative post-bleaching procedure masque for sensitized lightened or highlighted hair.
This gel-in-cream masque deeply strengthens fiber structure to reconstruct post-bleached hair. It intensely hydrates and plumps fiber for a stronger look and feel. Hyaluronic Acids Duo and Edelweiss Oil, enhances fiber resilience to prevent future breakage and split ends, making it more manageable and easy to detangle.
Suitable for over-processed and very sensitized blonde hair, the
Masque Cicaextreme
reduces post-bleaching hair porosity and seals open scales for a uniform healthier fiber. Hair fiber is restorative, stronger, shinier and deeply smooth from the lengths to ends.
<meta charset="utf-8"><span data-mce-fragment="1">• <meta charset="utf-8">A rich white gel-in-cream deeply strengthen fiber structure to reconstruct post-bleach hair. Hair is 94% stronger and more resistant.</span><br><span data-mce-fragment="1"><meta charset="utf-8">• Seals open scales from bleaching for a uniform, conditioned healthy fiber.</span><br><span data-mce-fragment="1"><meta charset="utf-8">• Fiber is 85% more hydrated and plumped, with 24h of frizz-control.</span><br><span data-mce-fragment="1"><meta charset="utf-8">• Enhances fiber resilience to prevent future breakage &amp; split ends.</span><br><span data-mce-fragment="1"><meta charset="utf-8">• Hair is 34% more resilient after 5 applications of Bain + Masque Cicaextreme.</span>
<div style="text-align: left;">
</div>
<strong></strong>Formulated to work in perfect duo with <a title="HairMNL Kérastase Blond Absolu Cicaextreme Shampoo 250ml" href="https://www.hairmnl.com/products/kerastase-blond-absolu-cicaextreme-shampoo-250ml" target="_blank"><span style="text-decoration: underline;">Bain Cicaextreme</span></a>.
<p>Apply to damp hair. Leave it for 5 minutes. Rinse.</p>
<iframe src="https://www.youtube.com/embed/WehQYjvY9K0" height="315" width="560" allowfullscreen="" allow="accelerometer; autoplay; encrypted-media; gyroscope; picture-in-picture" frameborder="0"></iframe>
<div style="text-align: left;">
<p><strong>Key Ingredients</strong><br>Two powerful actives to heal blonde hair:&nbsp;<strong>Hyaluronic Acid + Edelweiss Oil.</strong></p><ol><li>An upgraded version of this essential skincare ingredient, a duo of low and high molecular weight <strong>Hyaluronic Acid</strong>. Two different weight molecules for an improved action and deeper penetration. Low weight Hyaluronic Acid is known to deeply penetrate hair and heal profound wounds. High weight Hyaluronic Acid has an intense hydrating function, plumping fiber to recover elasticity and strength.</li><li><strong>Edelweiss oil</strong>, extracted from this immortal flower, rich in anti-oxidants to deeply nourishes fiber and protect hair against daily damage. Its powerful properties softens and calms sensitized bleached hair.</li></ol><p><strong>Full Ingredients</strong><br>Aqua / Water / Eau - Cetearyl Alcohol - Amodimethicone - Hydroxypropyl Starch Phosphate - Isopropyl Myristate - Behentrimonium Chloride - Phenoxyethanol - Trideceth-5 - Isopropyl Alcohol - Trideceth-6 - Glycerin - Caprylyl Glycol - Trideceth-10 - Limonene - Cetrimonium Chloride - Sodium Hyaluronate - Acetic Acid - Helianthus Annuus Seed Oil / Sunflower Seed Oil - Tocopherol - Leontopodium Alpinum Flower/leaf Extract - Parfum / Fragrance</p>