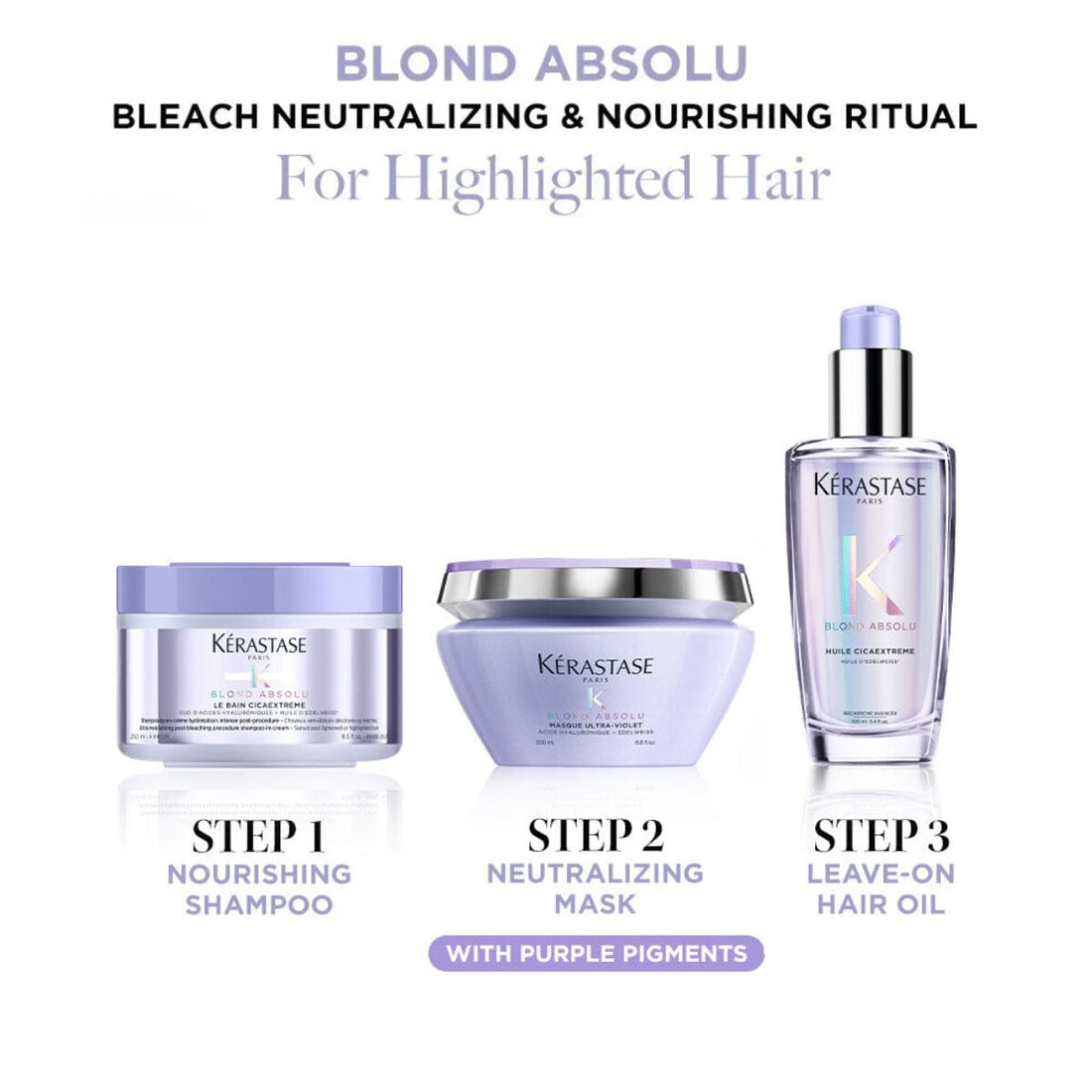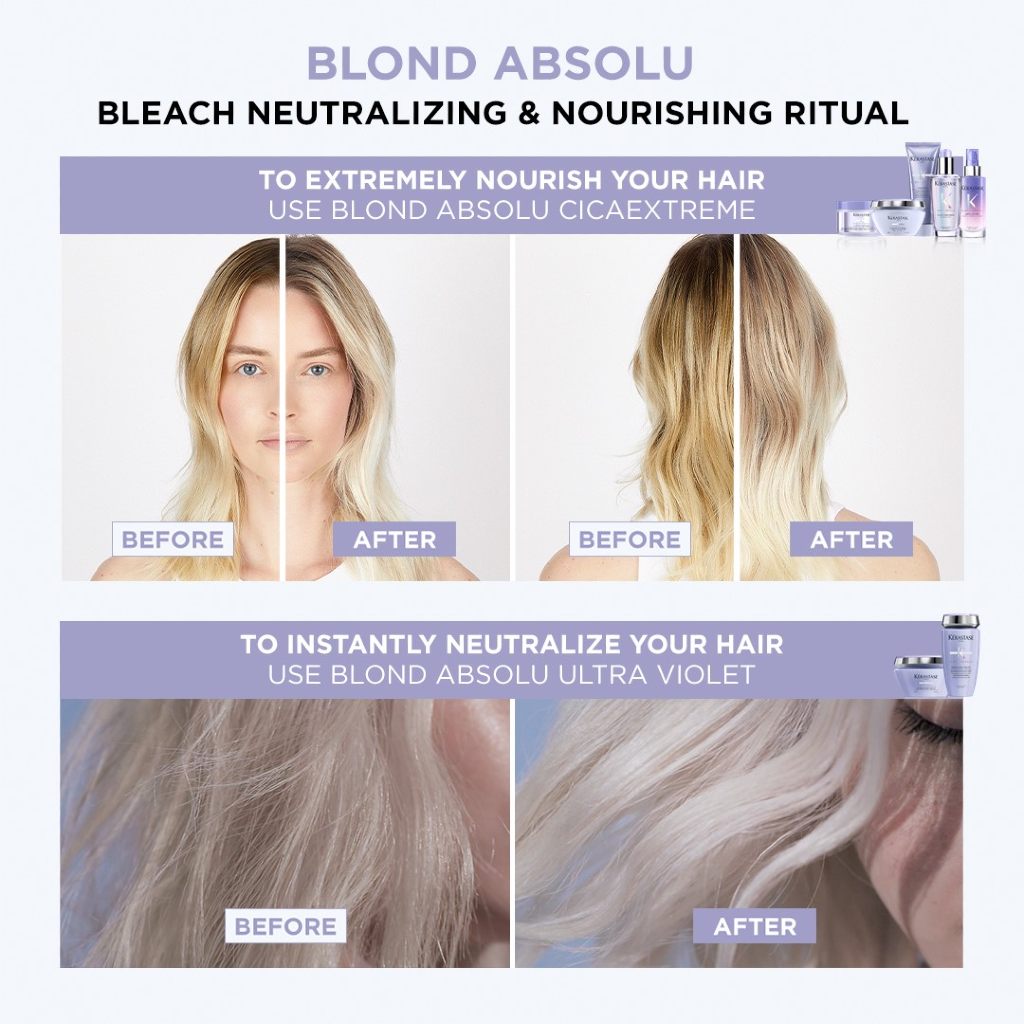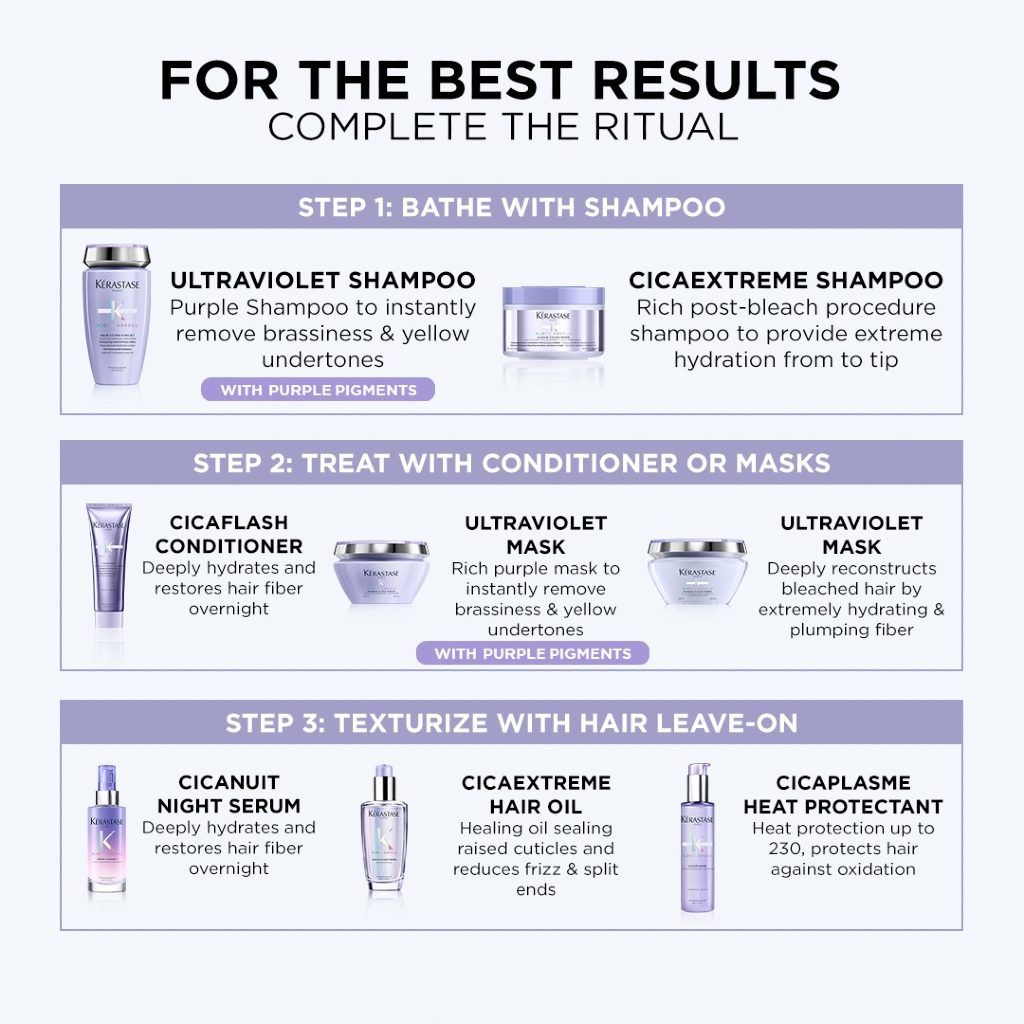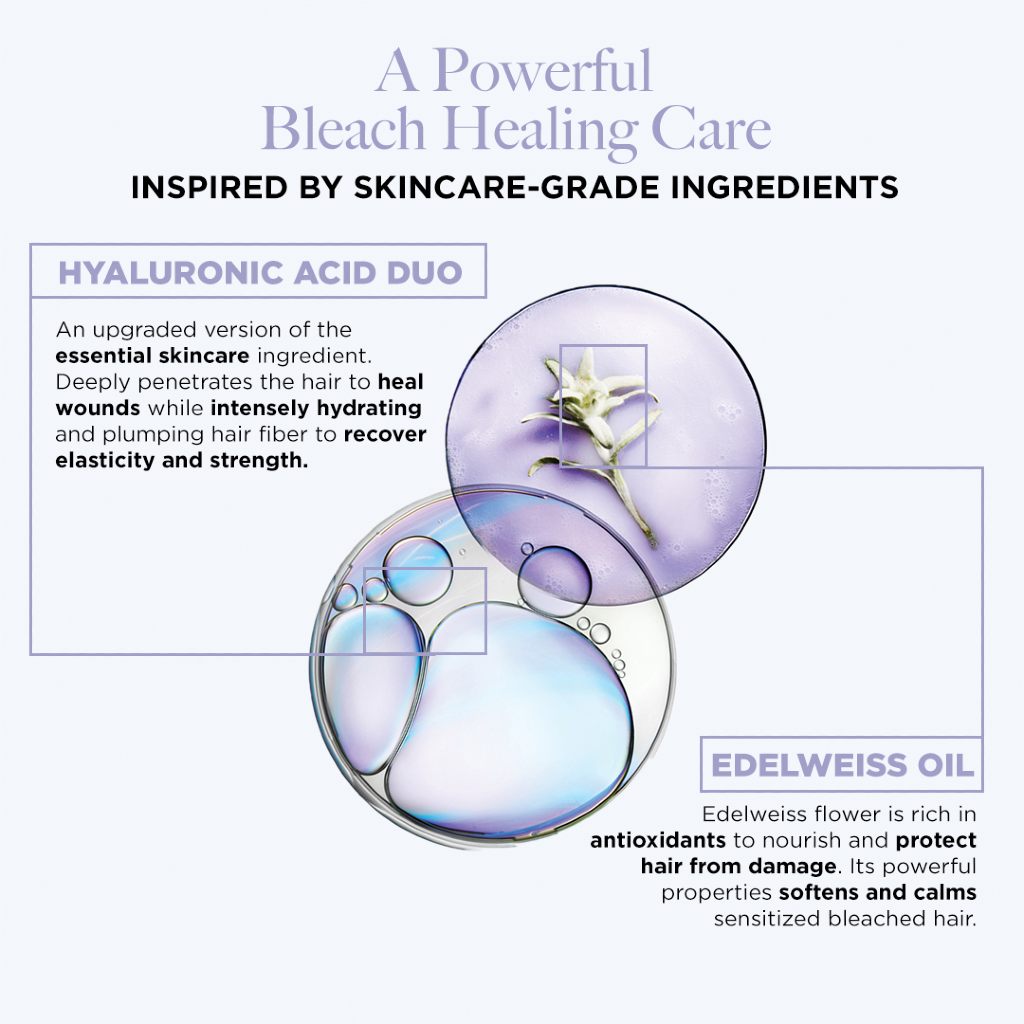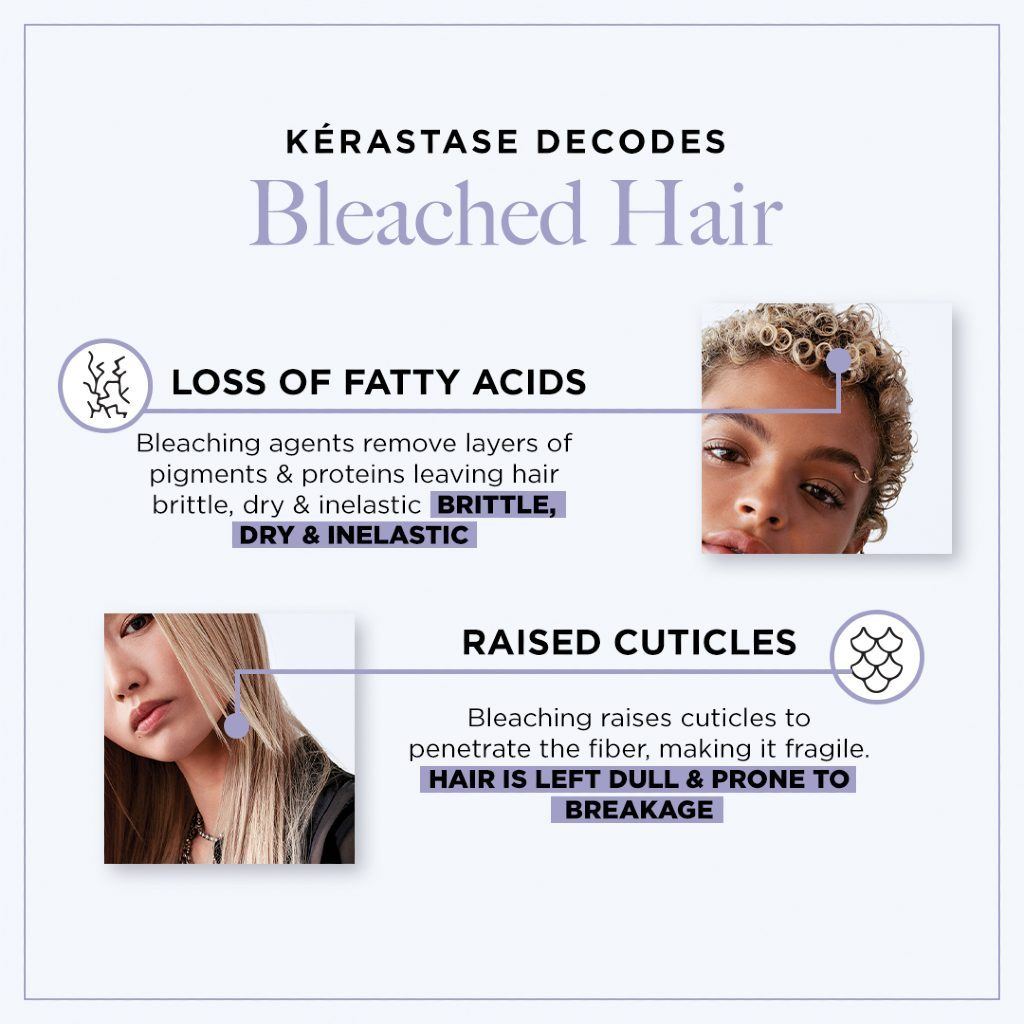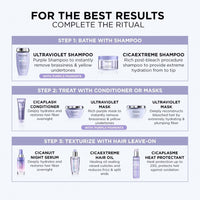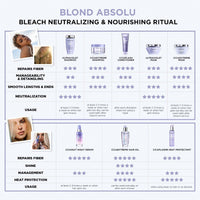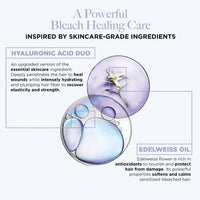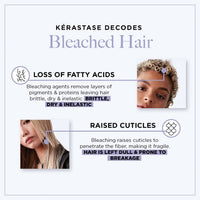 Kérastase Blond Absolu Bleach Neutralizing and Nourishing Ritual for Highlighted Hair
Whatever your blonde hair: you dare, we care. The Kérastase Blond Absolu collection provides fiber care and immediate anti-brass action to achieve ideal blonding ash hair color. Kérastase Blond Absolu maintains and perfects cool tones through deep ultra-violet neutralizers, hydrates and fortifies the hair fiber, and illuminates hair from within.

Kérastase Le Bain Cicaextreme Shampoo-in-Cream 250ml
Infused with Hyaluronic Acid, this post-bleaching procedure shampoo-in-cream provides an ultimate bathing experience for sensitized blonde hair. Its ultra soft, rich and creamy texture indulges hair in a highly sensorial dense foam, that cleanses without friction while providing intense hydration yet a lightweight fiber feeling.
Kérastase Masque Ultra-Violet 200ml
Ideal for lightened, highlighted cool blonde hair in need of neutralization, this rich purple mask penetrates the fiber to remove unwanted yellow undertones and brassiness, while deeply hydrating and restoring hair strands. This non-staining hair mask can be used once a week, or as often as needed to neutralize brassy tones and keep your blonde hair luminous & cool.
Kérastase Huile Cicaextreme Hair Oil 100ml
This all-star leave-in hair oil offers a deep treatment to post-bleached hair with heat protection for up to 230°. It instantly seals raised cuticles and dramatically reduces split ends, nourishing the fiber from within. Hair is instantly strengthened up to 91% and 6X more shiny. Edelweiss Oil instantly smoothes, strengthens and softens hair while providing deep nutrition.
<p><span data-mce-fragment="1"><meta charset="utf-8"> <strong>Le Bain Cicaextreme Shampoo-in-Cream 250ml</strong></span> <br><span data-mce-fragment="1">• <meta charset="utf-8">Indulgent frictionless formula to gently cleanses sensitized hair.</span><br><span data-mce-fragment="1"><meta charset="utf-8">• Strengthens hair by 94% when followed by the <a title="HairMNL Kérastase Blond Absolu Cicaextreme Masque 200ml" href="https://www.hairmnl.com/products/kerastase-blond-absolu-cicaextreme-masque-200ml" target="_blank"><span style="text-decoration: underline;">Masque Cicaextreme</span></a>.</span><br><span data-mce-fragment="1"><meta charset="utf-8">• Hair is 51% more hydrated and 65% softer.</span><br><span data-mce-fragment="1"><meta charset="utf-8">• Hair is 2X shinier.</span></p>
<p><strong>Masque Ultra-Violet 200ml</strong><br><meta charset="utf-8"><span data-mce-fragment="1">• </span><span data-mce-fragment="1">Neutralizes brassy &amp; yellow undertones.</span><br data-mce-fragment="1"><span data-mce-fragment="1">• </span><span data-mce-fragment="1">Ultra-nourishing formula.</span><br data-mce-fragment="1"><meta charset="utf-8"><span data-mce-fragment="1">• </span><span data-mce-fragment="1">Illuminate cool blondes for even brightness.</span><br data-mce-fragment="1"><meta charset="utf-8"><span data-mce-fragment="1">• </span><span data-mce-fragment="1">Restores shine and softness.</span></p>
<strong data-mce-fragment="1">Huile Cicaextreme Hair Oil 100ml</strong><br><meta charset="utf-8"><span data-mce-fragment="1">• A lightweight serum to strengthens sensitized post-bleached hair boosting its resistance to external aggressors and shine capital.</span><br data-mce-fragment="1"><span data-mce-fragment="1"><meta charset="utf-8">• Reduces post-bleach sensibility and hair porosity.</span>
</div>
<p><meta charset="utf-8"><strong>STEP 1 - BATHE</strong><br>Apply<span> </span><strong>Cicaextreme Shampoo</strong><span> </span>to wet hair. Add water to develop the rich dense foam. Lather. Rinse. Repeat.</p>
<p><iframe width="560" height="315" src="https://www.youtube.com/embed/L8_xZk0Ntqk" frameborder="0" allow="accelerometer; autoplay; encrypted-media; gyroscope; picture-in-picture" allowfullscreen=""></iframe><br></p>
<p><meta charset="utf-8"><strong data-mce-fragment="1">STEP 2 - TREAT</strong><br> Apply <meta charset="utf-8"><strong>Masque Ultra-Violet</strong> on washed and towel-dried hair. Massage onto lengths and ends. Leave-in for 5 minutes for light neutralization or longer (up to 10 minutes) for stronger neutralization. Add water, emulsify and rinse thoroughly.</p>
<p><strong>STEP 3 - TEXTURIZE</strong><br><span>Apply to 1-2 pumps of <meta charset="utf-8"> <strong>Huile Cicaextreme Hair Oil</strong> to damp hair and proceed to blow-dry or air-dry. Apply 1 pump to dry hair on lengths and ends.</span></p>
<p><span><meta charset="utf-8"> <iframe src="https://www.youtube.com/embed/yqJlVVgnrfw" height="315" width="560" allowfullscreen="" allow="accelerometer; autoplay; encrypted-media; gyroscope; picture-in-picture" frameborder="0"></iframe></span> <br><meta charset="utf-8"></p>
<div style="text-align: left;">
<p><strong>Key Ingredients</strong><br>Two powerful actives to heal blonde hair:&nbsp;<strong>Hyaluronic Acid + Edelweiss Oil</strong>.</p><ol><li>An upgraded version of this essential skincare ingredient, a duo of low and high molecular weight <strong>Hyaluronic Acid</strong>. Two different weight molecules for an improved action and deeper penetration. Low weight Hyaluronic Acid is known to deeply penetrate hair and heal profound wounds. High weight Hyaluronic Acid has an intense hydrating function, plumping fiber to recover elasticity and strength.</li><li><strong>Edelweiss oil</strong>, extracted from this immortal flower, rich in anti-oxidants to deeply nourishes fiber and protect hair against daily damage. Its powerful properties softens and calms sensitized bleached hair.</li></ol><p><strong>Maque&nbsp;Ultra-Violet</strong></p><ul><li><strong>Ultra Violet neutralizers</strong>&nbsp;are highly concentrated pigments that act immediately on the fiber to neutralize and remove brassy &amp; yellow undertones, revealing a radiant natural shine.</li></ul><p><strong>Full Ingredients</strong></p><p><strong>Le Bain Cicaextreme Shampoo-in-Cream 250ml</strong><br>Aqua / Water / Eau - Sodium Laureth Sulfate - Cocamidopropyl Betaine - Cetearyl Alcohol - Ammonium Lauryl Sulfate - Sodium Chloride - Parfum / Fragrance - Bis(C13-15 Alkoxy) Pg-amodimethicone - Sodium Benzoate - Hydroxypropyl Guar Hydroxypropyltrimonium Chloride - Acrylates/c10-30 Alkyl Acrylate Crosspolymer - Salicylic Acid - Polyquaternium-7 - Citric Acid - Limonene - Caprylyl Glycol - Benzoic Acid - Peg-30 Dipolyhydroxystearate - Trideceth-6 - Helianthus Annuus Seed Oil / Sunflower Seed Oil - Linalool - Sodium Hyaluronate - Tocopherol - Leontopodium Alpinum Flower/leaf Extract</p><p><strong>Masque&nbsp;Ultra-Violet 200ml</strong><br>Aqua / Water - Cetearyl Alcohol - Paraffinum Liquidum / Mineral Oil - Dipalmitoylethyl -Hydroxyethylmonium Methosulfate - Cetyl Esters - Cetrimonium Chloride - Citric Acid - Sodium Benzoate - Sodium Hydroxide - Caprylyl Glycol - Salicylic Acid - Ci 60730 / Acid Violet 43 - Limonene - Glycerin - Sodium Hyaluronate - Tocopherol - Ci 45100 / Acid Red 52 - Leontopodium Alpinum Flower/Leaf Extract - Malva Sylvestris Flower Extract / Mallow Flower Extract - Potassium Sorbate - Parfum / Fragrance</p><p><strong>Huile Cicaextreme Hair Oil 100ml</strong><br>Cyclopentasiloxane - Dimethiconol - Parfum / Fragrance - Limonene - Helianthus Annuus Seed Oil / Sunflower Seed Oil - Linalool - Citronellol - Tocopherol - Leontopodium Alpinum Flower/leaf Extract</p>