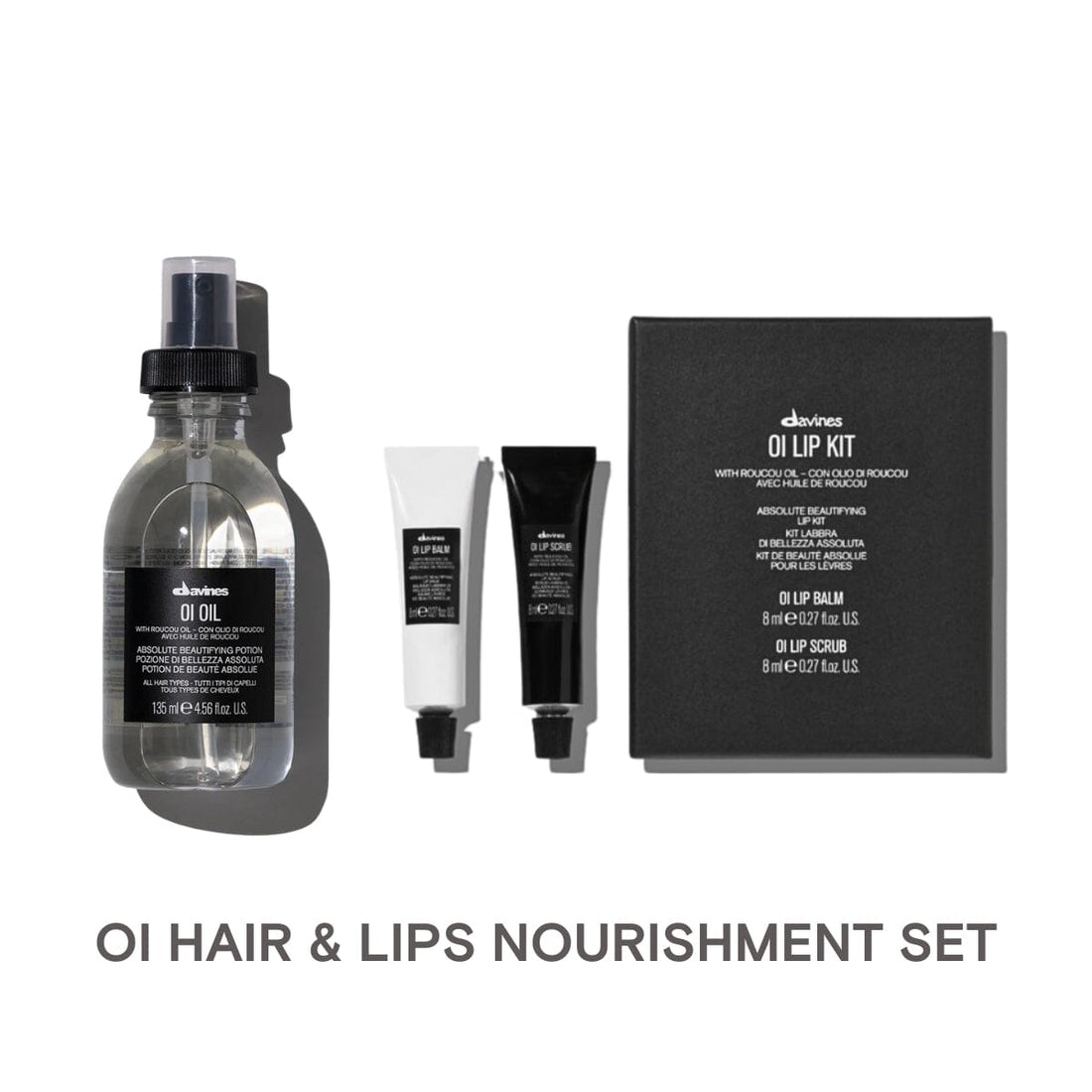 Davines OI Hair & Lips Nourishment Set
OI Oil 135ml
Best-selling multi-function oil, adds shine and softness to hair while also detangling and fighting frizz, working especially well on coarse or dry hair. The hair structure is left protected, without weighing it down.
OI Lip Scrub 8ml
OI Lip Scrub gently exfoliates the lips, leaving them smoother and softer. The formula, characterized by fine sugar particles, can be easily distributed on the lips to promote an effective but delicate scrubbing action for velvety and even looking lips.
OI Lip Balm 8ml
OI Lip Balm has a hydrating action able to provide softness to the lips, that appear instantly smoother and healthy-looking. It promotes an immediate feeling of comfort and a natural glow finish. The transparent silky texture encourages a pleasant application, that leaves the lips velvety avoiding sticky residue.
<p style="margin-left:0px;"><strong>OI Oil 135ml</strong></p><ul><li>Hair is shiny, hydrated, frizz-free and protected from styling and environmental factors.</li><li>Persistent fragrance</li></ul><p style="margin-left:0px;"><strong>OI Lip Kit</strong></p><ul><li>Preps the lips for better make-up application</li><li>Gentle and delicate exfoliate</li><li>Non-sticky, transparent texture</li><li>Lips appear smoother with a healthy-shine finish</li></ul>
<p style="margin-left:0px;"><strong>OI Oil 135ml</strong></p><ul><li>For an <strong>anti-frizz protective effect,</strong> apply 2 to 3 squeezes of OI / OIL on damp hair, distributing it evenly on the lengths and ends, then dry.</li><li>For a <strong>shiny and soft finishing</strong>&nbsp;<strong>effect,</strong> apply approximately 2 to 3 squeezes of OI / OIL to lengths and ends of dry hair. The quantity can vary according to the hair type: use only 1 pump for fine hair, in case of medium or thick hair, start with 2 or 3 pumps and add more product only if needed.</li></ul><p><strong>FREQUENCY OF USE</strong><br>Suitable for<i> everyday use.</i></p><p><strong>OI Lip Kit</strong></p><ol><li>Prepare the lips for make-up application by applying the <strong>OI Lip Scrub</strong> first.</li><li>Remove and then apply the <strong>OI Lip Balm</strong> to boost hydration and softness.</li></ol>
<p><strong>NATURAL ACTIVE INGREDIENTS</strong><br>All the products in the OI line contain oil extracted from <i>Roucou</i>, a plant native to the Amazon, it is very rich in beta-carotene (100 times more than carrots) and has a <strong>restructuring action on hair and favors its growth</strong>.</p><p><strong>FULL INGREDIENTS</strong></p><p><strong>OI Oil 135ml</strong><br>CYCLOPENTASILOXANE, DISILOXANE, DIMETHICONOL, CYCLOHEXASILOXANE, ETHYLHEXYL METHOXYCINNAMATE, PARFUM / FRAGRANCE, TOCOPHEROL, HELIANTHUS ANNUUS SEED OIL / HELIANTHUS ANNUUS (SUNFLOWER) SEED OIL, BIXA ORELLANA SEED EXTRACT, CITRONELLOL, MAURITIA FLEXUOSA FRUIT OIL, GERANIOL, LINALOOL, ALPHA-ISOMETHYL IONONE, LIMONENE.</p><p><strong>OI Lip Scrub</strong><br>SUCROSE, GLYCERIN, RICINUS COMMUNIS SEED OIL / RICINUS COMMUNIS (CASTOR) SEED OIL, PRUNUS AMYGDALUS DULCIS OIL / PRUNUS AMYGDALUS DULCIS (SWEET ALMOND) OIL, ORYZA SATIVA BRAN OIL / ORYZA SATIVA (RICE) BRAN OIL, SUCROSE STEARATE, SUCROSE TETRASTEARATE TRIACETATE, HELIANTHUS ANNUUS SEED OIL / HELIANTHUS ANNUUS (SUNFLOWER) SEED OIL, AROMA / FLAVOR, TOCOPHEROL, BETA-SITOSTEROL, SQUALENE, GLYCINE SOJA OIL / GLYCINE SOJA (SOYBEAN) OIL, BIXA ORELLANA SEED OIL.</p><p><strong>OI Lip Balm</strong><br>OLUS OIL / VEGETABLE OIL / HUILE VEGETALE, GLYCERIN, RICINUS COMMUNIS SEED OIL / RICINUS COMMUNIS (CASTOR) SEED OIL, ORYZA SATIVA BRAN OIL / ORYZA SATIVA (RICE) BRAN OIL, CAPRYLIC/CAPRIC TRIGLYCERIDE, AQUA / WATER / EAU, BUTYROSPERMUM PARKII BUTTER / BUTYROSPERMUM PARKII (SHEA) BUTTER, SIMMONDSIA CHINENSIS SEED OIL / SIMMONDSIA CHINENSIS (JOJOBA) SEED OIL, OLEIC/LINOLEIC/LINOLENIC POLYGLYCERIDES, POTASSIUM CETYL PHOSPHATE, PRUNUS AMYGDALUS DULCIS OIL / PRUNUS AMYGDALUS DULCIS (SWEET ALMOND) OIL, ARGININE, HELIANTHUS ANNUUS SEED OIL / HELIANTHUS ANNUUS (SUNFLOWER) SEED OIL, PHOSPHORIC ACID, CETYL ALCOHOL, AROMA / FLAVOR, BENZYL ALCOHOL, CAPRYLYL GLYCOL, BENZOIC ACID, TOCOPHEROL, SODIUM SACCHARIN, BETA-SITOSTEROL, SQUALENE, GLYCINE SOJA OIL / GLYCINE SOJA (SOYBEAN) OIL, BIXA ORELLANA SEED OIL.</p>