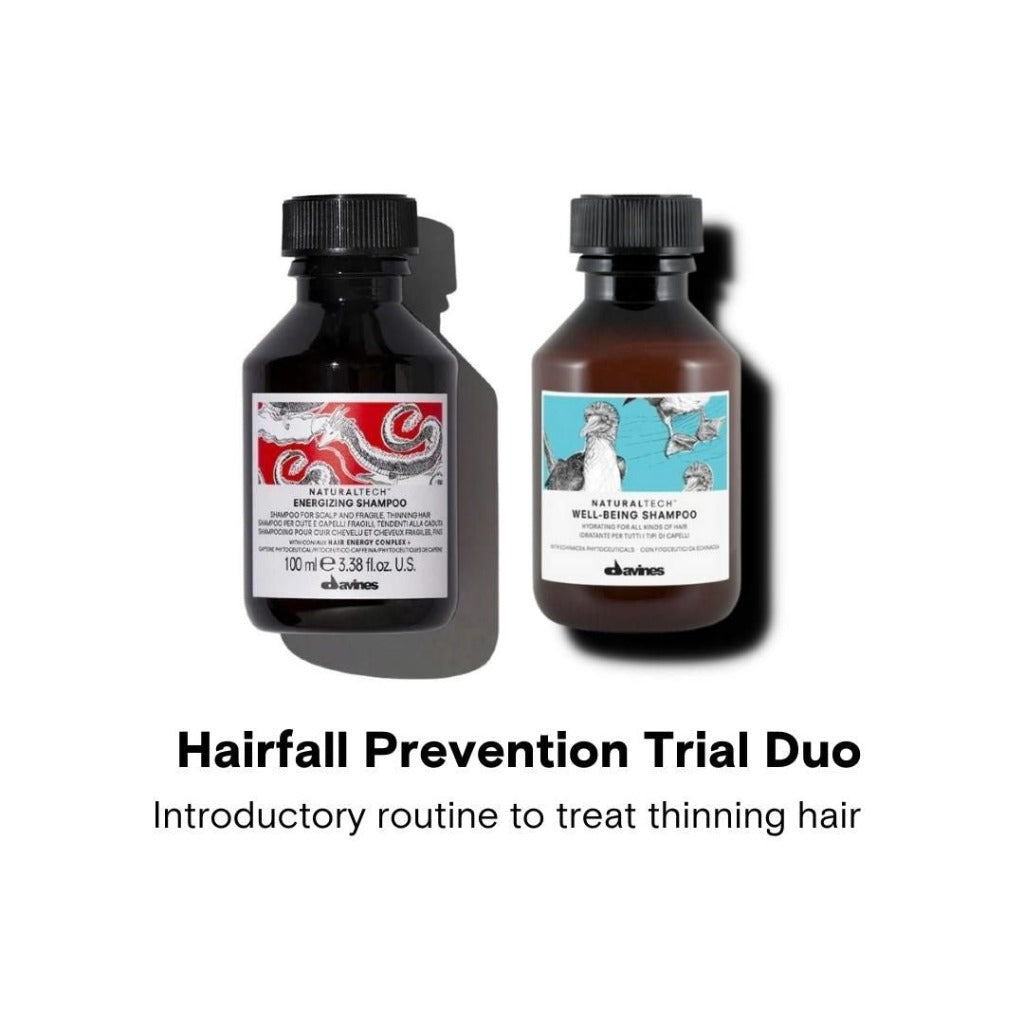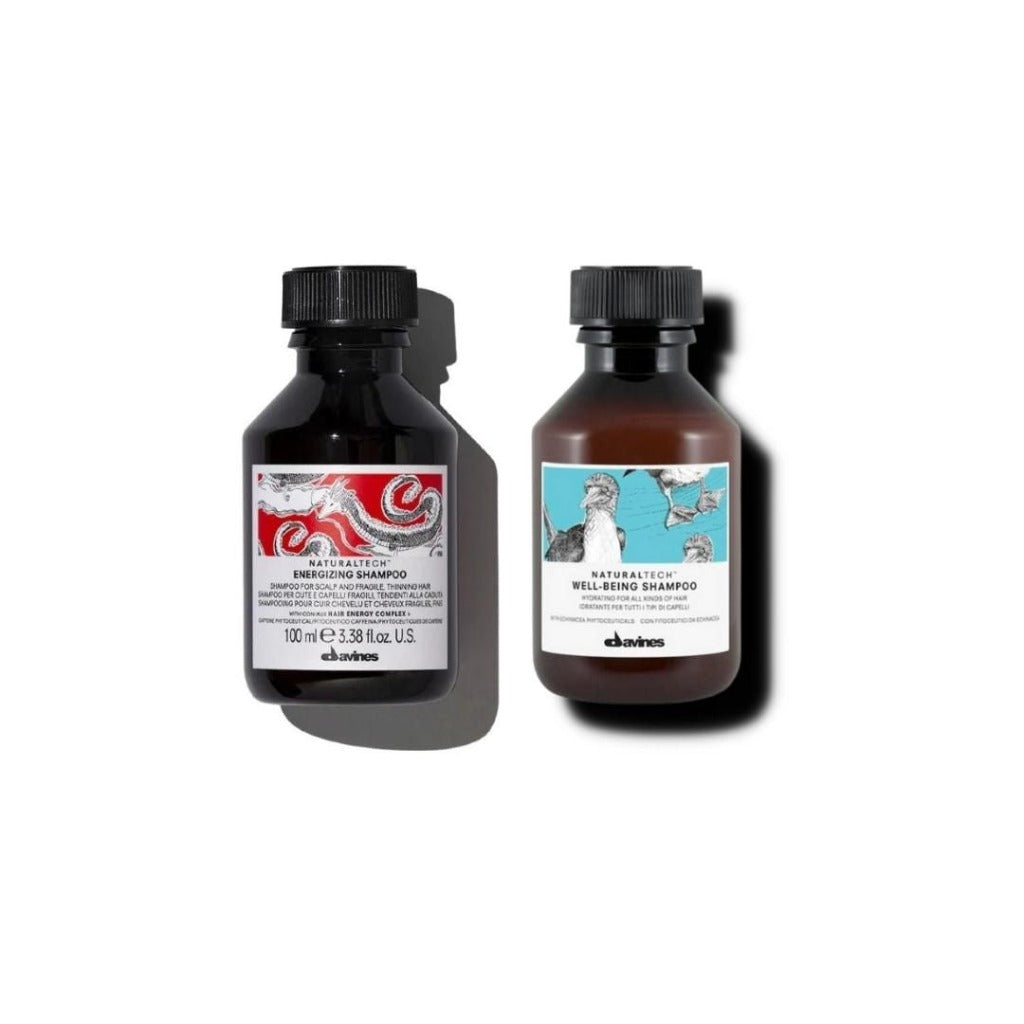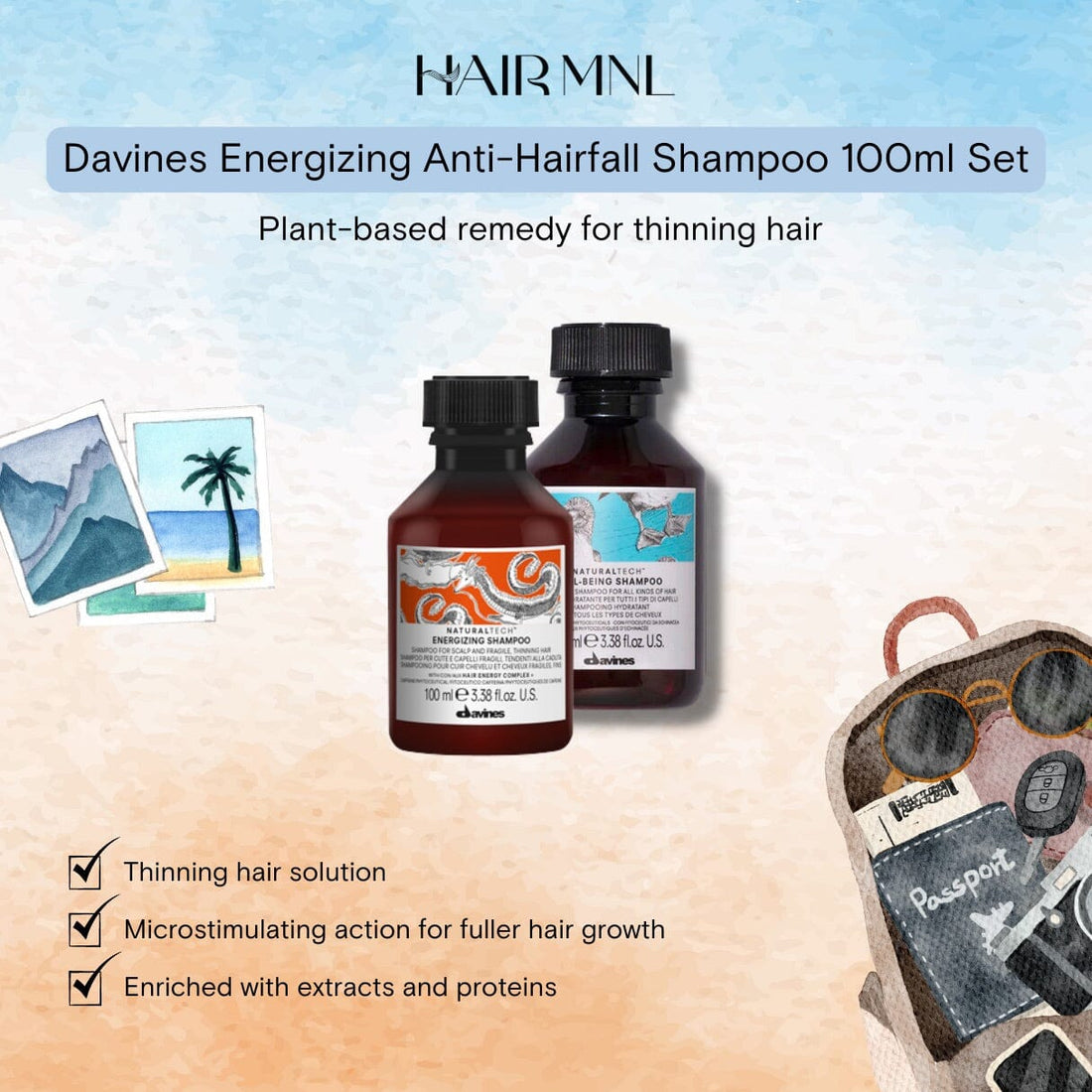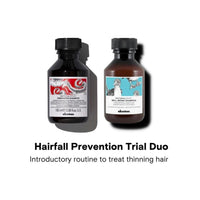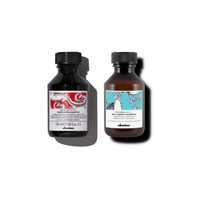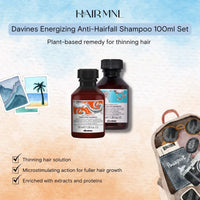 Davines Energizing Anti-Hairfall Starter Duo
Introductory routine to treat thinning hair
Davines Energizing Shampoo 100ml
This Davines Energizing Shampoo is for scalps with fragile, thinning hair. Coming from the Naturaltech line, it is designed to treat specific hair or scalp problems. This line won't grow back hair on spots where it's totally gone, but will help thicken existing hair and make it grow faster. This shampoo mildly cleanses hair while microstimulating the scalp for faster, fuller hair growth.
Davines Well-Being Shampoo 100ml
Light shampoo enriched with extracts and proteins with moisturizing, protective and anti-oxidant properties. Its full-bodied and rich foam cleanses without attacking and changing the hair structure.
Designed to work with other products in the Naturaltech line to treat specific hair or scalp problems.
<p><strong>Davines Energizing Shampoo 100ml</strong></p><ul><li>Stimulating product for scalp and fragile hair prone to falling out.</li><li>Gently cleanses the hair giving it a sensation of energy, vigour and wellbeing to the scalp.</li><li>It gives a balancing effect to the scalp and a moisturizing action to the hair.</li><li>Paraben and sulfate-free.</li></ul><p><strong>Davines Well-Being Shampoo 100ml</strong></p><ul><li>Gentle cleansing.</li><li>Moisturizes scalp and hair.</li><li>Anti-oxidant action.</li><li>Natural active ingredients.</li><li>Free from parabens and sulphates.</li></ul>
<p><strong>HOW TO USE</strong></p><p><strong>Davines Energizing Shampoo 100ml</strong></p><ul><li>Gently massage 20 grams of product into damp hair.</li><li>Leave on for a&nbsp;2-3 minutes, then rinse.</li><li>Repeat application if necessary.</li></ul><p><strong>FREQUENCY OF USE</strong></p><ul><li><i>Intensive treatment</i>:&nbsp;Every other day for 1 month</li><li><i>Maintenance treatment</i>:&nbsp;Twice a week for 2 months</li><li>Alternate with&nbsp;<a href="https://www.hairmnl.com/products/davines-renewing-shampoo">Davines Renewing Shampoo</a>&nbsp;or&nbsp;<a href="https://www.hairmnl.com/products/davines-naturaltech-well-being-shampoo-for-all-kinds-of-hair">Well-Being Shampoo</a>&nbsp;for best results.</li></ul><p><strong>Davines Well-Being Shampoo 100ml</strong></p><ul><li>Apply to scalp and damp hair, and emulsify. It is advisable to massage for a few minutes.</li><li>Rinse thoroughly and repeat if necessary.&nbsp;</li></ul><p><strong>FREQUENCY OF USE</strong></p><ul><li>To be used between different&nbsp;<a href="https://www.hairmnl.com/collections/davines-naturaltech-line"><i><u>Naturaltech</u></i></a>&nbsp;treatments or when&nbsp;no specific scalp problem has been found.</li><li>Suitable for&nbsp;<i>daily</i>&nbsp;use.</li></ul>
<p><strong>NATURAL ACTIVE INGREDIENTS</strong></p><ul><li>All the products in the&nbsp;<a href="https://www.hairmnl.com/collections/davines-energizing-collection"><i><u>Davines Energizing</u></i></a>&nbsp;family are enriched with Hair Energy Complex, which stimulates the cellular metabolism of the scalp, promoting tissue oxygenation.<ul><li><i>Beta-glucans</i> - polysaccarides that boost the protection of the cells.</li><li><i>Caffeine phytoceuticals</i> - stimulate the cellular metabolism and improve blood circulation.</li><li><i>Sirtuins</i> - longevity proteins with a strong anti-oxidant action to strengthen and invigorate the scalp.</li></ul></li><li>All the formulas in the&nbsp;<a href="https://www.hairmnl.com/collections/davines-naturaltech-well-being"><i>Well-Being</i></a>&nbsp;line contain phytoceuticals extracted from&nbsp;Echinacea, rich in polyphenols and sugars, with a very strong antioxidant power.</li></ul><p><strong>FULL INGREDIENTS</strong></p><p><strong>Davines Energizing Shampoo 100ml</strong><br>AQUA / WATER / EAU, SODIUM LAUROYL METHYL ISETHIONATE, COCAMIDOPROPYL BETAINE, DISODIUM COCOAMPHODIACETATE, SODIUM LAUROYL SARCOSINATE, POLYSORBATE 20, CAFFEINE, SODIUM CHLORIDE, BENZYL ALCOHOL, PARFUM / FRAGRANCE, ACRYLATES/C10-30 ALKYL ACRYLATE CROSSPOLYMER, SODIUM BENZOATE, TRISODIUM ETHYLENEDIAMINE DISUCCINATE, MENTHA PIPERITA OIL / MENTHA PIPERITA (PEPPERMINT) OIL, GLYCERYL OLEATE, COCO-GLUCOSIDE, SODIUM HYDROXIDE, EUGENOL, DISODIUM EDTA, EUCALYPTUS GLOBULUS LEAF OIL, LINALOOL, POLYQUATERNIUM-10, LIMONENE, NIACINAMIDE, CITRIC ACID, EPIGALLOCATECHIN GALLATYL GLUCOSIDE, CI 17200 / RED 33, CI 19140 / YELLOW 5.</p><p><strong>Davines Well-Being Shampoo 100ml</strong>&nbsp;<br>AQUA / WATER / EAU, SODIUM LAUROYL METHYL ISETHIONATE, COCAMIDOPROPYL BETAINE, DISODIUM COCOAMPHODIACETATE, GLYCERIN, SODIUM LAUROYL SARCOSINATE, DECYL GLUCOSIDE, SODIUM CHLORIDE, POLYSORBATE 20, BENZYL ALCOHOL, PARFUM / FRAGRANCE, ACRYLATES/C10-30 ALKYL ACRYLATE CROSSPOLYMER, SODIUM BENZOATE, DICAPRYLYL ETHER, GLYCOL DISTEARATE, TRISODIUM ETHYLENEDIAMINE DISUCCINATE, POLYQUATERNIUM-10, LAURYL ALCOHOL, LIMONENE, GUAR HYDROXYPROPYLTRIMONIUM CHLORIDE, TETRASODIUM GLUTAMATE DIACETATE, COCO-GLUCOSIDE, ECHINACEA PALLIDA EXTRACT, BENZYL SALICYLATE, GLYCERYL STEARATE, GLYCERYL OLEATE, SODIUM HYDROXIDE, HEXYL CINNAMAL, CITRIC ACID.</p>