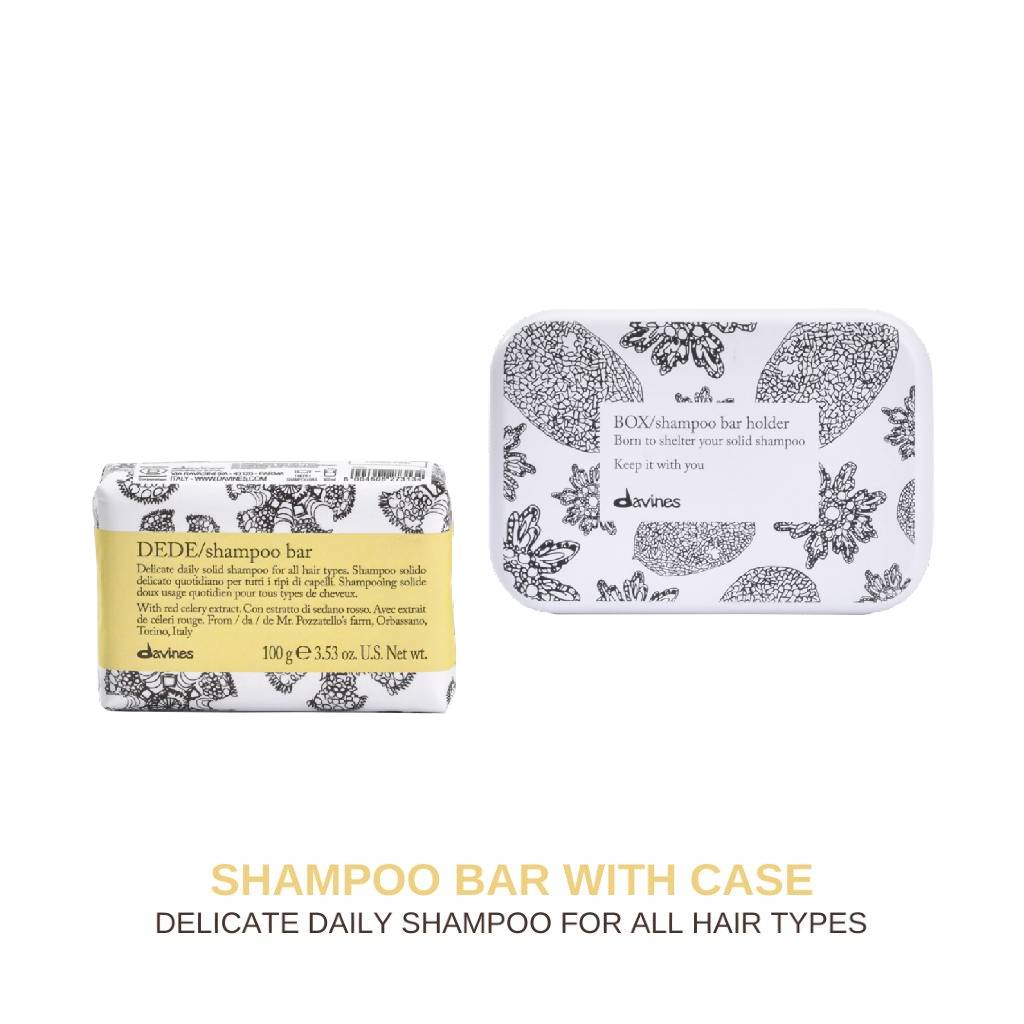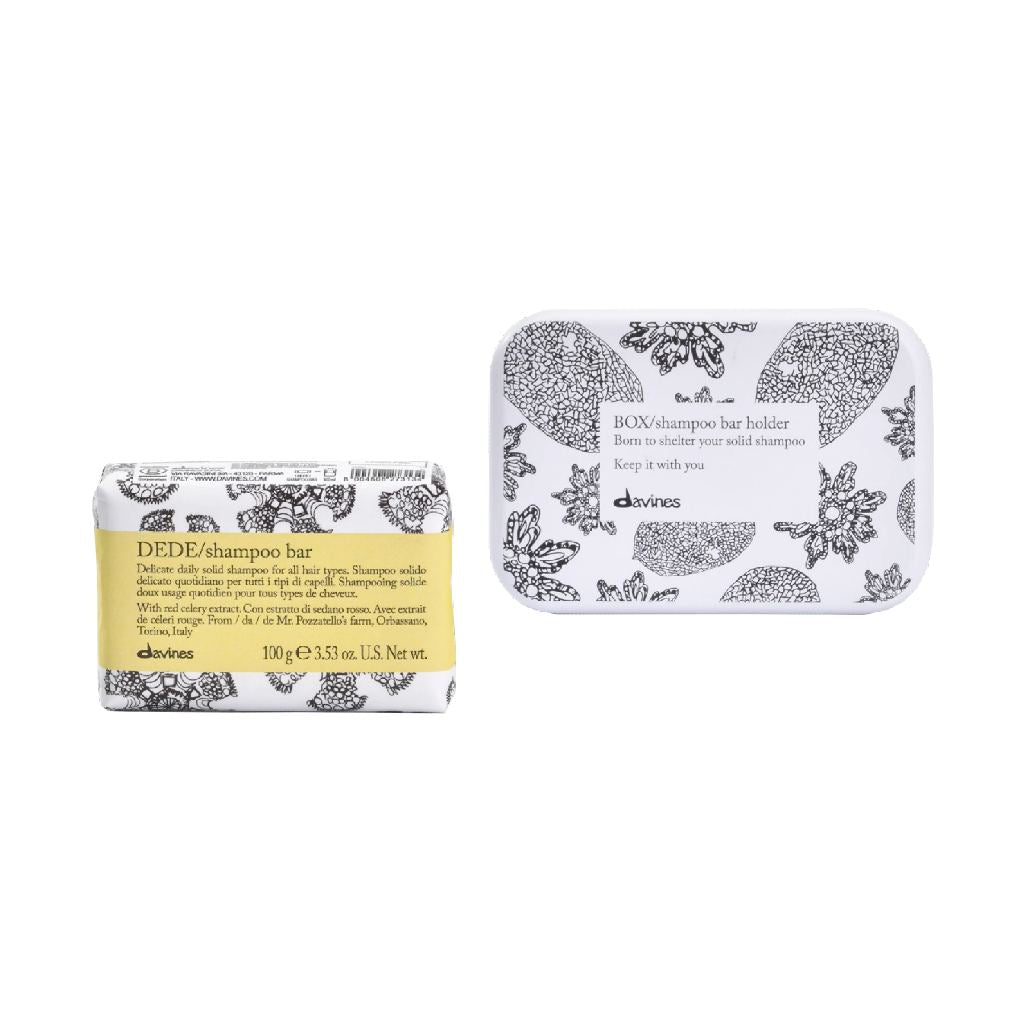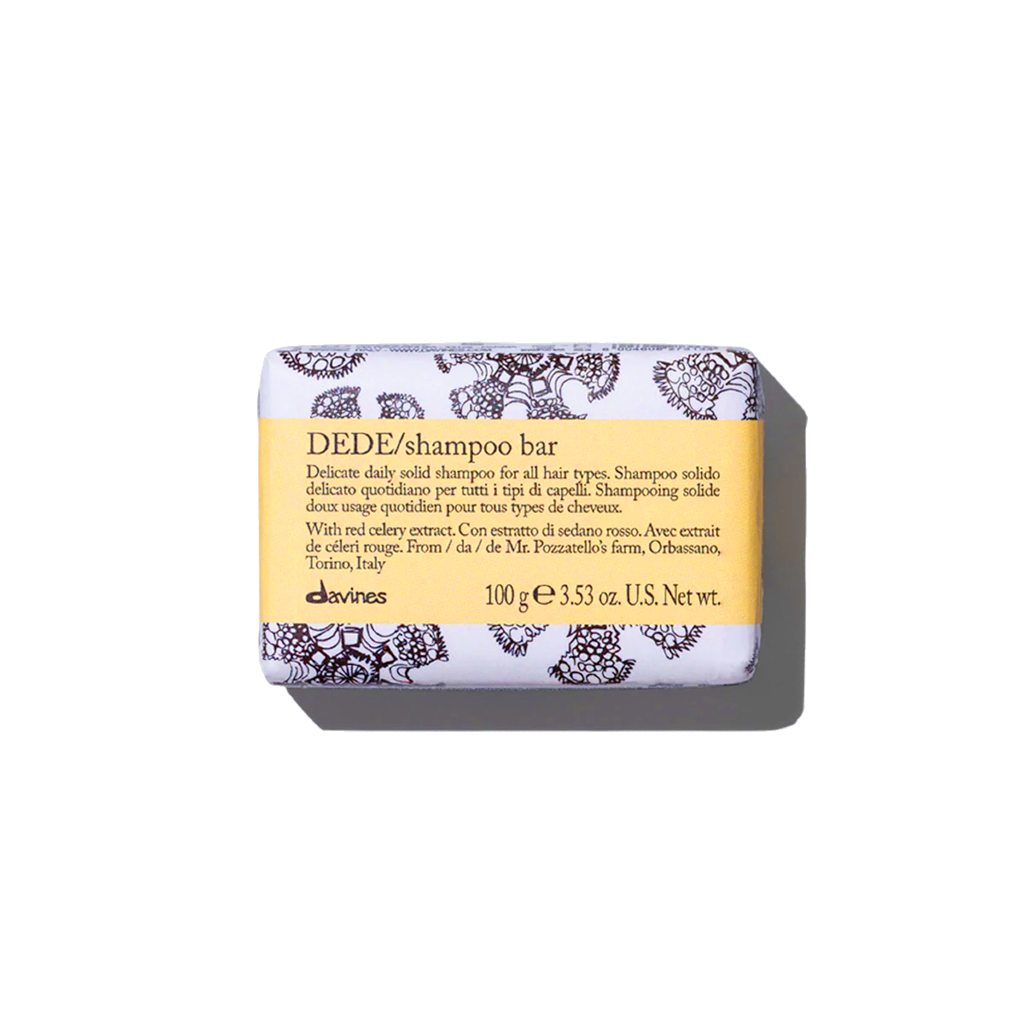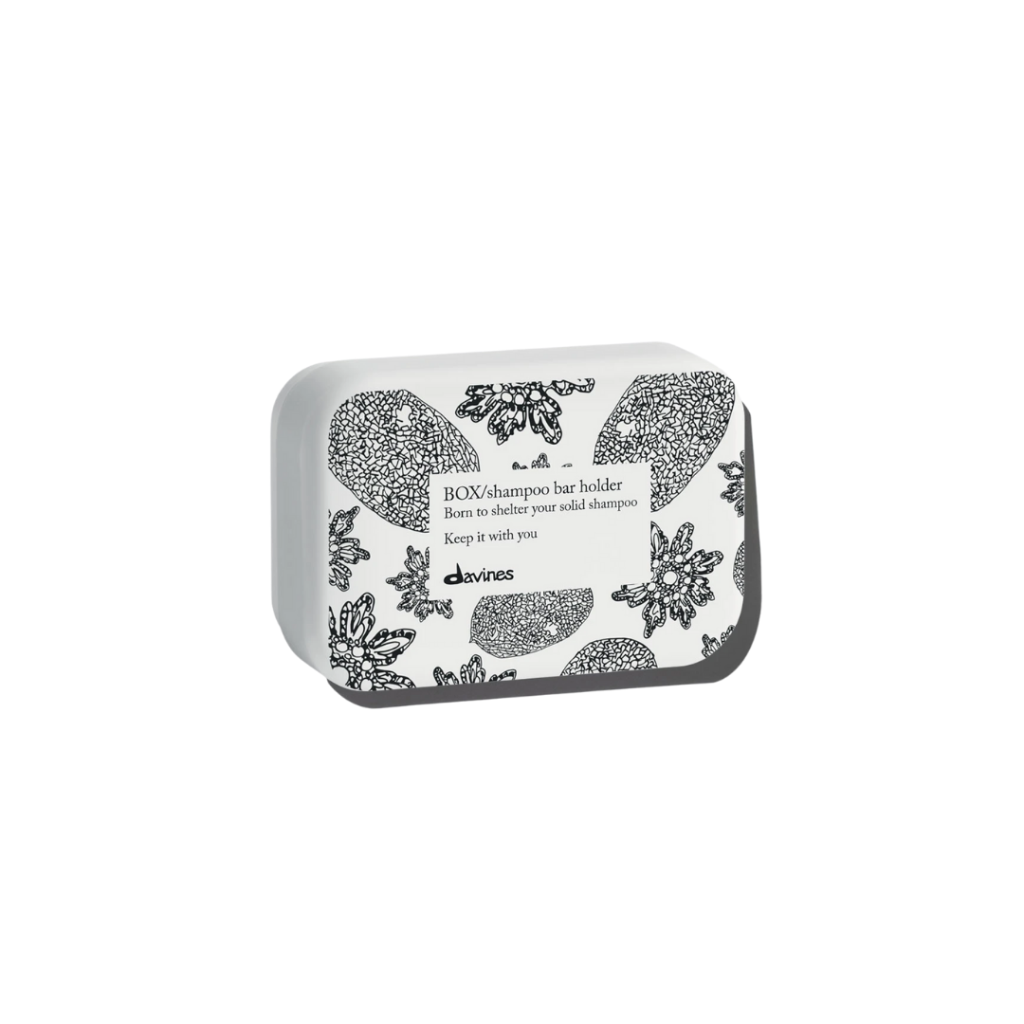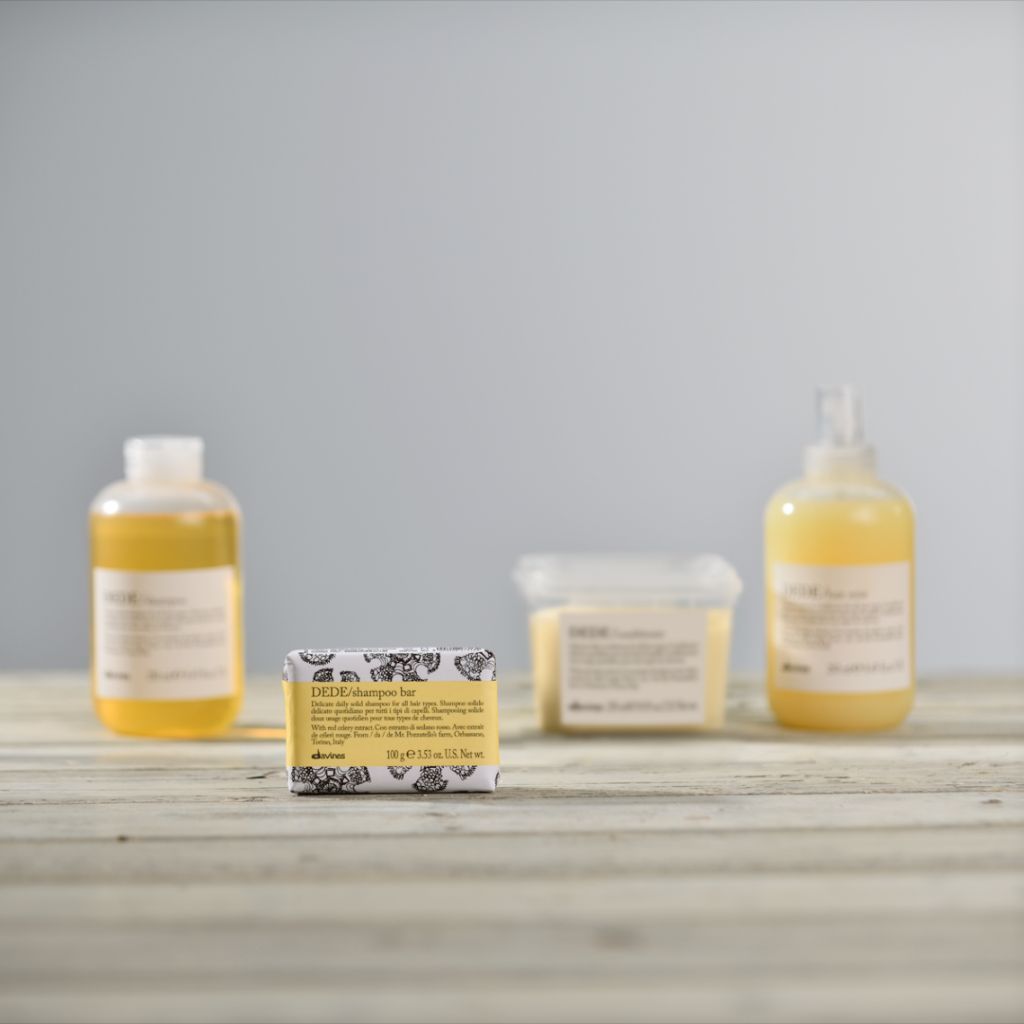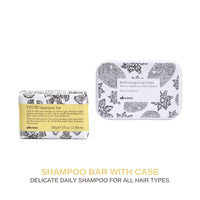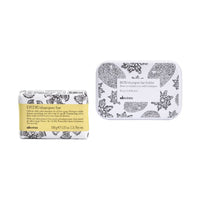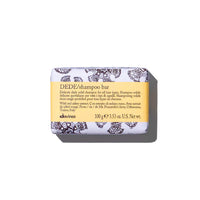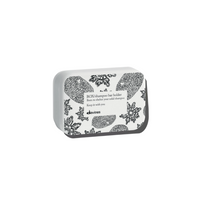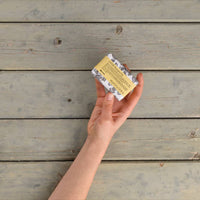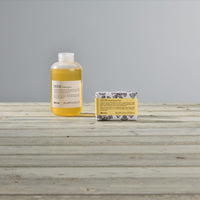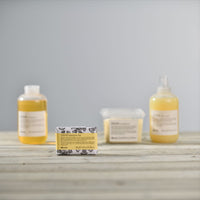 Davines DEDE Shampoo Bar & Case: Delicate Daily Solid Shampoo for All Hair Types
Get started with your Davines Shampoo Bar by purchasing it alongside the aluminum container case. This Shampoo Bar Case is the perfect pair with your shampoo bar as it is durable and made from resistant material. It is the ideal tool to store, preserve and ensure the shampoo bars last longer
DEDE Shampoo Bar
Solid shampoo bar for gentle daily cleansing for all hair types. A solid texture that develops into a rich creamy foam during application to give softness, shine and silky texture.
Find all of the benefits of the
Essential Haircare
professional shampoo
in the new solid format:
it is compact
, its packaging is
100% paper
, it contains actives from
Slow Food Presidia
and lasts
up to 40 washings
!
<p><strong>DEDE Shampoo Bar</strong></p><ul><li>Delicate cleansing action suitable for daily usage.</li><li>For all hair types.</li><li>Enriched with red celery extract, from Slow Food Presidia.</li><li>Packed in 100% FSC paper wrapper, recyclable.</li><li>Practical use and transport.</li><li>97,1% of biodegradable ingredients.</li><li>CO2 offset, excluded use phase.</li><li>Dermatologically tested.</li><li>Natural active ingredients.</li></ul><p><strong>Shampoo Bar Case</strong></p><ul><li>Resistant material, it's ideal also to be carried when travelling or at the gym.</li><li>The case will protect the shampoo and help to make it last longer</li></ul>
<p><strong>DEDE Shampoo Bar</strong></p><ol><li><strong>Wet the solid shampoo</strong> with water and <strong>rub it</strong> between your hands to create a <strong>soft, creamy foam</strong>.</li><li>Apply the foam to <strong>wet hair and massage</strong> until it is evenly distributed. The sensation may be a little different compared to what you feel with traditional liquid shampoos, but the foam is rich and soft.</li><li>We recommend applying the shampoo on your hands and not directly on your scalp, since this manner makes it possible to <strong>calibrate the correct amount of shampoo</strong> for your hair, avoiding waste and making the soap bar last longer.</li><li><strong>Rinse thoroughly</strong> and repeat if necessary.</li><li>Continue with your <strong>favorite conditioner and styling</strong>. After drying you will have hair that is soft and bright as always.</li></ol><p><strong>FREQUENCY OF USE</strong><br>Suitable for<i> everyday use</i></p><p><strong>PRESERVING THE SHAMPOO BAR</strong></p><ol><li>After using your shampoo bar, <strong>rinse it well to eliminate any foam or hair residue</strong>. This way it will last longer.</li><li>If at home, place the shampoo bar back into a soap bar holder and l<strong>eave it exposed to air until it is completely dry</strong>.</li><li>Once dry, between hair washings, we recommend keeping the shampoo bar <strong>inside a </strong><a href="https://www.hairmnl.com/products/davines-shampoo-bar-case"><strong><u>protective case</u></strong></a>.</li></ol><p><strong>Shampoo Bar Case</strong><br>The case is has 2 parts:</p><ol><li>An internal removable grid tray to hold the shampoo bar while in the shower.</li><li>An external box to store and transport the shampoo bar once dried.</li></ol>
<p><strong>DEDE Shampoo Bar</strong></p><p><strong>NATURAL ACTIVE INGREDIENTS</strong><br>With&nbsp;<i>Orbassano Red Celery&nbsp;</i>extract, Slow Food Presidium. Rich in mineral salts, it has a remineralizing effect on the hair.</p><p><strong>FULL INGREDIENTS</strong><br>SODIUM COCOYL ISETHIONATE, HYDROGENATED VEGETABLE OIL, AQUA / WATER / EAU, POLYGLYCERYL-4 LAURATE, SODIUM C14-16 OLEFIN SULFONATE, GLYCERIN, BRASSICAMIDOPROPYL DIMETHYLAMINE, PARFUM / FRAGRANCE, CETRIMONIUM CHLORIDE, COCAMIDOPROPYL BETAINE, CITRIC ACID, HELIANTHUS ANNUUS SEED OIL / HELIANTHUS ANNUUS (SUNFLOWER) SEED OIL, BENZYL SALICYLATE, SODIUM XYLENESULFONATE, TETRASODIUM GLUTAMATE DIACETATE, LINALOOL, APIUM GRAVEOLENS EXTRACT / APIUM GRAVEOLENS (CELERY) EXTRACT, CITRONELLOL, SODIUM CHLORIDE, HEXYL CINNAMAL, HYDROXYCITRONELLAL, TOCOPHEROL.</p><p><strong>Shampoo&nbsp;Bar&nbsp;Case</strong></p><p><strong>MATERIAL</strong><br>100% ALUMINIUM.</p>