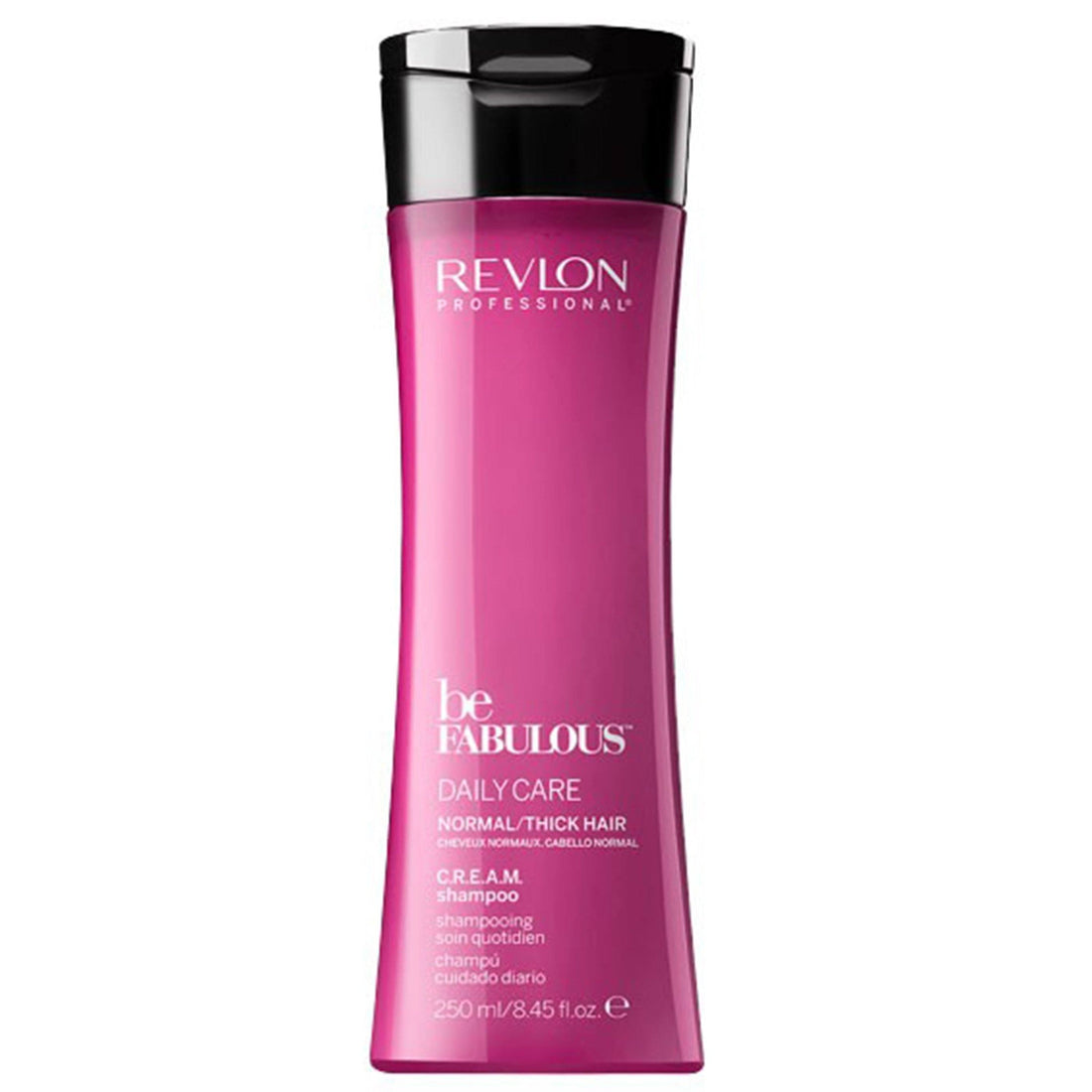 Revlon Professional Be Fabulous Daily Care Normal/Thick Shampoo 250ml
Be Fabulous™ C.R.E.A.M. SHAMPOO
Daily Care Normal and Thick Hair
Cleanses deeply while conditioning the hair.
Features and benefits
C.R.E.A.M. System:
Color protection. Helps to slow color loss.
Repairs the hair deeply and builds resistance against breakage.
Enhancement. Provides added shine without grease.
Anti-age. Helps to recover the hairs vitality.
Moisturizing. Helps to maintain the hair's natural moisture level.
Directions for Use
Apply to damp hair. Rinse well.
Active Ingredients 
Creatine: Derived from amino acids (proteins), creatin is found naturally in the body. It reduces the damage caused by aggressive UV rays to the hair fiber. Strengthens and rebuilds hair structure.
Panthenol: This molecule is a precursor of Vitamin B5

. 

It moisturizes the hair, covering the fiber to leave it shiny but greasefree, and also penetrates the cuticle to hydrate the cortex. The hair is left more supple and manageable, with added body and volume.
Silicone Quaternium-22: This silicone derivative has excellent conditioning properties on both wet and dry hair. It helps to protect the hair against heat and the color loss caused by washing.
Hydrolyzed Hyaluronic Acid: Enhances the skin's defenses against oxidation, while also stimulating cellular repair and healing.
Betaine: This ingredient keeps the hair well moisturized through osmoregulation, providing protection against dehydration and exposure to heat by balancing fluid levels in the cells without affecting any natural processes.
Wheat Amino Acids: These compounds increase the hair's internal moisture
levels, conditioning the fiber and improving manageability.
So, so.
The product did not leave my hair as soft and smooth as I would normally get with other shampoos. I like the mild smell though.