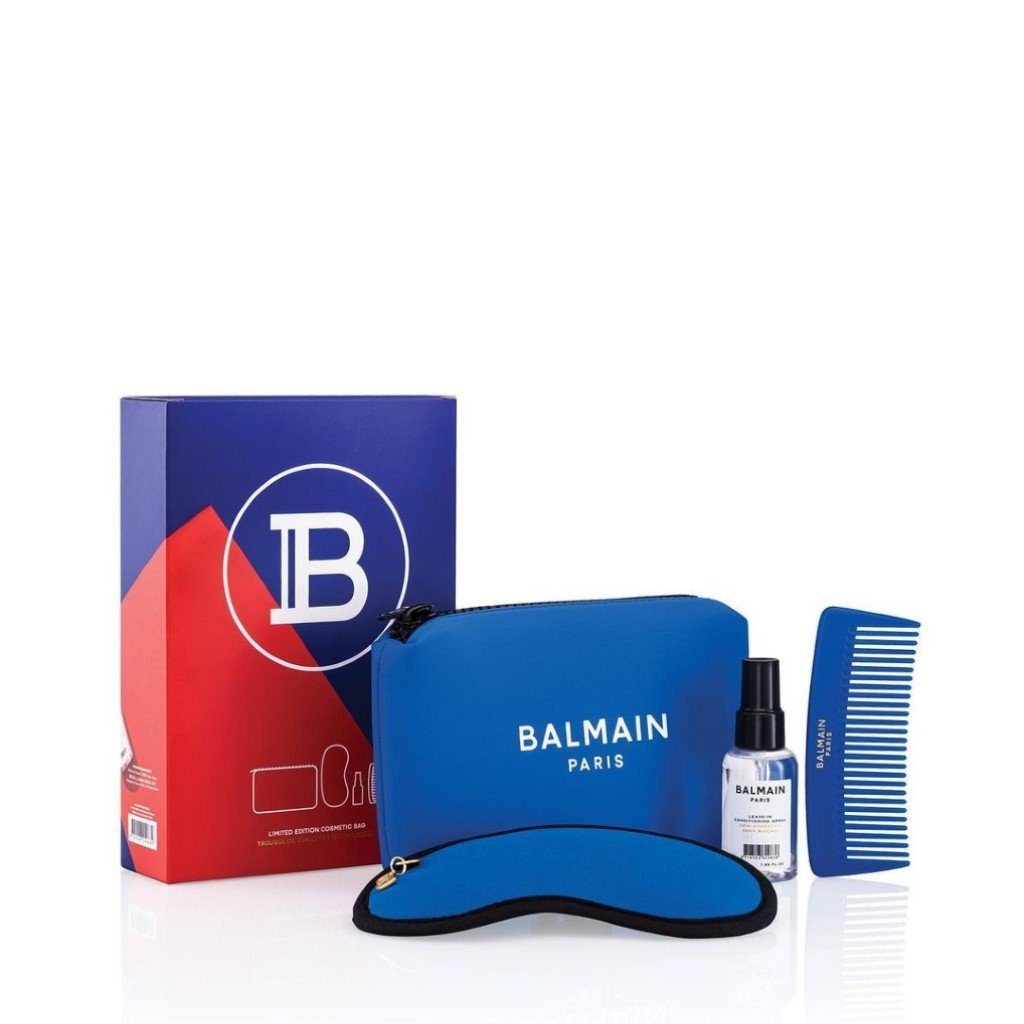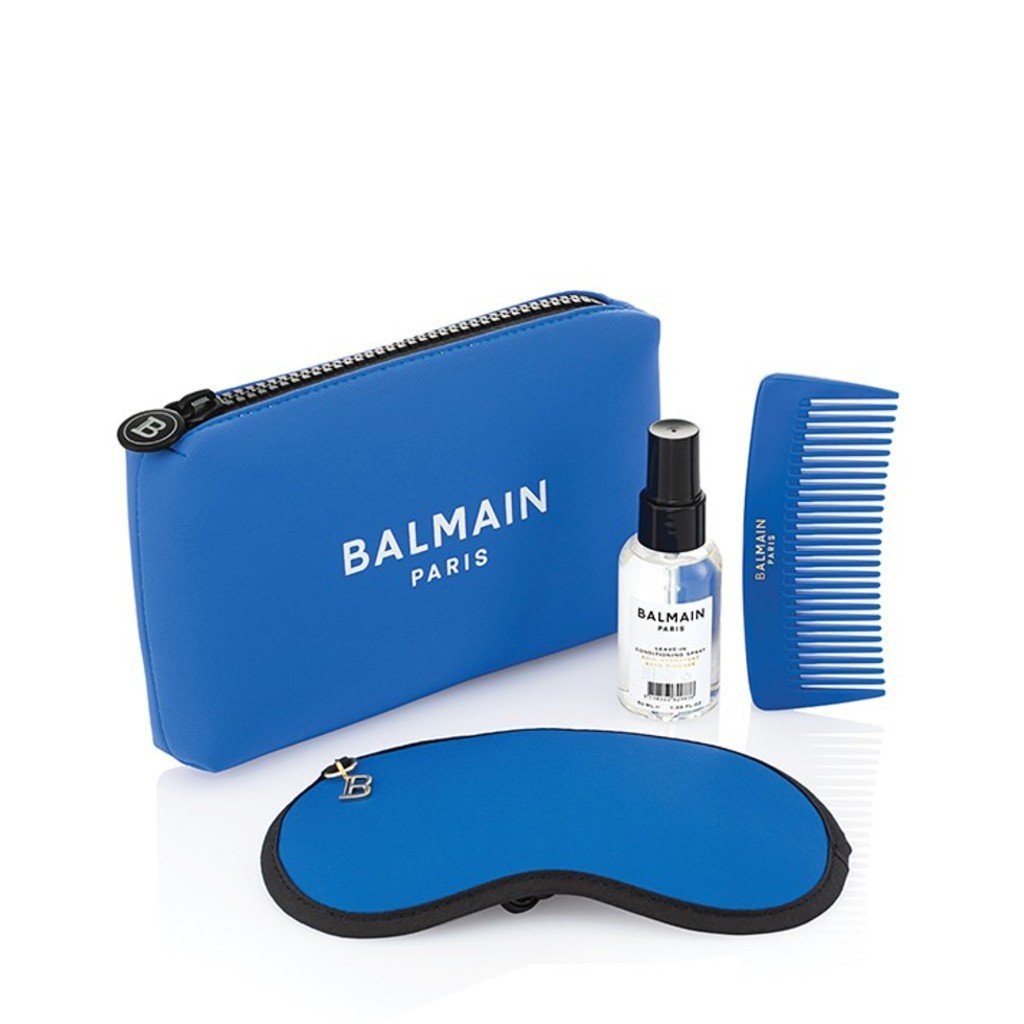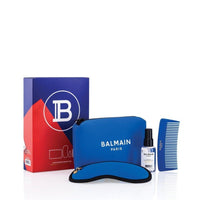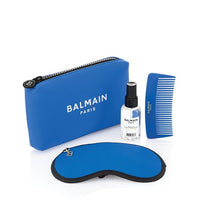 Balmain Hair Couture Limited Edition Cosmetic Bag
The Spring Summer-2021 Limited Edition Cosmetic Bag easily holds all hair care essentials. Inspired by the color-blocking trend of the Balmain's Resort 2021 fashion collection. Contains all the necessary travel essentials: travel-sized Leave-in Conditioning Spray, matching eye mask and pocket comb.
Two limited edition colors: blue and red
Perfect bag for traveling, on the go and backstage

[split]
INCLUSIONS
1. Leave-In Conditioning Spray Travel Size (50 ml | 1.69 FL.OZ)
The perfect Leave-in conditioning for all hair types. Conditions hair and scalp, smoothes hair cuticle. Gives body, volume, care and conditioning during the day. Creates easy manageable, flexible and shiny hair. With protective UV-filters. Paraben free. Vegetarian. 100% Solar-based production during summer.
How to Use
Spray on towel dry or dry hair. Do not rinse-out.
Full Ingredients
Aqua, Glycerin, Argania Spinosa Kernel Extract, Silk Amino Acids, Panthenol, Niacinamide, Tocopheryl Acetate, Sodium Cocoyl Amino Acids, Potassium Dimethicone PEG-7 Panthenyl Phosphate, Amodimethicone, C11-15 Pareth-7, C12-16 Pareth-9, Trideceth-12, Butylene Glycol, PEG-40 Hydrogenated Castor Oil, Polysorbate 20, Ethylhexyl Methoxycinnamate, Cetrimonium Chloride, Phenoxyethanol, Ethylhexylglycerin, Parfum, Citric Acid.
2. Pocket Comb
3. Eye Mask

Payment Policy
Credit Card, Bank Deposit, Over-the-Counter, Installment Payments by BillEase. All payment methods except COD. Due to the nature of these products, COD is not allowed for Balmain Hair Couture Hair Accessories and Styling Tools.

<p><strong>1. Leave-In Conditioning Spray Travel Size (50 ml | 1.69 FL.OZ)</strong><br>The perfect Leave-in conditioning for all hair types. Conditions hair and scalp, smoothes hair cuticle. Gives body, volume, care and conditioning during the day. Creates easy manageable, flexible and shiny hair. With protective UV-filters. Paraben free. Vegetarian. 100% Solar-based production during summer.</p><p><strong>How to Use</strong><br>Spray on towel dry or dry hair. Do not rinse-out.</p><p><strong>Full Ingredients</strong><br>Aqua, Glycerin, Argania Spinosa Kernel Extract, Silk Amino Acids, Panthenol, Niacinamide, Tocopheryl Acetate, Sodium Cocoyl Amino Acids, Potassium Dimethicone PEG-7 Panthenyl Phosphate, Amodimethicone, C11-15 Pareth-7, C12-16 Pareth-9, Trideceth-12, Butylene Glycol, PEG-40 Hydrogenated Castor Oil, Polysorbate 20, Ethylhexyl Methoxycinnamate, Cetrimonium Chloride, Phenoxyethanol, Ethylhexylglycerin, Parfum, Citric Acid.</p><p><strong>2. Pocket Comb</strong></p><p><strong>3. Eye Mask</strong></p>