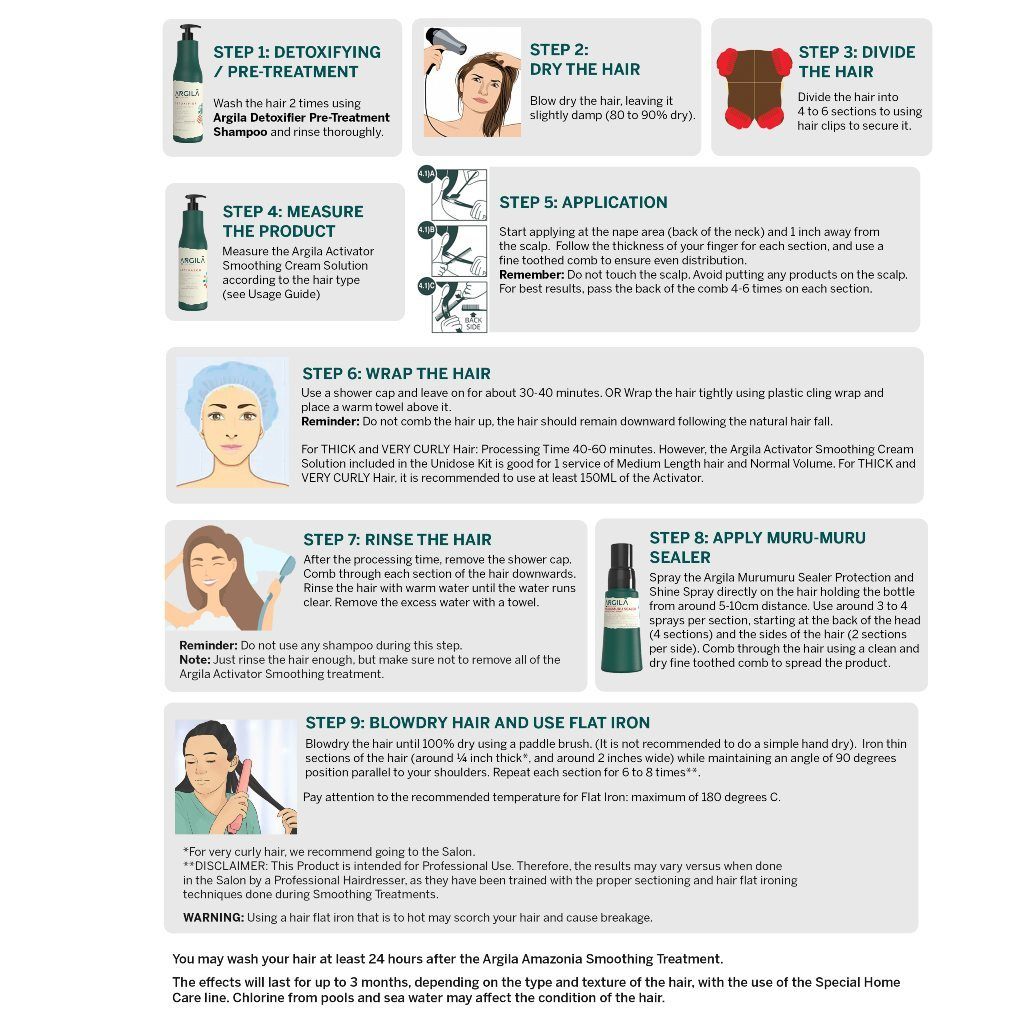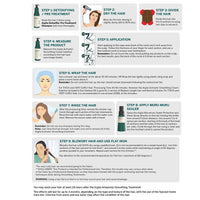 Argila Amazonia Single Dose Professional Smoothing Keratin Treatment
DISCLAIMER: These products are intended to be used by a hairdresser. Use by a non-professional hairdresser may result in damaged hair.
Argila Amazonia is a revolutionary hair-straightening system that provides long-lasting results. Using all natural ingredients from the Amazon, such as white clay and murumuru oil, Argila Amazonia leaves hair smooth, shiny and and silky soft. All Argila Amazonia products are formulated free of formaldehyde, parabens, ammonia or any other chemical that could be considered harmful.
Certified 100% formaldehyde formaldehyde free
Lasts up to 3 months*
Easy, quick and efficient application process
Argila Detoxifier Pre-Treatment Shampoo 50ml
Its high pH removes toxins and impurities, preparing the hair cuticles for the straightening process.
Argila Activator Smoothing Cream Solution 100ml
Restores and improves frizzy hair, leaving it healthier and more manageable.
Argila Smooth Prolonging Masque 15g x 3
Keeps your hair straight longer.
Argila Murumuru Sealer: Protection and Shine Spray 50ml
Responsible for completing the straightening treatment, fully closing the hair cuticles and balancing the hair's pH. It helps in detangling the hair, and has a frizz-free action until the next wash. Also for use before blow-drying.
*The effects will last up to 3 months, depending on the type and texture of the hair, with the use of the Special Home Care line. Chlorine from pools and sea water may affect the condition of the hair.
<p><strong>Hair Argilatherapy</strong><br>Argila Amazonia brings Argilatherapy, known for their rejuvenating skin treatments, to the world of professional hair care. Argilatherapy's principle function is to remove toxins and impurities, allowing for the full reconstruction of hair follicles. The healing power of white Argila clay combines with the rich fatty acids present in murumuru oil to create a powerful defense against the effects of chemical and environmental damage on hair.&nbsp;</p><p><strong>How Does Argilatherapy Work?</strong></p><ul><li>Works on a cellular level, allowing for deep restoration without damaging the core DNA of the hair.</li><li>Does not contain chemicals or toxic agents that can damage hair's health.</li><li>Base is composed of trace elements, proteins and the exotic murumuru Oil.</li></ul><p><strong>The Purity Of White Argila Clay
</strong></p><ul><li>Cell Regeneration.</li><li>Mineral Replacements.</li><li>Revitalization.</li></ul><p><strong>The Richness Of Exotic Murumuru Oil
</strong></p><ul><li>Replenishes the natural nutrients of the hair.</li><li>Reinforces the structure of damaged hair.</li><li>Restores the natural hydrolipidic layer, providing brightness, softness, hydration and protection.</li></ul>
<p><strong><u>SAFETY INSTRUCTIONS: READ BEFORE USE</u></strong><br>This product is not intended for use on persons under the age of 12. This product is safe for pregnant/ breastfeeding moms. However, you may consult your doctor before having any hair smoothening treatments.&nbsp;</p><p><strong>DO NOT USE</strong></p><ul><li>If you have already experienced an allergic reaction to hair smoothing treatments in the past.</li><li>If your scalp is sensitive/ itchy or has an open wound.</li><li>If your hair has been treated with metallic colors or henna colors (instant hair color in powder form) or hair dye shampoos.</li></ul><p><strong>REMINDERS</strong><br>Make sure that your hair is dry and clean and that all tools are clean and dry.</p><ul><li>This product is intended for one (1) application. Once opened your must measure the appropriate amount depending on your hair's length and consume these immediately. Please do not put back any unused products into the bottle container.</li><li>Store in a cool, dry place and away from direct sunlight.</li><li>Use only the proportions indicated in the usage guide. Follow the processing time.</li><li>It is recommended to wait for 15 days after the Argila Smoothing Treatment before having any hair color service.</li></ul><p><strong>SAFETY PRECAUTIONS</strong></p><ul><li>Do not ingest. If swallowed, do not induce vomiting. Seek medical help immediately.</li><li>Avoid contact with the eyes and skin. In case of contact, rinse the eyes and skin immediately.</li><li>Keep out of reach of children.</li></ul><p><strong><u>HOW TO USE</u></strong></p><p><strong>USAGE GUIDE</strong></p><p><img src="https://cdn.shopify.com/s/files/1/1412/4580/files/Screen_Shot_2021-08-05_at_14.25.51_480x480.png?v=1628144777" alt="HairMNL Argila Amazonia Unidose Smoothing Kit Usage Guide Hair Type"></p><p><br><strong>PREPARATION (Materials)</strong></p><ul><li>Towel</li><li>Applicator&nbsp;brush</li><li>Gloves</li><li>Hair blower</li><li>Mixing bowl (please use a clean and dry plastic bowl, do not use metallic bowls)</li><li>Hair clips for sectioning</li><li>Weighing scale</li><li>Fine toothed comb</li><li>Disposable shower cap</li><li>Flat iron</li></ul><p><strong>APPLICATION</strong></p><p><strong>Step 1 - Detoxifying/ Pre-Treatment</strong><br><strong>
</strong>Wash the hair two times using Argila Detoxifier Pre-Treatment Shampoo and rinse thoroughly.</p><p><strong>Step 2 - Dry the Hair
</strong><br>Blow dry the hair, leaving it slightly damp (80-90% dry).</p><p><strong>Step&nbsp;3&nbsp;-&nbsp;Divide the Hair
</strong><br>Divide the hair into 4-6 section, using hair clips to secure it.</p><p><strong>Step&nbsp;4 -&nbsp;Measure the Product
</strong><br>Measure the Argila Activator Smoothing Cream Solution according to hair type (See usage guide).</p><p><strong>Step 5 - Application</strong><br><strong>
</strong>Start applying at the nape area (back of the neck) and 1 inch away from the scalp. Follow the thickness of your finger for each section, and use a fine toothed comb to ensure even distribution.&nbsp;For best results, pass the back of the comb 4-6 times on each section.</p><p><i>Note: Do not touch the scalp. Avoid putting any products on the scalp.</i></p><p><strong>Step 6 -&nbsp;Wrap the Hair</strong><br>Use a shower cap and leave on for about 30-40 minutes OR wrap the hair tightly using plastic cling wrap and place a warm towel above it.</p><ul><li>For thick and very curly hair: processing time of 40-60 minutes. However, the Argila Activator Smoothing Cream Solution included in the Unidose Kit is good one (1) service of medium length hair and normal volume.</li><li>For thick and very curly hair, it is recommended to use at least 150ml of the Activator.</li></ul><p><i>Note: Do not comb the hair up, the hair should remain downward following the natural hair fall.</i></p><p><strong>Step 7 -&nbsp;Rinse&nbsp;the Hair
</strong><br>After the processing time, remove the shower cap. Comb through each section of the hair downwards. Rinse the hair with warm water until the water runs clear. Remove the excess water with a towel.
</p><p><i>Note:&nbsp;Do not use any shampoo during this step. Just rinse the hair enough&nbsp;with water, but make sure not to remove all the Argila Activator Smoothing treatment.</i></p><p><strong>Step 8 - Apply Murumuru Sealer</strong><br><strong>
</strong>Spray the Argila Murumuru Sealer Protection and Shine Spray directly on the hair holding the bottle from around 5-10cm distance. Use around 3-4 sprays per section, starting at the back of head (4 sections) and the sides of the hair (2 sections per side). Comb through the hair using a clean and dry fine toothed comb to spread the product.</p><p><strong>Step 9 - Blow Dry Hair and Use Flat Iron</strong><br>Blow dry the hair until 100% dry using a paddle brush (it is not recommended to do a simple hand dry). Iron thin sections of the hair (around 1/4 inch thick*, and around 2 inches wide) while maintaining an angle of 90 degrees position parallel to your shoulders. Repeat each section for 6-8 times.**
</p><p><i>Note: Recommended temperature for flat iron is maximum of 180 degrees Celsius.</i></p><p><i>*For very curly hair, we recommend having the treatment done by a salon professional.</i><br><i>**DISCLAIMER: This product is intended for professional use. Therefore, the results may vary versus when done by a professional hairdresser, as they have been trained with the proper sectioning and hair flat ironing techniques done for smoothing treatments.</i></p>
<p><strong>Argila Smooth Prolonging Masque 15g x 3</strong><br>Aqua, Cetearyl, Alcohol, Peg -90M, Propylene Glycol, Paraffinum, Liquidium,Astrocaryum Murumuru seed butter, Hydrolyzed Keratin, Creatine Guar, Hydroxypropyltriminium Chloride,Phenoxytamol, Parfum, Kaolin, Caprylyl Glycol, Benhentrimonium Chloride, Dissodium Edta, Octadecyl, Di-Y-Butyl, Hydroxyhydrocinnamate, Lactic acid,Lonalol, CI 19140.</p><p>&nbsp;</p><p><strong>Argila Murumuru Sealer 50ml: Protection and Shine Spray</strong><br>Aqua, Glycerin, Allum Cepa extract, Propylene Glycol, Astrocaryum murmur seed butter, Urea, Parfum Amodimethicone, Phenoxythenanol, Kaolin, Caprylyl Glycol, C11-15 Pareth-7, Laureth-9, Trideceth-12 Dissodium Edta, Methylisothiazolinone, Benzyl Salicytate, Hexyl Cinnamal, Limonene, Linalool.</p>