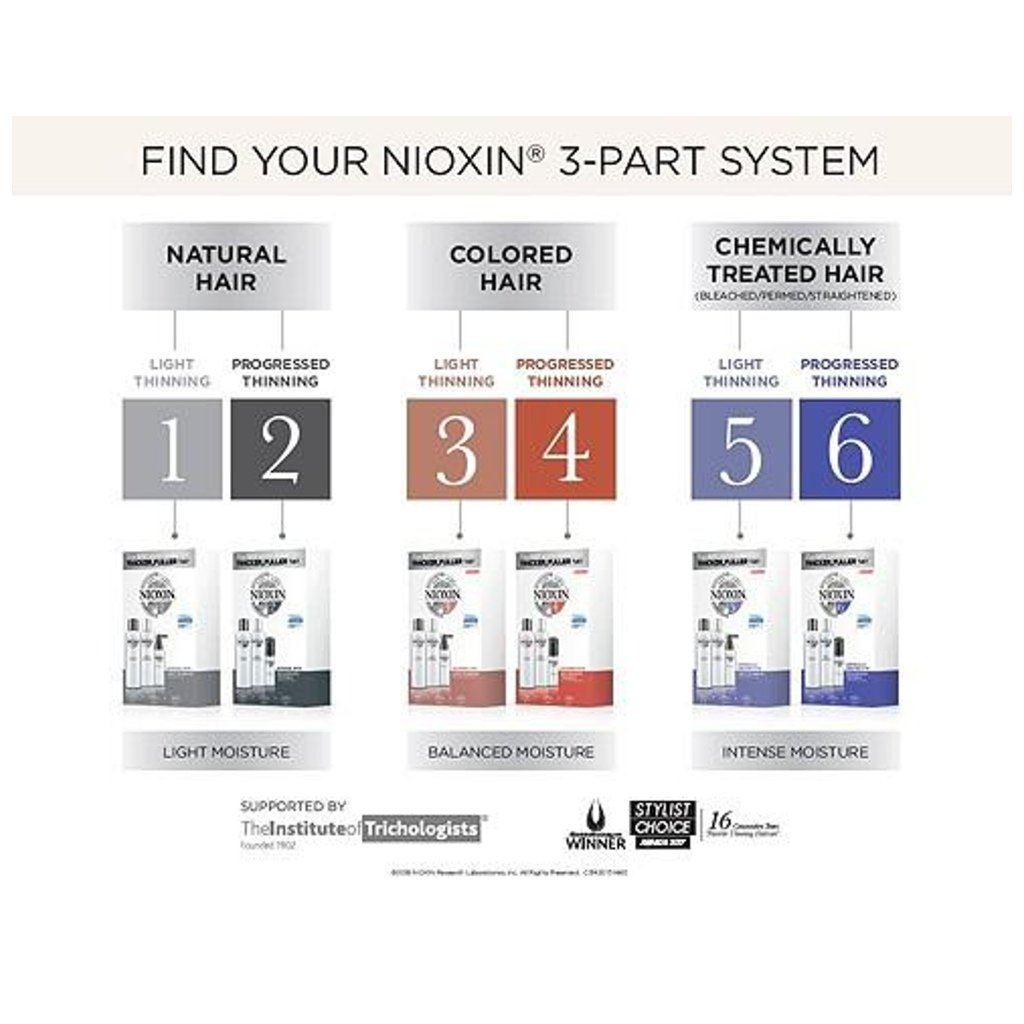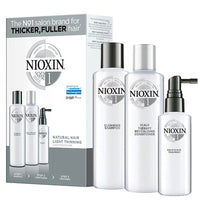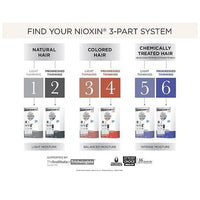 Nioxin Hair Care System 1 Kit for natural hair with light thinning amplifies hair structure and protects against hair breakage. This unique set of three professional hair products, based on an advanced skin care approach, is specially formulated as a hair thickening treatment, delivering fuller-looking hair.
The Nioxin System 1 regimen reduces hair fall due to breakage, strengthens the hair and delivers a healthy shine to natural hair, while refreshes the scalp.
Nioxin Cleanser Shampoo 150ml
removes dirt, sebum and other environmental residues from the scalp and hair.
Nioxin Scalp Therapy Conditioner 150ml
is a lightweight conditioner that helps provide hair resilience, hydrates scalp and hair from root to tip.
Nioxin Scalp & Hair Treatment 50ml
refreshes the scalp and increases hair volume of every strand.
[split]
BENEFITS
Complete professional hair treatment, Nioxin System 1 for natural hair with light thinning.
Nioxin System 1 hair care kit amplifies hair texture and protects hair against breakage.
Nioxin System 1 hydrates scalp and hair from root to tip to provide thicker, fuller hair from the first use.
Strengthens hair resilience against damage and breakage.
Helps remove dirt, excessive oil and other environmental residues from scalp and hair.
Amplifies hair protection and texture against breakage and increases fullness of each hair strand.
Clinically and Dermatologically tested.
Nioxin is the n°1 salon brand for thicker and fuller hair with more than 30 years expertise in thinning hair.
HOW TO USE
Step 1: Massage Cleanser Shampoo into hair and scalp. Rinse thoroughly.
Step 2: Work Scalp Therapy Revitalizing Conditioner through the hair, from scalp to ends. Rinse thoroughly to make sure all product is removed.
Step 3: Shake the Scalp & Hair Treatment to activate it, then apply to scalp and work through hair from roots to ends. Do not rinse.
For best results, use the Nioxin System Kit daily on scalp and hair.
Compliment your Nioxin Hair System Kit with Intensive Care products like Nioxin 3D Intensive Hair Booster.
Effective
Reduces hair fall as well as refreshes the scalp.
Great product
This brand is so pricey but one of best product for hair fall. I love the scent and how it made my hair soft and less dry. So glad I found Nioxin from Hair MNL.
Made My Hair Thicker and Healthy looking
At first I had second thoughts if Nioxin will work for me since I used many shampoos and conditioners before and did not see results. But after trying Nioxin for more than two months and using it regularly I see that my hair is more thicker and healthy looking. I use the shampoo and conditioner in alternate days and always follow it with the scalp and hair treatment. I think this product is worth it even with the expensive price tag.
Excellent!
Nice product, hair fall has stopped