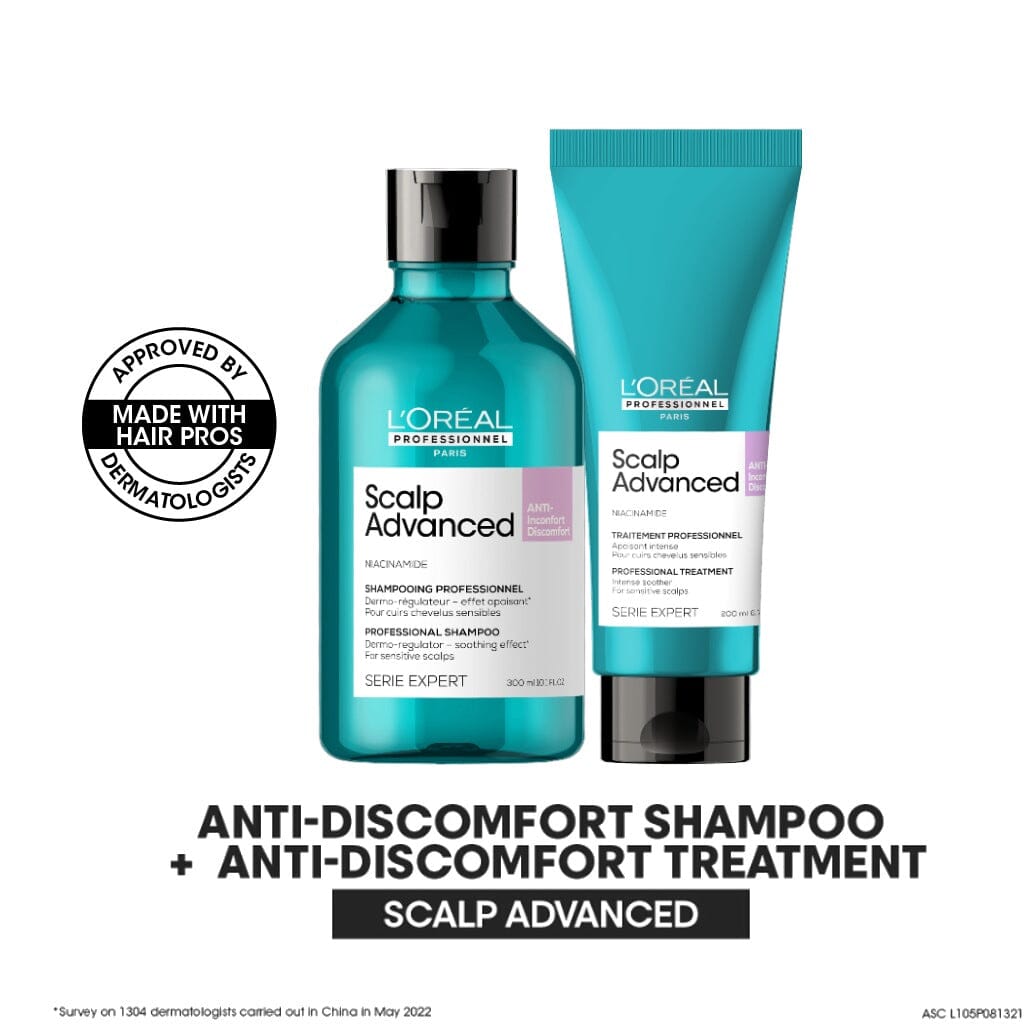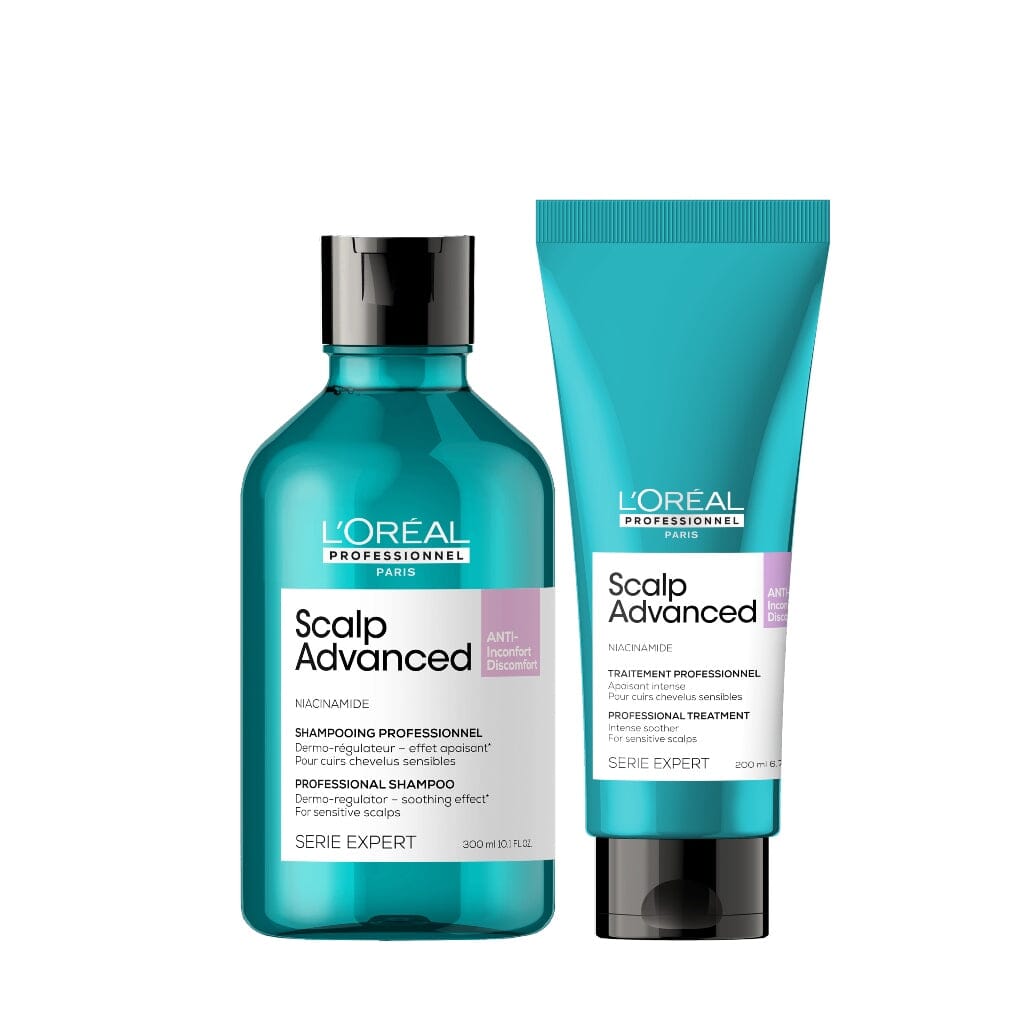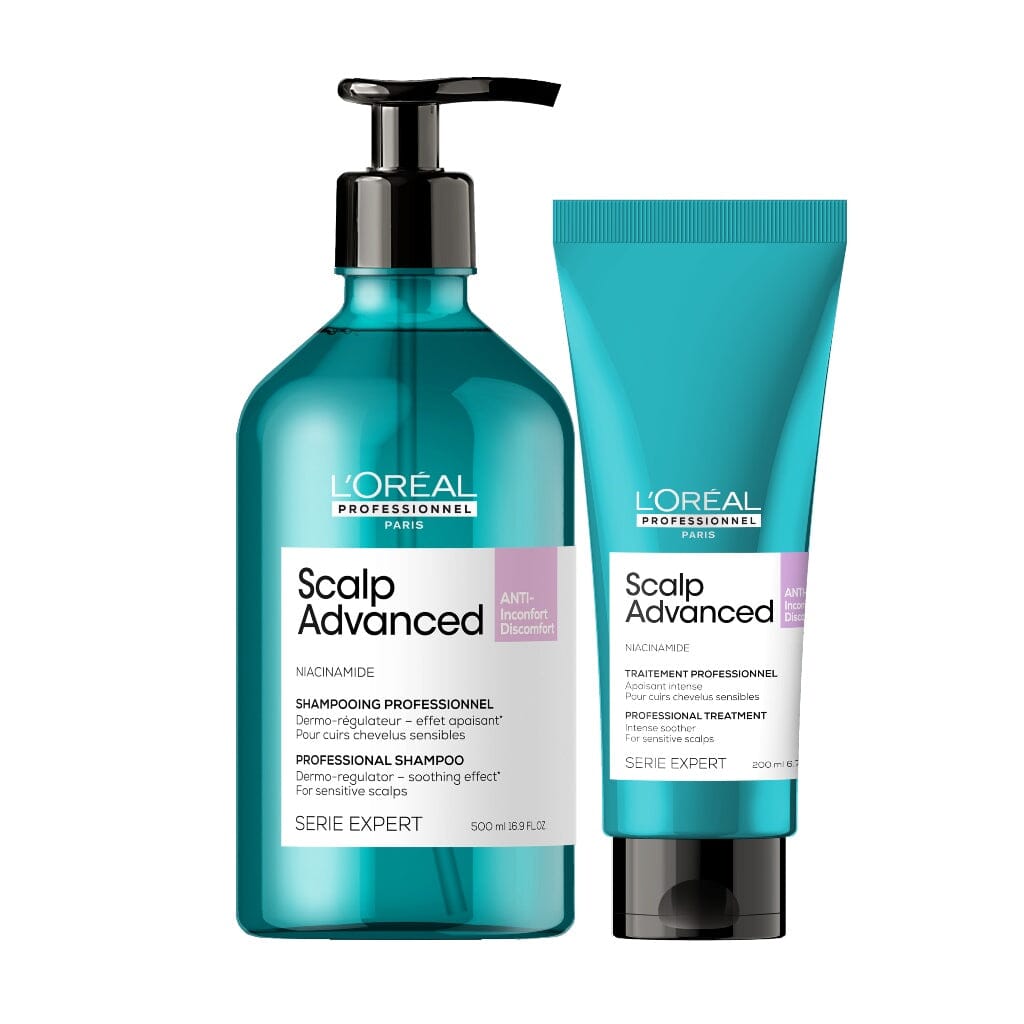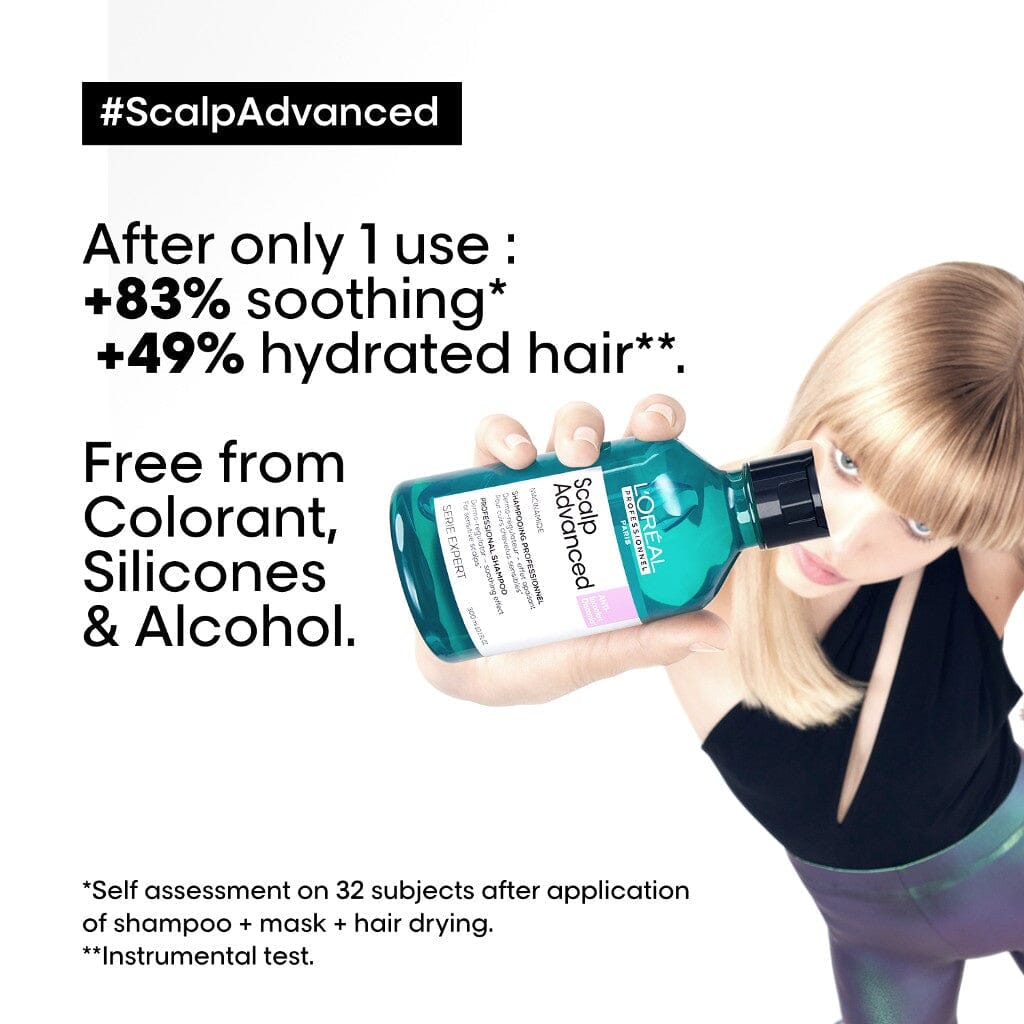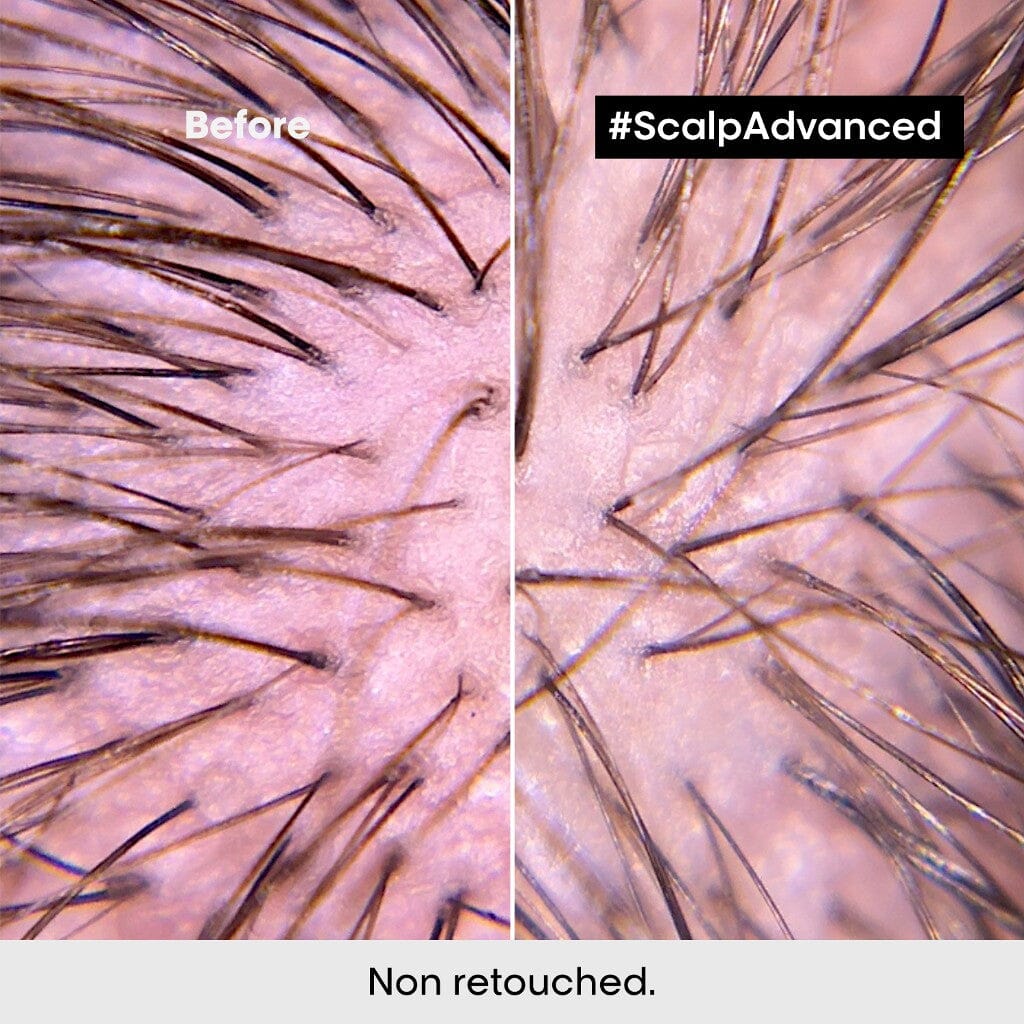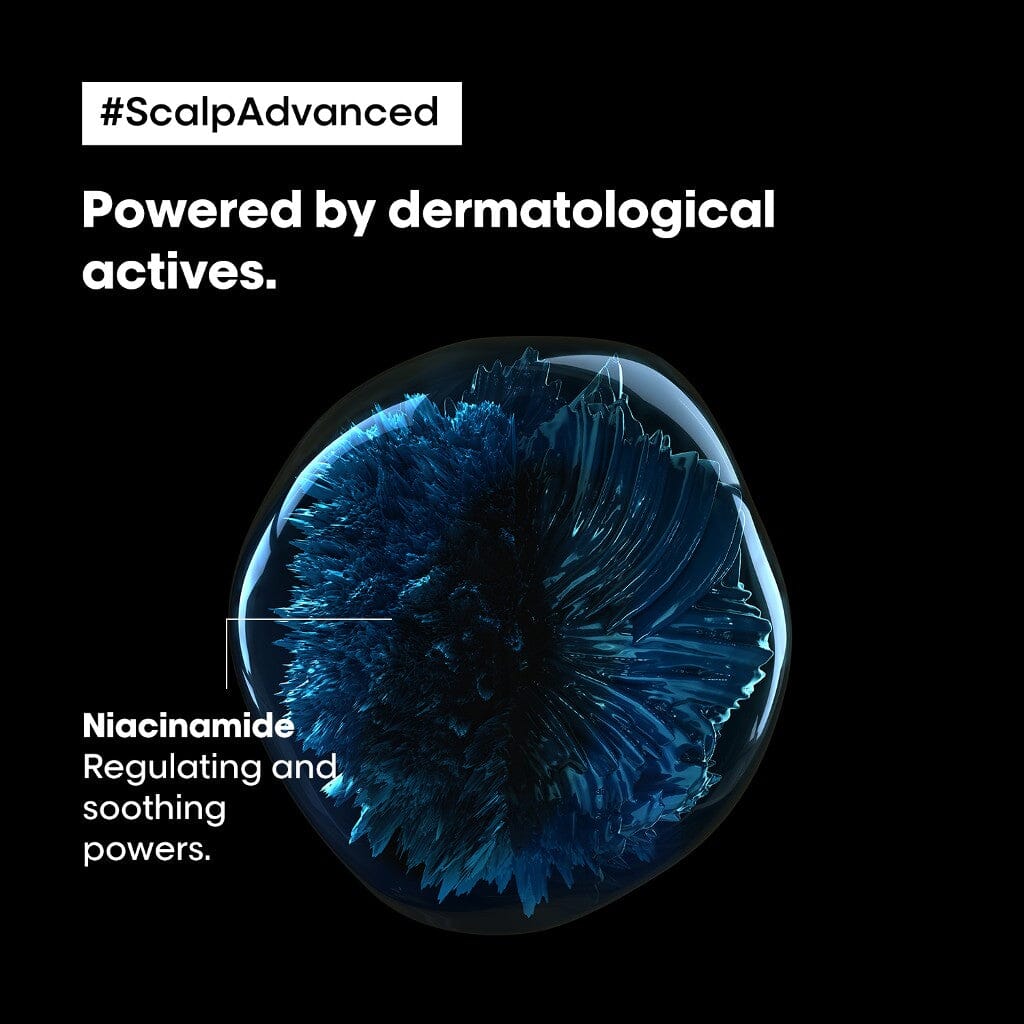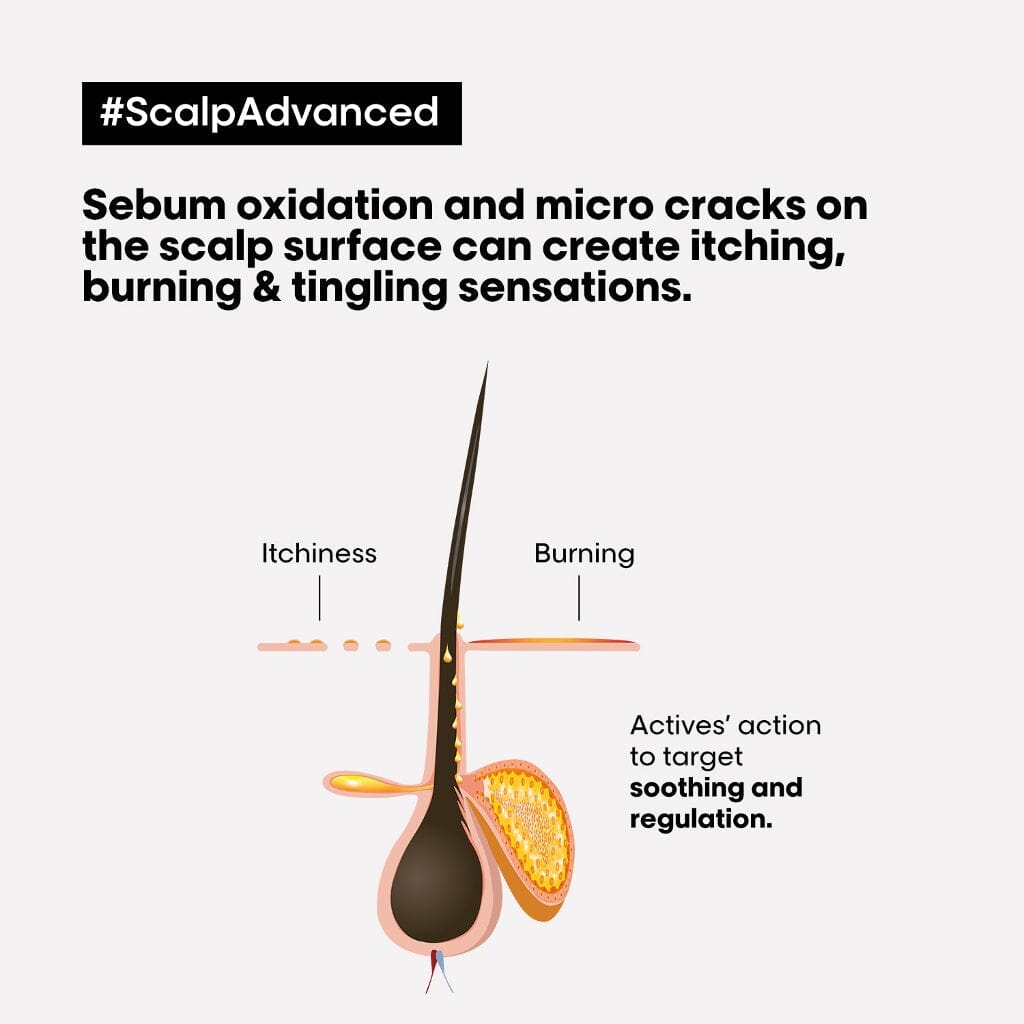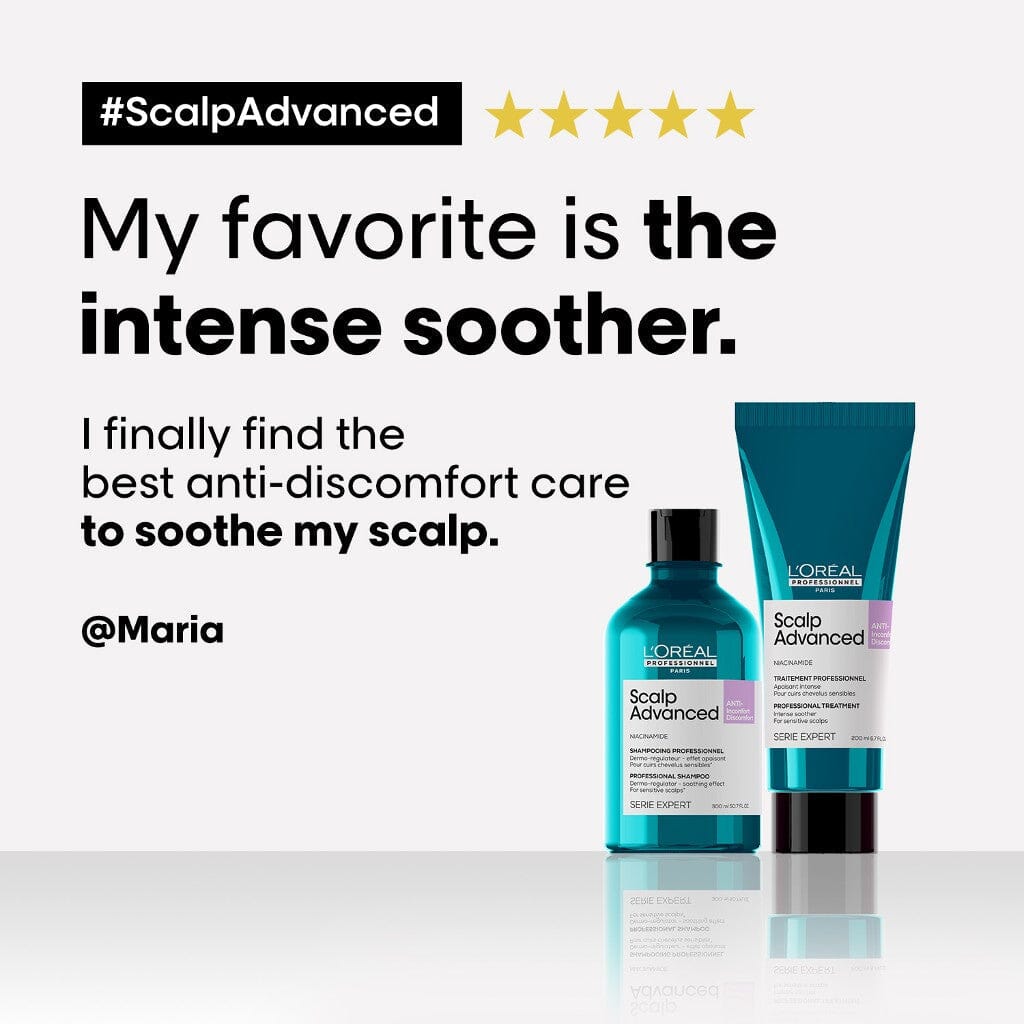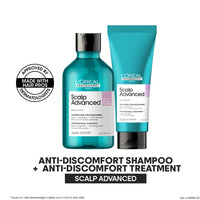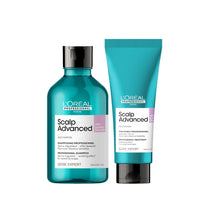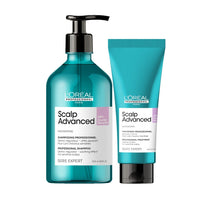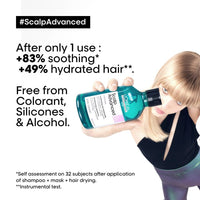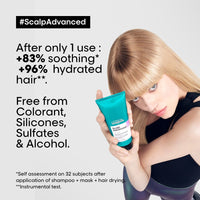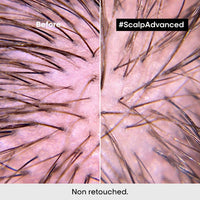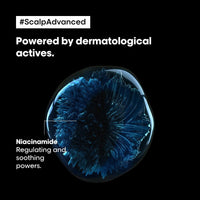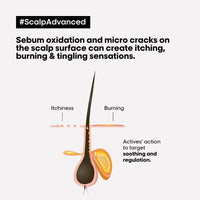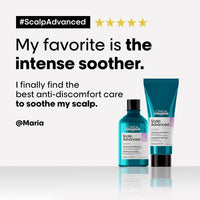 L'Oreal Serie Expert Scalp Advanced Anti-Discomfort Duo
Anti-discomfort dermo-regulator shampoo & treatment for sensitive scalps.
Scalp Advanced Anti-Discomfort Shampoo
This lightweight gel was targeted-formulated with Niacinamide, a vitamin from the B3 family, known for its regulating and soothing powers. 
Scalp Advanced Anti-Discomfort Intense Soother Treatment
This lightweight gel intensely and instantly calms and soothes scalp discomfort, without weighting down the fiber. Hair is instantly smooth and detangled. 
Scalp is skin, but a much more complex one. Sebum oxidation and micro cracks on the scalp surface can create numerous issues. It's a vicious cycle and you want out.
<p>Gently cleanses while soothing and calming sensitive scalps.</p><ul><li>Ultra-potent actives -&nbsp;Enriched with <i>Niacinamide</i>, a vitamin from the B3 family, known for its regulating and soothing powers.</li><li>In on use, +83% soothing in one use* and +49% hydrated/nourished hair.**</li></ul><p><i>*Consumer test: self assessment on 32 subjects after application of Scalp Advanced&nbsp;Anti-Discomfort Shampoo + Mask + hair drying</i></p><p><i>**Instrumental test after application of&nbsp;Scalp Advanced Anti-Discomfort Shampoo&nbsp;+ Anti-Oiliness Clay</i></p>
</div>
<ol>
<li>Apply <a href="https://www.hairmnl.com/products/loreal-professionnel-serie-expert-scalp-advanced-anti-discomfort-shampoo" title="HairMNL L'Oreal Serie Expert Scalp Advanced Anti-Discomfort Shampoo" data-mce-href="https://www.hairmnl.com/products/loreal-professionnel-serie-expert-scalp-advanced-anti-discomfort-shampoo" target="_blank">Scalp Advanced Anti-Discomfort Shampoo</a> evenly on wet scalp and hair.</li>
<li>Gently lather with the softest part of the tip of your fingers and without over-massaging (to not excessively activate the sebum glands) until a light foam is obtained.</li>
<li>Rinse thoroughly.</li>
<li>In case of contact with eyes, rinse them immediately and thoroughly.</li>
<li>Follow with <meta charset="utf-8"> <a title="HairMNL L'Oreal Serie Expert Scalp Advanced Anti-Discomfort Intense Soother Treatment 200ml" href="https://www.hairmnl.com/products/loreal-professionnel-serie-expert-scalp-advanced-anti-discomfort-intense-soother-treatment-200ml" data-mce-fragment="1" target="_blank" data-mce-href="https://www.hairmnl.com/products/loreal-professionnel-serie-expert-scalp-advanced-anti-discomfort-intense-soother-treatment-200ml">Scalp Advanced Anti-Discomfort Intense Soother Treatment</a> for extra soothing effects.</li>
</ol>
<meta charset="utf-8"><span data-mce-fragment="1">
<p><strong>Scalp Advanced Anti-Discomfort Shampoo</strong><br>Aqua/water/eau, Sodium Laureth Sulfate, Citric Acid, Cocamidopropyl Betaine, Sodium Hydroxide, Propylene Glycol, Sodium Chloride, Sodium Benzoate, Hexylene Glycol, Polyquaternium-10, Salicylic Acid, Limonene, Niacinamide, Hydrogenated Starch Hydrolysate, Linalool, Hexyl Cinnamal, Alpha-isomethyl Ionone, Benzyl Alocohol, Aphanizomenon Flosaquae Extract, Phenoxyethanol, Potassium Sorbate, Parfume/fragrance. N291790/1.</p><p><strong>Scalp Advanced Anti-Discomfort Intense Soother Treatment</strong><br>Aqua/water/eau, Sodium Laureth Sulfate, Citric Acid, Cocamidopropyl Betaine, Sodium Hydroxide, Propylene Glycol, Sodium Chloride, Sodium Benzoate, Hexylene Glycol, Polyquaternium-10, Salicylic Acid, Limonene, Niacinamide, Hydrogenated Starch Hydrolysate, Linalool, Hexyl Cinnamal, Alpha-isomethyl Ionone, Benzyl Alocohol, Aphanizomenon Flosaquae Extract, Phenoxyethanol, Potassium Sorbate, Parfume/fragrance. N291790/1.</p>