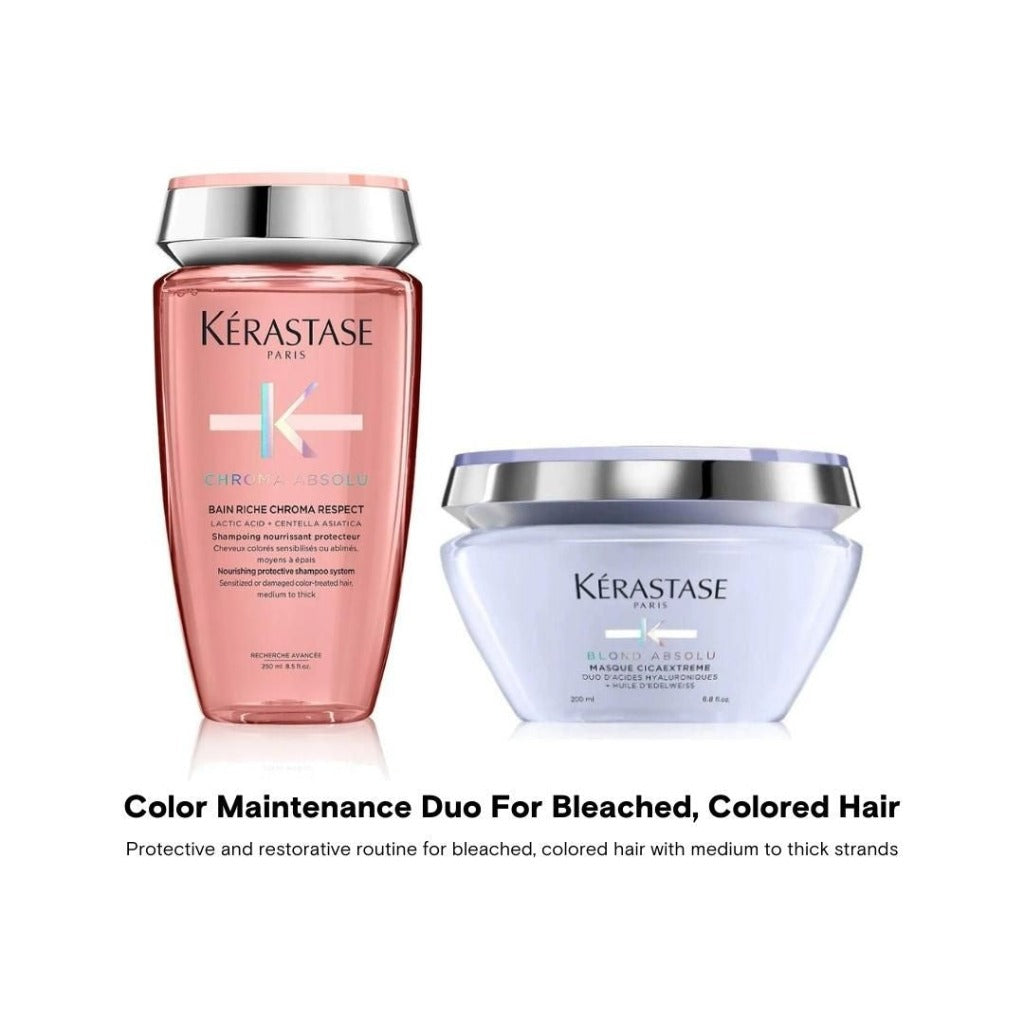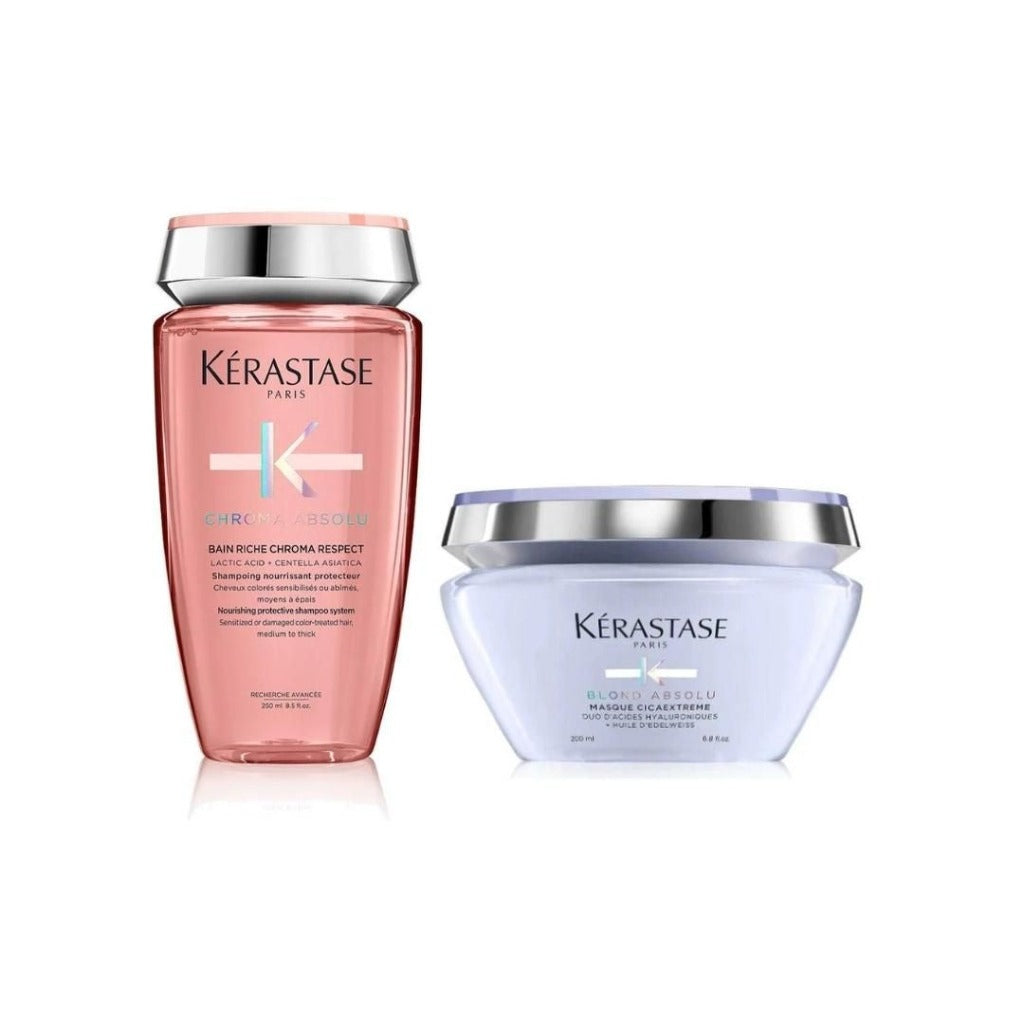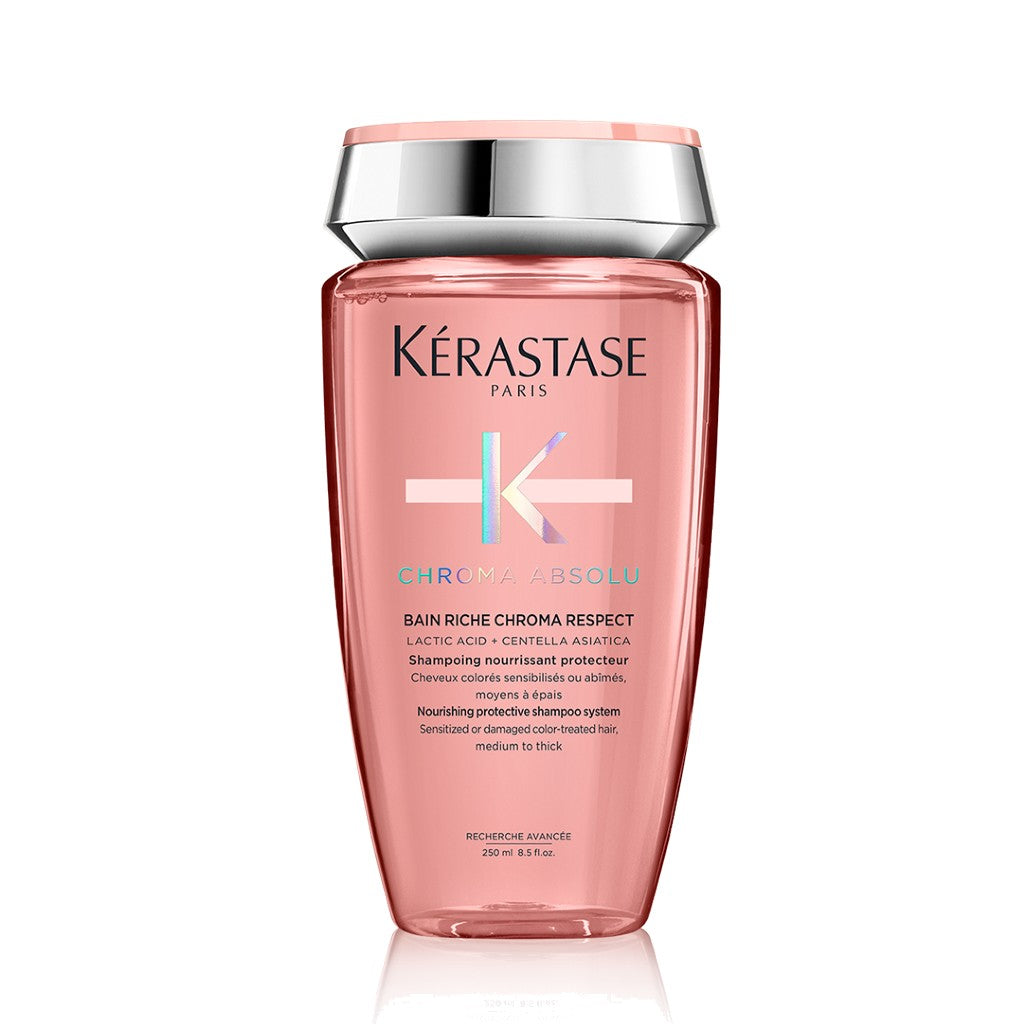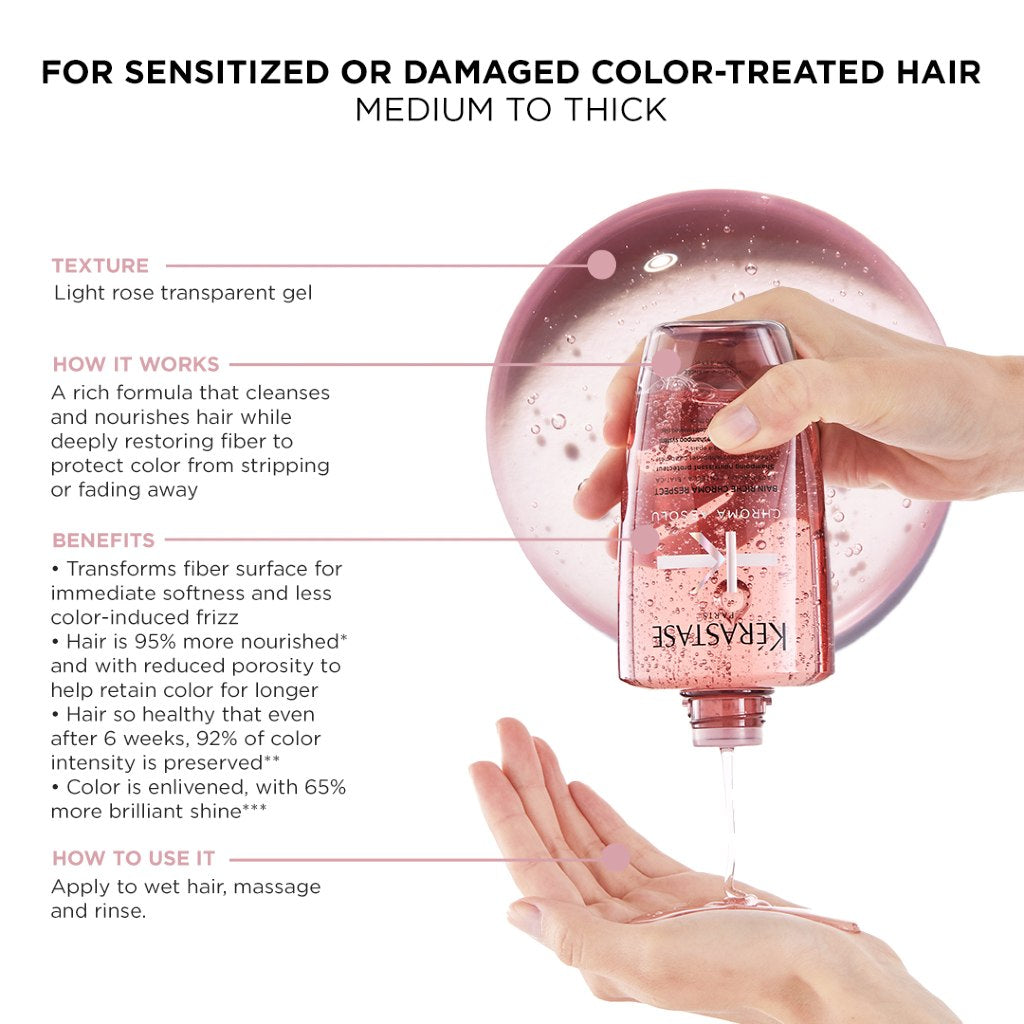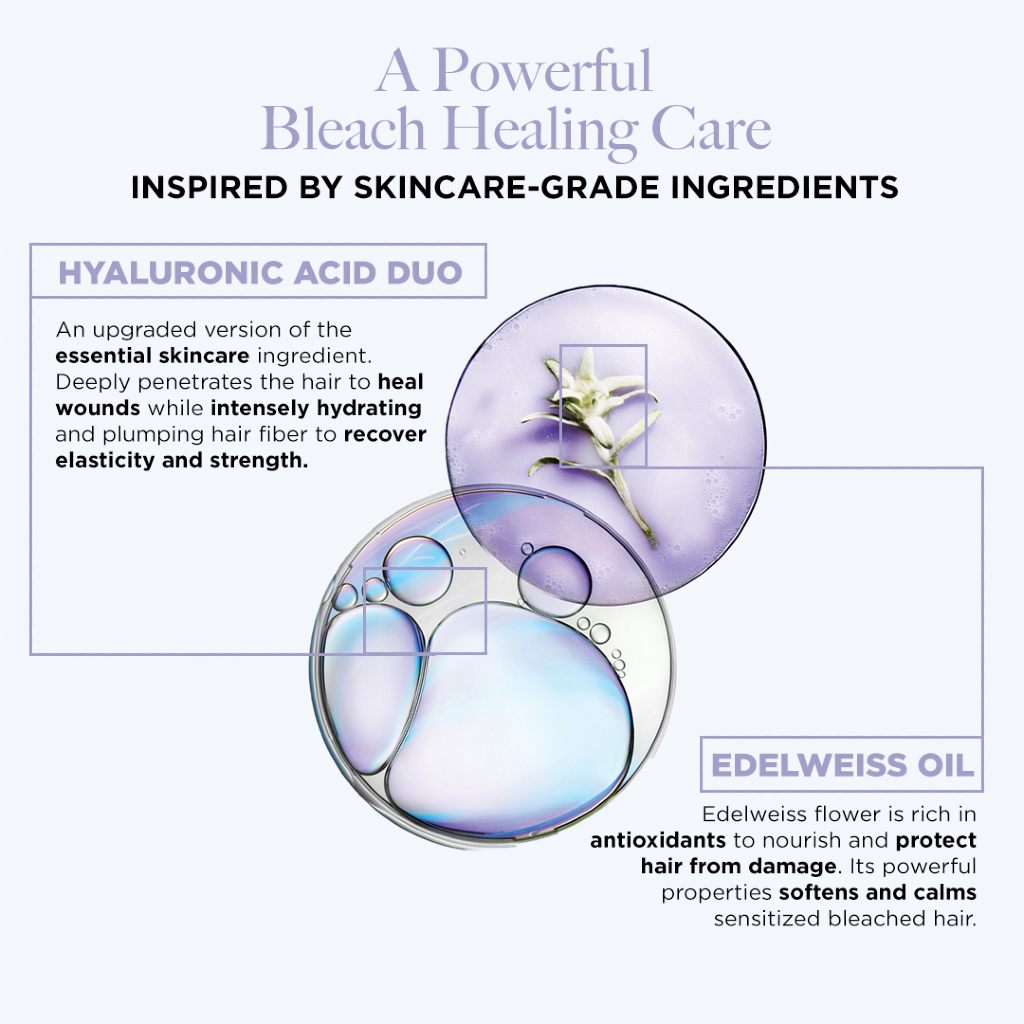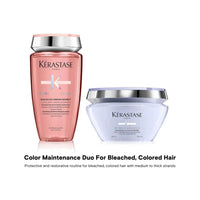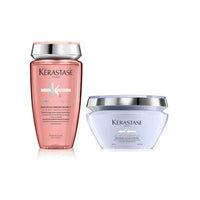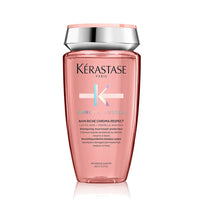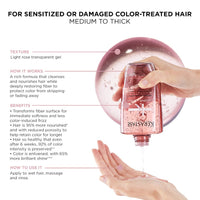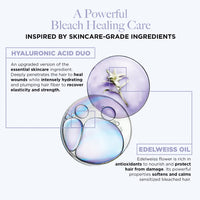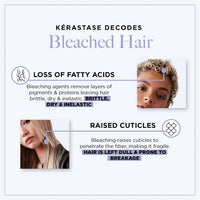 Kérastase Chroma Absolu Sulfate-Free Shampoo & Blond Absolu Cicaextreme Masque Duo (Thick Hair)
Protective and restorative routine for bleached, colored hair with medium to thick strands
Kérastase Chroma Absolu Sulfate-Free Shampoo (Thick Hair) 250ml
Rich nourishing protective shampoo for all types of sensitized or damaged color treated hair, mostly adapted for medium to thick fiber. Highly nourishing formula cares for hair while respecting and preserving hair color. Sulfate-free.
Texture
Pale rose lightweight cream
Kérastase Blond Absolu Cicaextreme Masque 200ml
Intense conditioning and deep restorative post-bleaching procedure masque for sensitized lightened or highlighted hair.
<p><strong>Chroma Absolu Sulfate-Free Shampoo (Thick Hair) 250ml</strong><br>A rich formula that cleanses and nourishes hair while deeply restoring fiber to protect color from stripping or fading away and prolongs color up to 40 days.</p><ul><li>Transforms fiber surface for immediate softness and less color-induced frizz.</li><li>Hair is 95% more nourished* and with reduced porosity to help retain color for longer.</li><li>Hair so healthy that even after 6 weeks, 92% of color intensity is preserved.**</li><li>Color is enlivened, with 65% more brilliant shine.***</li></ul><p><i>**Instrumental Test: Bain Riche + Soin Acide + Masque</i><br><i>**Instrumental Test: Bain Riche + Soin Acide</i><br><i>***Instrumental Test</i></p><p><strong>Blond Absolu&nbsp;Cicaextreme&nbsp;Masque 200ml</strong></p><ul><li>A rich white gel-in-cream deeply strengthen fiber structure to reconstruct post-bleach hair. Hair is 94% stronger and more resistant.</li><li>Seals open scales from bleaching for a uniform, conditioned healthy fiber.</li><li>Fiber is 85% more hydrated and plumped, with 24h of frizz-control.</li><li>Enhances fiber resilience to prevent future breakage &amp; split ends.</li></ul>
<p><strong>STEP 1 -&nbsp;BATHE</strong><br>Wet hair then thoroughly remove excess water before applying a quarter-sized amount of <strong>Chroma Absolu Bain Riche Chroma Respect</strong>&nbsp;touch by touch onto 5 key zones of the hair. Add water and emulsify. Focus this first wash on the scalp using finger tips to massage the scalp and remove impurities. Rinse thoroughly.<br>&nbsp;</p><p>&nbsp;</p><p>Apply a second quarter-sized amount of shampoo touch by touch and add water. The second lather will produce a more abundant foam which will help cleanse lengths all the way to the ends. Rinse thoroughly.</p><p><br>&nbsp;</p><p><strong>STEP 2 -&nbsp;TREAT</strong><br>Apply <strong>Blond Absolu Masque Cicaetxreme</strong>&nbsp;to damp hair. Leave it for 5 minutes. Rinse.</p><p><br>&nbsp;</p>
<p><strong>Chroma Absolu Sulfate-Free Shampoo (Thick Hair) 250ml</strong></p><p><strong>Key Ingredients</strong></p><ul><li><i>Lactic Acid</i>&nbsp;– a gentle fiber resurfacer, this healing acid is helps to transform, smoothens and seal fiber surface.</li><li><i>Centella Asiatica&nbsp;</i>– a millenary regenerative plant widely used in Asian skincare, known for its caring, healing properties.</li></ul><p><strong>Full Ingredients</strong><br>Aqua / Water / Eau - Sodium C14-16 Olefin Sulfonate - Cocamidopropyl Betaine - Laureth-5 Carboxylic Acid - Sodium Chloride - Caprylyl/capryl Glucoside - Sodium Hydroxide - Citric Acid - Hexylene Glycol - Sodium Benzoate - Peg-55 Propylene Glycol Oleate - Propylene Glycol - Salicylic Acid - Polyquaternium-67 - Benzoic Acid - Linalool - Limonene - Centella Asiatica Extract - Lactic Acid - Ci 17200 / Red 33 - Ci 19140 / Yellow 5 - Parfum / Fragrance</p><p>Recyclable bottle made with<strong>&nbsp;95% recycled plastic.</strong></p><p><strong>Blond Absolu Cicaextreme Masque 200ml</strong></p><p><strong>Key Ingredients</strong><br>Two powerful actives to heal blonde hair:&nbsp;Hyaluronic Acid + Edelweiss Oil.</p><ol><li>An upgraded version of this essential skincare ingredient, a duo of low and high molecular weight&nbsp;<i>Hyaluronic Acid</i>. Two different weight molecules for an improved action and deeper penetration. Low weight Hyaluronic Acid is known to deeply penetrate hair and heal profound wounds. High weight Hyaluronic Acid has an intense hydrating function, plumping fiber to recover elasticity and strength.</li><li><i>Edelweiss oil</i>, extracted from this immortal flower, rich in anti-oxidants to deeply nourishes fiber and protect hair against daily damage. Its powerful properties softens and calms sensitized bleached hair.</li></ol><p><strong>Full Ingredients</strong><br>Aqua / Water / Eau - Cetearyl Alcohol - Amodimethicone - Hydroxypropyl Starch Phosphate - Isopropyl Myristate - Behentrimonium Chloride - Phenoxyethanol - Trideceth-5 - Isopropyl Alcohol - Trideceth-6 - Glycerin - Caprylyl Glycol - Trideceth-10 - Limonene - Cetrimonium Chloride - Sodium Hyaluronate - Acetic Acid - Helianthus Annuus Seed Oil / Sunflower Seed Oil - Tocopherol - Leontopodium Alpinum Flower/leaf Extract - Parfum / Fragrance</p>