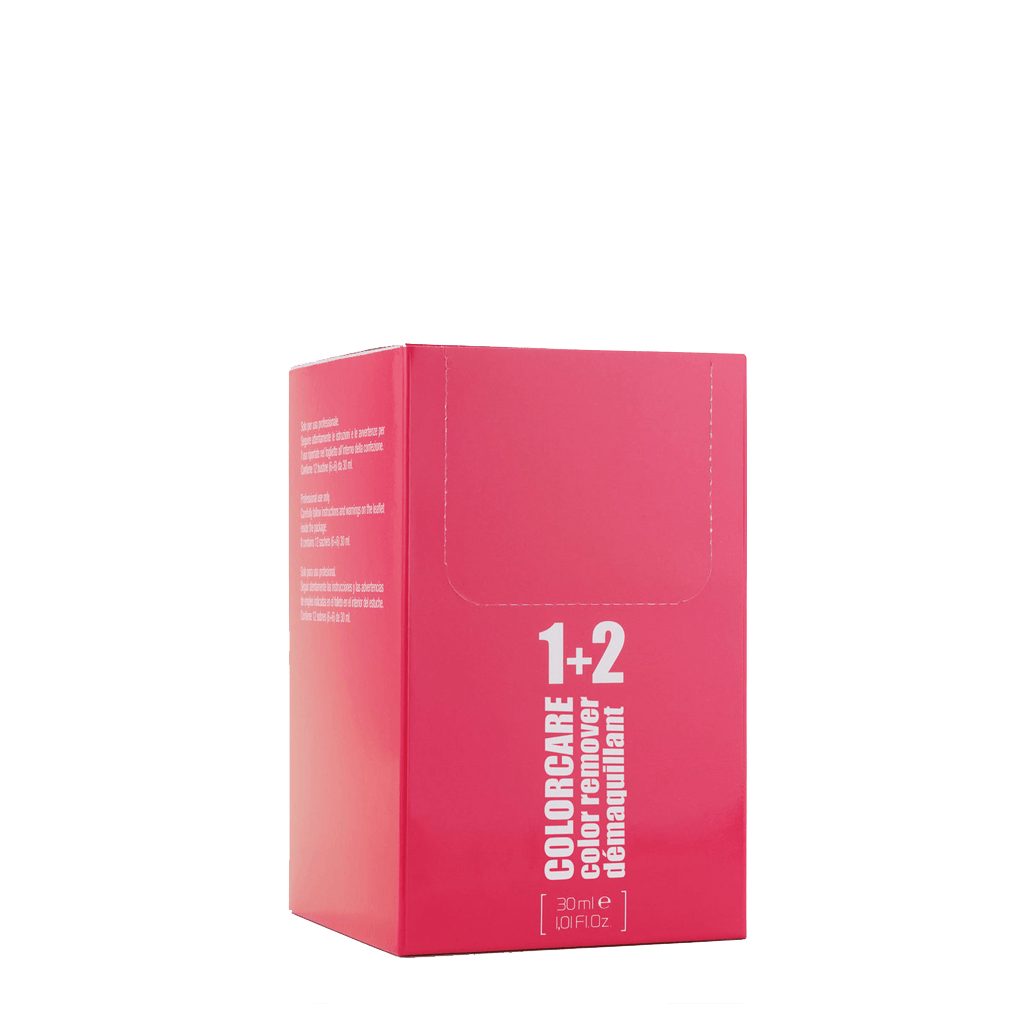 Elgon Color Care Color Pigment Remover Set of 6
The easy method to correcting unwanted artificial color pigments in the hair. 

The safer choice — a two phase, non bleach, gentle formula that will not alter or deteriorate the natural condition of hair. 
Reduces artificial color pigment without affecting the hair's natural pigments. Use in two ways — for color change or, slight color correction. After the color reversal process, the hair can be normally colored again.
<p style="margin-left:0px;">Color Remover is formulated to reduce artificial color pigments in the hair shaft, which can then be simply rinsed away. Re-coloring normally takes place after the color correction procedure.</p><ul><li>Color Remover will remove oxidation dye pigments only.</li><li>Color reduction on very dark hair will depend on the condition and texture of the hair as well as the number of applications and age of the existing dye.</li><li>Do not develop Color Remover for longer than 30 minutes.</li><li>Color Remover may be re-applied on the same day if the color correction is insufficient.</li><li>For optimum color reduction, Color Remover should be used as soon as possible after the application of the color to be corrected.</li><li>Following a color correction, Color Remover will reveal a warm undertone. This is completely normal and is due to the previous oxidative dye process.&nbsp;Color Remover will not lighten natural color pigment.</li><li>NEVER USE EITHER PHASE ON THEIR OWN, ALWAYS MIX EQUAL PARTS TOGETHER (1:1).</li><li>Strand test recommended prior to coloring.</li></ul>
<p style="margin-left:0px;">Use the table as a guide to choose the Color Remover application that is suitable for your requirements. Refer to application instruction for use.&nbsp;</p><p style="margin-left:0px;"><strong><img src="https://cdn.shopify.com/s/files/1/1412/4580/files/Screen_Shot_2020-08-06_at_11.32.39_PM_480x480.png?v=1596728419" alt=""></strong></p><p style="margin-left:0px;"><strong>APPLICATION - COLOR CHANGE</strong></p><ol><li>Shake well before use.</li><li>Mix up equal amounts of Color Remover (1:1) phase 1 &amp; 2 in a non-metallic bowl.&nbsp;</li><li>Apply Color Remover to dry unwashed hair as required, immediately after mixing.</li><li>Liberally apply Color Remover to the areas to be corrected using a brush or&nbsp;sponge.</li><li>The processing time of Color Remover is: 8-15 minutes with heat or 15-30&nbsp;minutes without heat.</li><li>If there is insufficient color reduction repeat application above.</li><li>At the end of the processing time, rinse the hair thoroughly.</li><li>Shampoo the hair using a clarifying shampoo to rinse away excess color pigment&nbsp;(remember not to rub the scalp as you will be re-coloring the hair after the Color&nbsp;Remover application).</li><li>Rinse, dry and follow with new color application or finishing.</li></ol><p style="margin-left:0px;"><strong>APPLICATION - SLIGHT COLOR (TONE) CORRECTION</strong></p><p style="margin-left:0px;">The processing time is: 5-10 minutes with heat or 10-15 minutes without heat.&nbsp;</p><p style="margin-left:0px;"><strong>RE-COLORING FOLLOWING COLOR CORRECTION</strong></p><ul><li>At the end of the color reduction process the hair is now ready to be re-colored. Immediately after correction the hair will accept color more easily. Note: Semi-dry the hair before re-coloring.</li><li>When re-coloring the hair it is advisable to&nbsp;choose a shade that is one or two levels lighter than the target shade desired.</li><li>To ensure the hair does not become too dark, frequently check development of the shade you have chosen.</li></ul><p style="margin-left:0px;"><strong>WARNING</strong></p><p style="margin-left:0px;">Avoid contact with skin. Do not apply onto irritated or broken skin. Do not apply on eyelashes or eyebrows. Avoid contact with eyes; if the product comes into contact with eyes, rinse very well. Do not apply on hair previously treated with Henna or coloring products containing metallic salts. Wear proper gloves during application. A preliminary patch test for allergic sensibility is recommended.</p><p style="margin-left:0px;">Do not use the two phases separately. Avoid metallic tools during the mixing and the application of the product. Read the directions of use carefully. Keep away from children.</p>
<p style="margin-left:0px;">Enriched with active ingredients that together perform functions that help the hair, including,</p><ul><li>Rice proteins with nutrient and repairing actions.</li></ul>