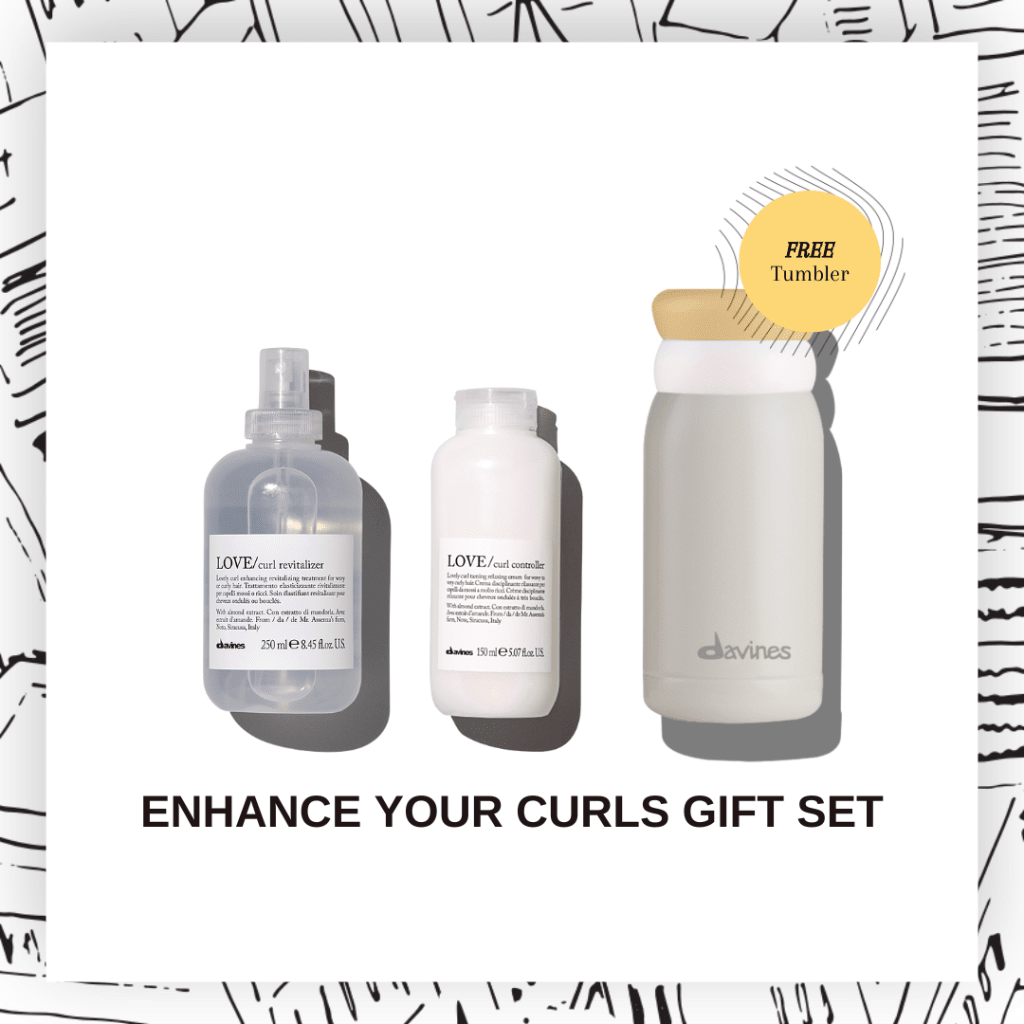 Davines LOVE Curl Enhance Your Curls Gift Set
*Special Offer: FREE Davines Tumbler valued at P1,200 (Tumbler color subject to availability of stocks)*
LOVE Curl Revitalizer 250ml

Elasticising and revitalizing spray for wavy or curly hair. It boosts the vitality and elasticity of curls between shampoos. It controls the frizz effect.
LOVE Curl Controller 150ml
A cream for controlling volume with an anti-frizz effect for wavy and very curly hair. It defines the curl texture leaving the curl soft, light and elastic even in case of high humidity.
<p><strong><img src="https://cdn.shopify.com/s/files/1/1412/4580/files/Love-Curl-Italy_large.jpg?v=1476545318" alt=""></strong></p><p><br>Products in the <a href="https://www.hairmnl.com/collections/davines-essential-haircare"><i><u>Davines Essentials</u></i></a>&nbsp;line are all free from sulfates and parabens; instead, they have active ingredients&nbsp;from&nbsp;<strong>rare fruit and vegetable strains</strong>&nbsp;grown in Italy to help promote biodiversity.&nbsp;The scent that characterizes the <a href="https://www.hairmnl.com/collections/davines-love"><strong><u>LOVE family</u></strong></a> has a citrus and green note.</p><p><strong>LOVE Curl&nbsp;Revitalizer 250ml</strong></p><ul><li>Strong anti-frizz control.</li><li>Revitalizing effect for curly hair.</li><li>Rich in proteins, vitamins B and E with an elasticizing and volumizing action.</li><li>Natural active ingredients.</li></ul><p><strong>LOVE Curl Controller 150ml</strong></p><ul><li>It controls hair volume with an anti-frizz effect.</li><li>Soft, elastic and light curls.</li><li>Humidity resistant.</li><li>Rich in proteins, B-group vitamins, vitamin E, unsaturated fatty acids, magnesium, iron, potassium, copper and phosphorus, with an elasticizing and volumizing action.</li></ul><p>Obtained with 100% clean energy. Zero impact, essential and recyclable packaging.</p>
<p><strong>LOVE Curl&nbsp;Revitalizer 250ml</strong></p><ol><li>Apply to dry hair from a distance of around 10-20cm.</li><li>Do not rinse off.</li></ol><p><strong>LOVE Curl Controller 150ml</strong></p><ol><li>Apply to towel dried hair after using&nbsp;<a href="https://www.hairmnl.com/products/davines-essentials-love-conditioner-lovely-curl-enhancing-conditioner-for-wavy-or-curly-hair">LOVE Curl Conditioner</a>&nbsp;or&nbsp;<a href="https://www.hairmnl.com/products/davines-essentials-love-curl-mask-lovely-curl-enhancer-for-wavy-or-curly-hair">LOVE Curl Hair Mask</a>.</li><li>Do not rinse off.</li><li>Dry the hair.</li></ol><p><strong>FREQUENCY OF USE</strong></p><p>Suitable for&nbsp;<i>everyday</i> use</p>
<p><strong>NATURAL ACTIVE INGREDIENTS</strong></p><p>With even more effective extract of&nbsp;<i>Noto Almond</i>, Slow Food Presidium. Rich in proteins, B vitamins, vitamin E, unsaturated fats, magnesium, iron, potassium, copper and phosphorus with an elasticising and volumizing action.</p><p><strong>FULL INGREDIENTS</strong></p><p><strong>LOVE&nbsp;Curl&nbsp;Revitalizer 250ml</strong><br>AQUA / WATER / EAU, ALCOHOL DENAT., GLYCERIN, POLYSORBATE 20, VP/VA COPOLYMER, POLYQUATERNIUM-69, PARFUM / FRAGRANCE, POLYQUATERNIUM-11, DISODIUM EDTA, PRUNUS AMYGDALUS DULCIS SEED EXTRACT / PRUNUS AMYGDALUS DULCIS (SWEET ALMOND) SEED EXTRACT, LIMONENE, CITRIC ACID.</p><p><strong>LOVE Curl Controller 150ml</strong><br>AQUA / WATER / EAU, GLYCERIN, CYCLOPENTASILOXANE, CETEARYLALCOHOL, VP/DMAPA ACRYLATES COPOLYMER, PANTHENOL, POLYQUATERNIUM-37, BEHENTRIMONIUMCHLORIDE, DIMETHICONE, PROPYLENE GLYCOL DICAPRYLATE/DICAPRATE, AMODIMETHICONE, BENZYL ALCOHOL, PARFUM / FRAGRANCE,VINYL CAPROLACTAM/VP/DIMETHYLAMINOETHYL METHACRYLATE COPOLYMER,DIMETHICONOL, ISOPROPYL ALCOHOL, SODIUM BENZOATE, DISODIUMEDTA, PPG-1 TRIDECETH-6, PRUNUS AMYGDALUS DULCIS SEED EXTRACT /PRUNUS AMYGDALUS DULCIS (SWEET ALMOND) SEED EXTRACT, DISILOXANE,CITRIC ACID, TRIDECETH-12, CETRIMONIUM CHLORIDE, SORBITAN OLEATE,LIMONENE, BENZALKONIUM CHLORIDE, CITRONELLOL.</p>
It makes my curls more manageable