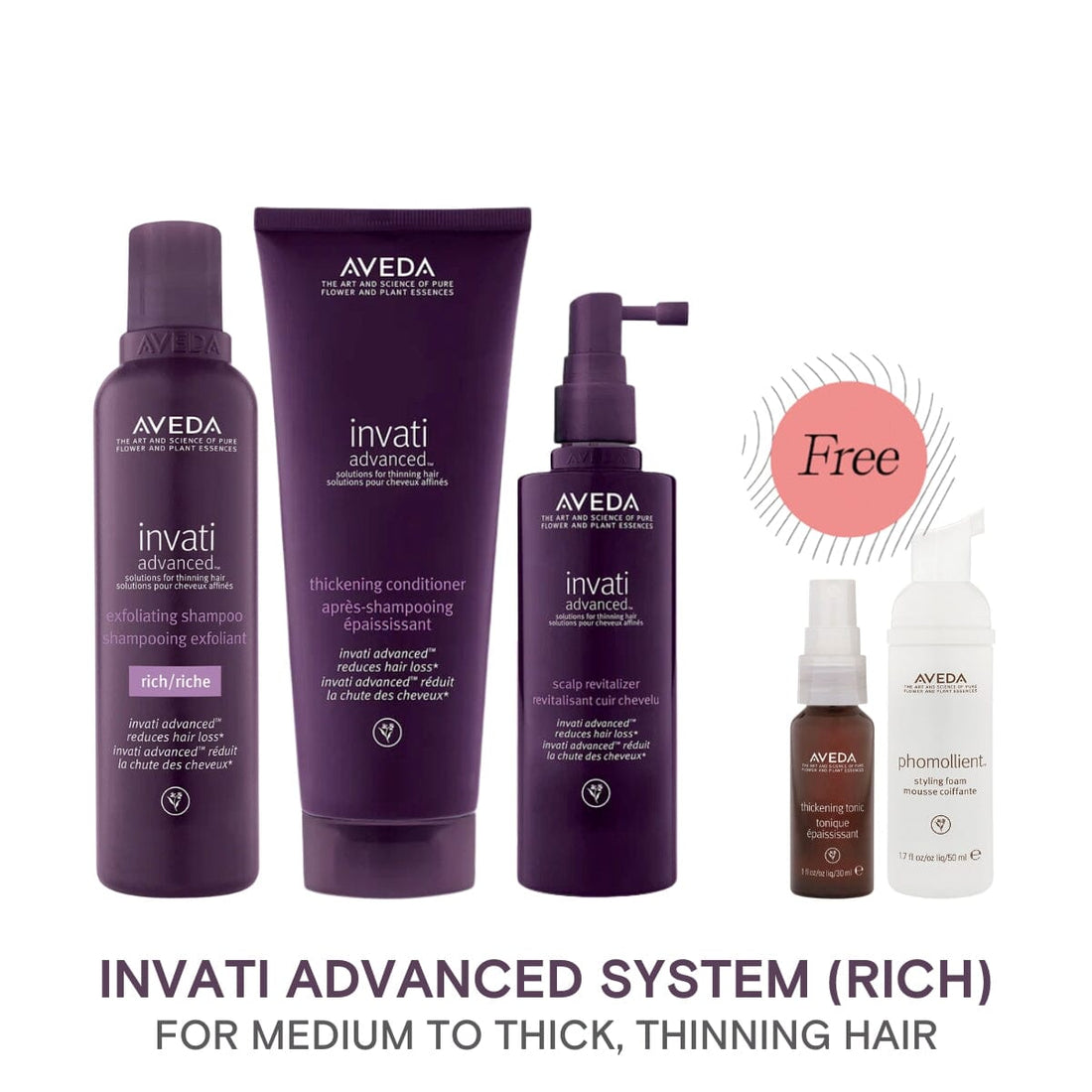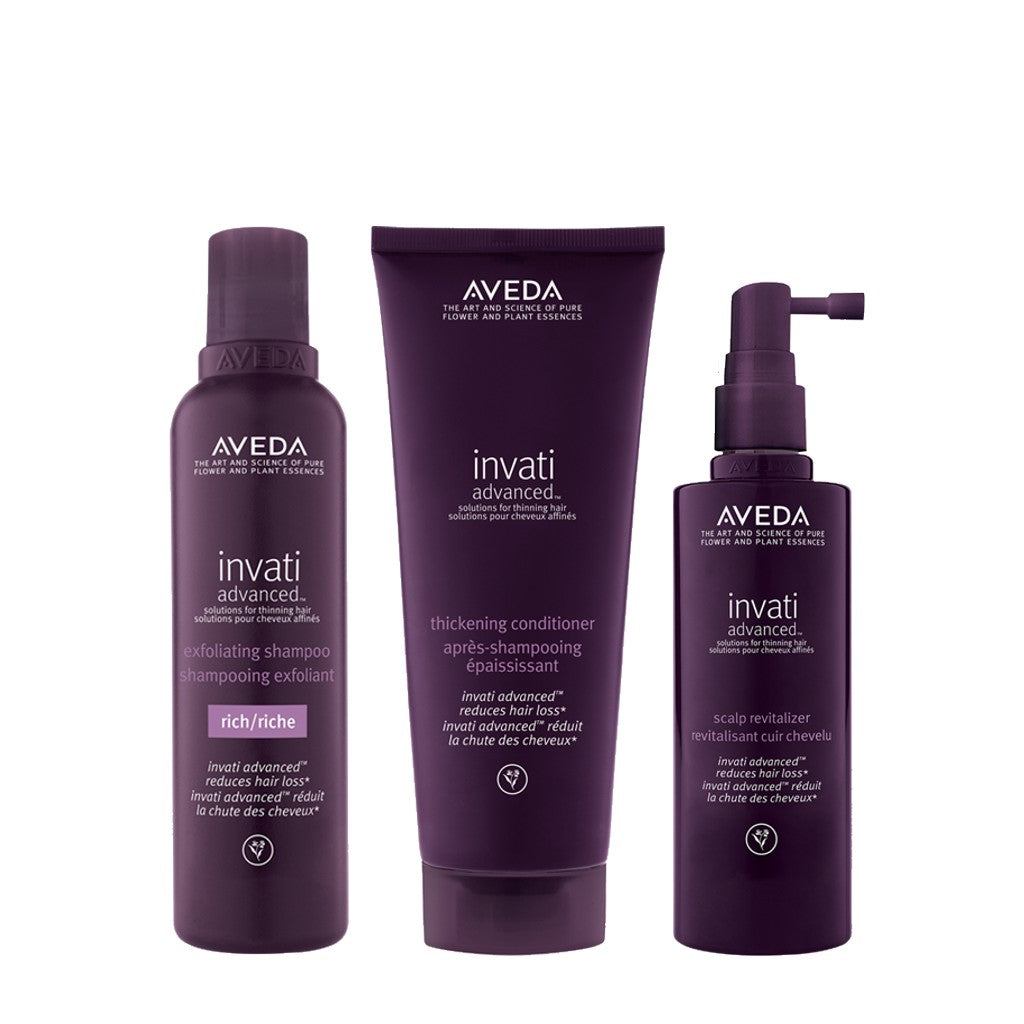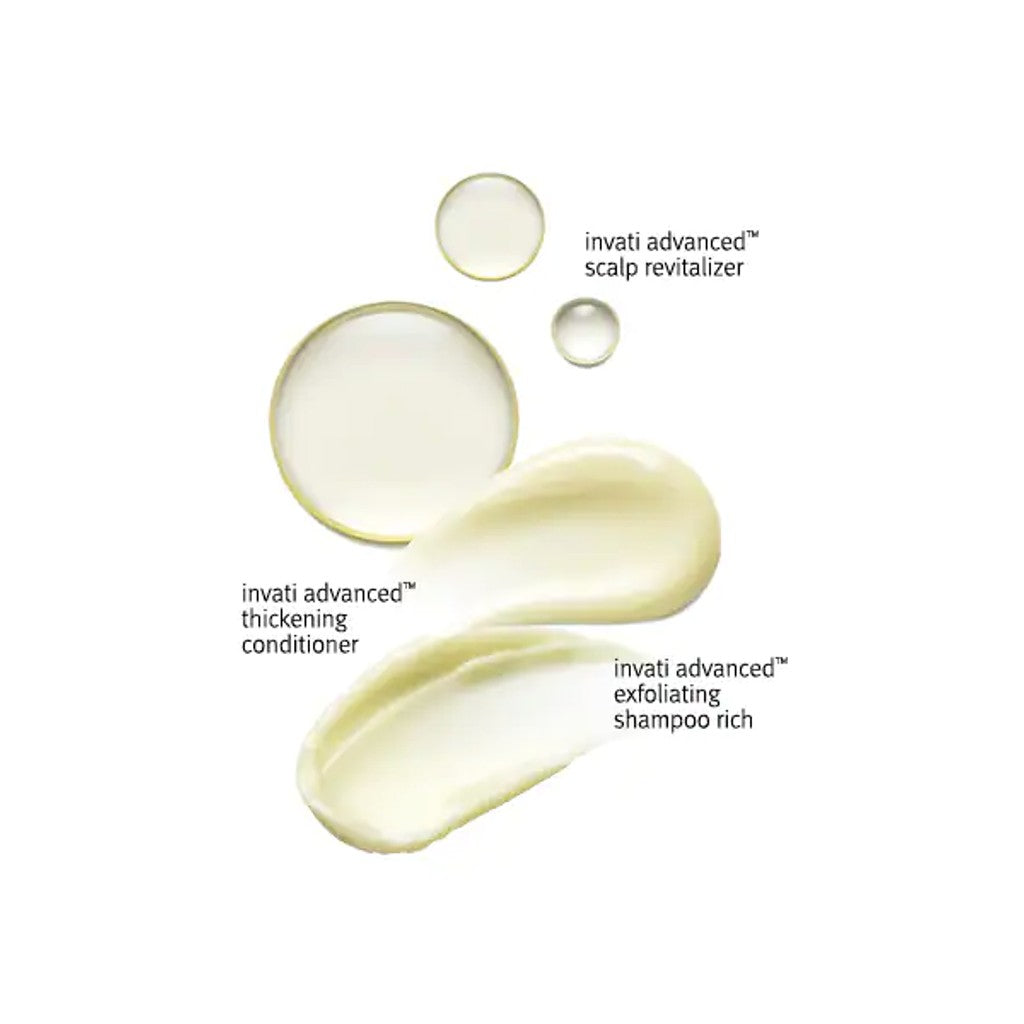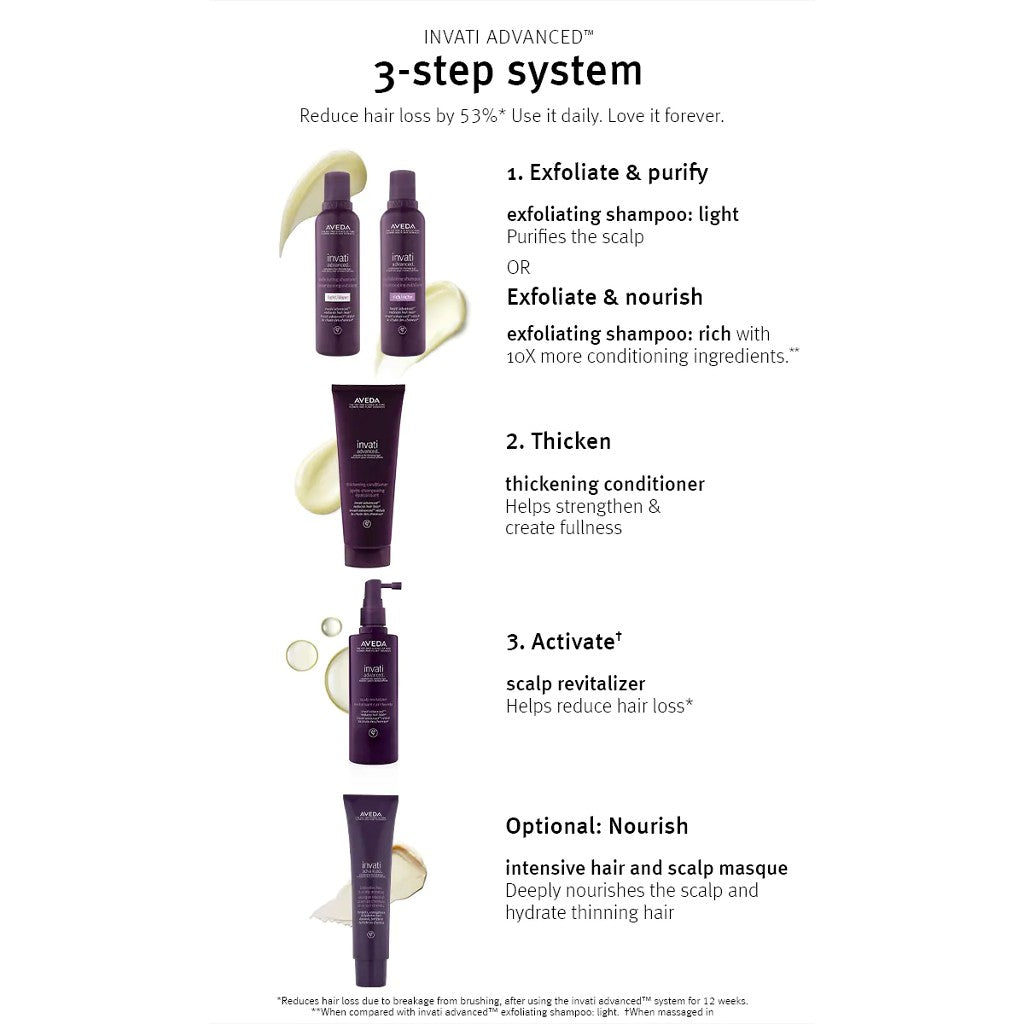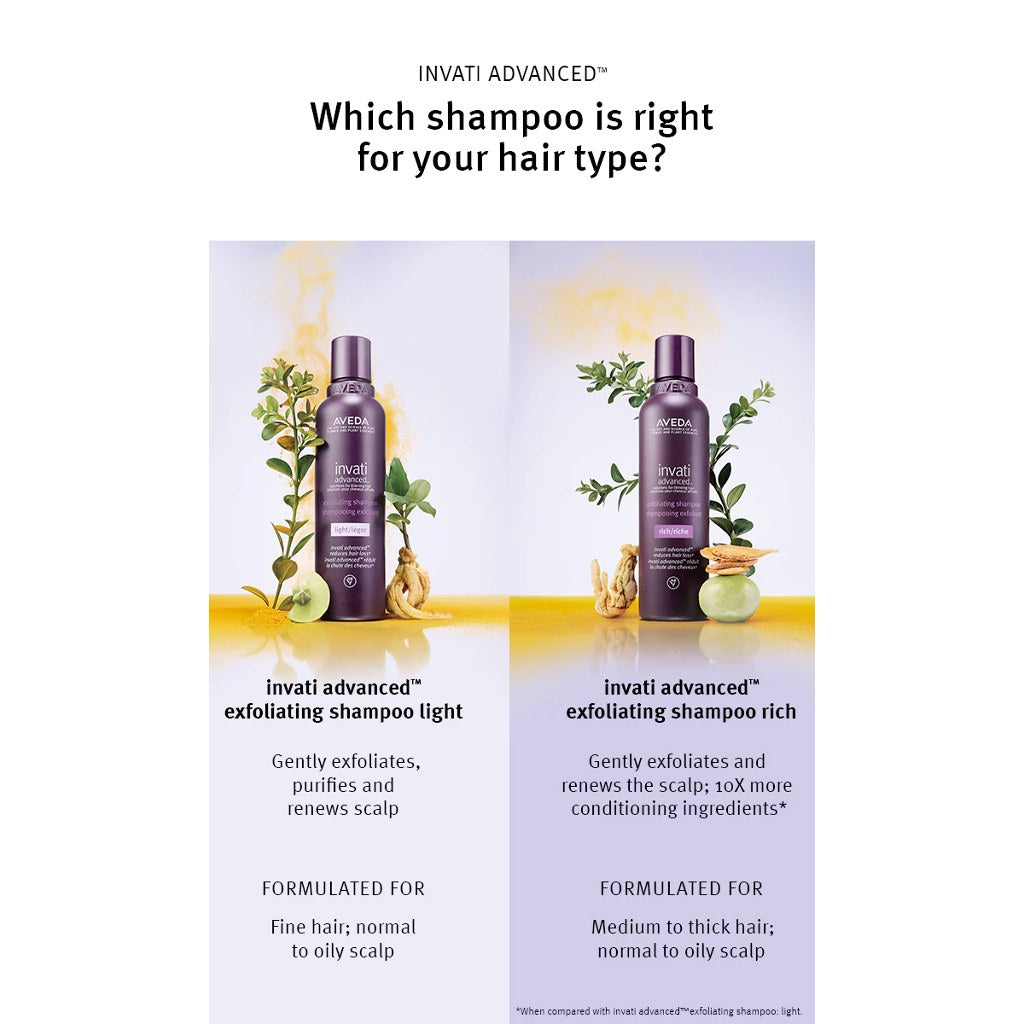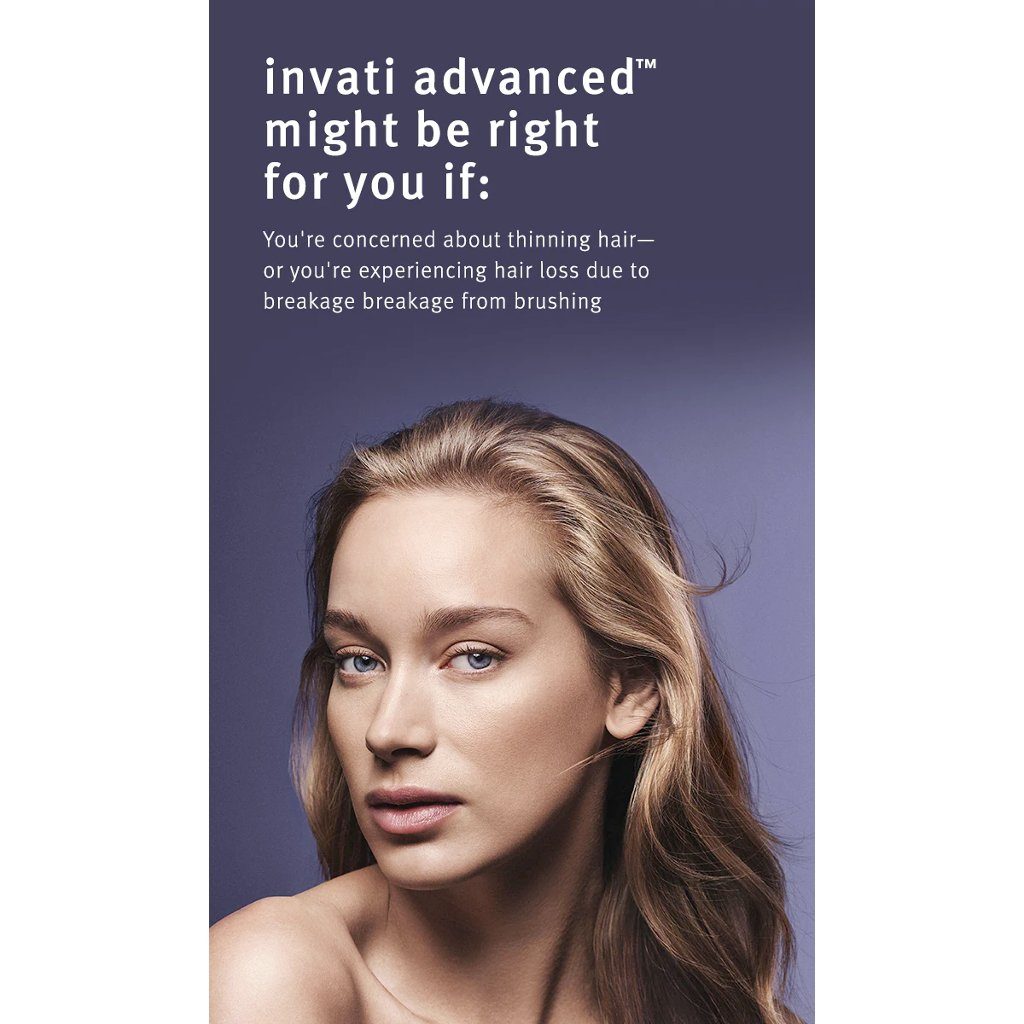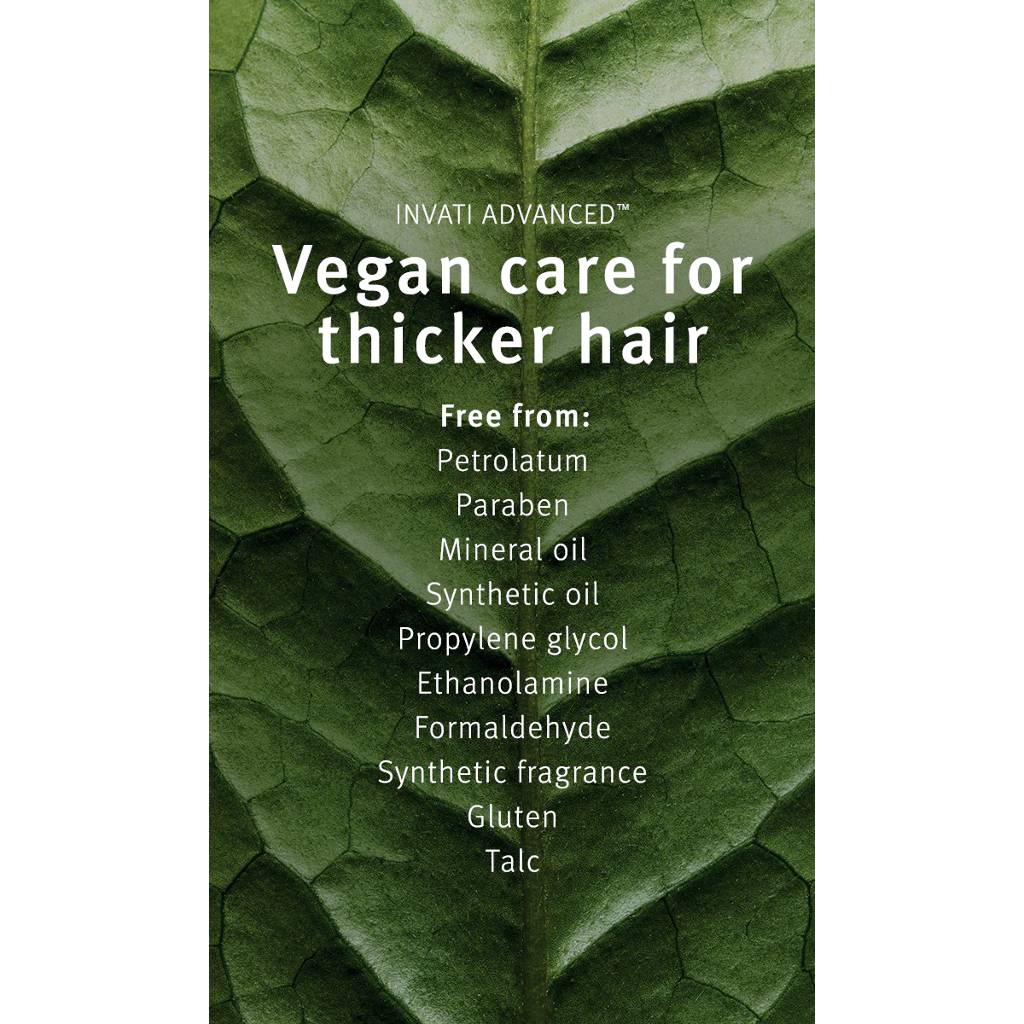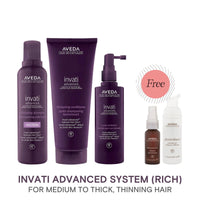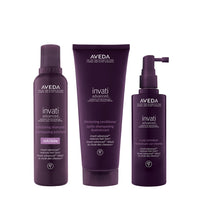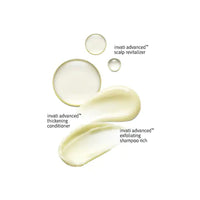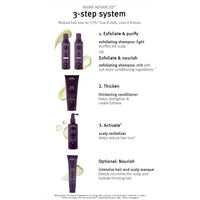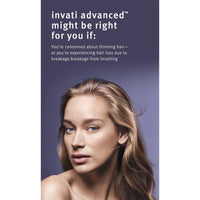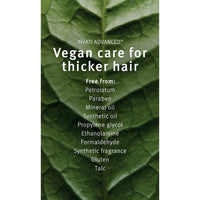 AVEDA Invati Advanced™ System Rich Thickening Set
*Special Offer: FREE Phomollient Styling Foam 50ml and Thickening Tonic 30ml (Until supplies last)*
Invati Advanced™ is an innovative system that reduces hair loss by 53%* and instantly thickens the hair when applied once daily. Inspired by Ayurveda - the ancient healing art of India, this 94% naturally derived** system, featuring an invigorating blend of Ayurvedic herbs, helps keep the hair you have longer.* A patented bio-fermented blend plus Ayurvedic herb blend with ginseng and certified organic turmeric invigorates the scalp when massaged in, while certified organic amla instantly thickens the hair.
Invati Advanced™ may be right for you if: You're concerned about thinning hair - or you're experiencing hair loss due to breakage from scalp-pulling styles (such as tight braids, ponytails, or extensions), aging or post-pregnancy.
AVEDA Invati Advanced™ Exfoliating Shampoo Rich 200ml
Nourishing daily shampoo that exfoliates the scalp by removing build-up that can clog pores, and cleanses and detangles medium-to-coarse hair types to help prevent breakage during shampooing.


AVEDA Invati Advanced™ Thickening Conditioner 200ml
Instantly thickens and delivers weightless conditioning to help protect the hair from breakage. Naturally derived amino acids mimic hair's building blocks to help strengthen hair from roots to ends.
AVEDA Invati Advanced™ Scalp Revitalizer 150ml
Reduces hair loss* to help keep the hair you have longer. When applied once daily, this invigorating formula penetrates to help support hair's natural keratin, it instantly thickens to help lift hair at the root and invigorates the scalp when massaged in.
HAIR TYPE
Ideal for medium to thick hair; normal to dry scalp
PURE-FUME™ AROMA
Luxurious aroma featuring certified organic lavender, rosemary, geranium, vanilla, and other pure flower and plant essences
*Due to breakage from brushing, after using the Invati advanced™ System for 12 weeks.**From plants, non-petroleum minerals or water.
<p><strong>INVATI™</strong>&nbsp;means "invigorate" in Sanskrit and taps the power of Ayurveda—the ancient healing art of India—to invigorate the scalp when massaged in.</p><p><strong>AVEDA Invati Advanced™ Exfoliating Shampoo Rich</strong><br>Nourishing shampoo gently exfoliates and renews the scalp.<br>Winner of Harper's Bazaar <i>Best Thickening Shampoo 2019.</i><br>SHAPE Editor's Pick for <i>Best Exfoliating Shampoo for Thinning Hair.</i></p><ul><li>Reduces hair loss by 53%* when used as part of the Invati advanced™ 3-step system.</li><li>4 out of 5 women say their hair looks and feels thicker and fuller.**</li><li>Formulated for medium to thick thinning hair, and normal to dry scalp types.</li><li>Formulated with 10X more conditioning agents*** for added nourishment.</li><li>Wintergreen-derived salicylic acid helps remove build-up that can clog pores.</li><li>A blend of Ayurvedic herbs including ginseng and certified organic turmeric invigorate the scalp when massaged in.</li><li>Delivers a soft, smooth and nourished afterfeel.</li><li>Sulfate cleanser-free formula with low lather.</li><li>Color safe.</li></ul><p><strong>AVEDA Invati Advanced™&nbsp;Thickening Conditioner</strong><br>Instantly thickens thin and thinning hair with fullness that lasts all day.</p><p>Winner of the 2021 Glamour Beauty Awards for the <i>Best Professional Conditioner for Volume</i> and Harper's Bazaar <i>Best Thickening Conditioner 2019</i>.</p><ul><li>Instantly thickens thin and thinning hair with fullness that lasts all day.</li><li>Reduces hair loss by 53%* when used as part of the Invati Advanced™&nbsp;3-Step System. 4 out of 5 women say their hair looks and feels thicker and fuller**.</li></ul><p><strong>AVEDA Invati Advanced™ Scalp Revitalizer</strong><br>Daily leave-in treatment that reduces hair loss* to help keep the hair you have longer and provide thicker, fuller, healthier-looking hair.</p><ul><li>Reduces hair loss by 53%* when used as part of the&nbsp;Invati Advanced™&nbsp;3-step System.</li><li>4 out of 5 women say their hair looks and feels thicker and fuller.**</li><li>Formula with our innovative blend of tangerine peel and Japanese knotweed penetrates to help support hair's natural keratin.</li><li>Our patented bio-fermented blend plus our Ayurvedic herb blend with ginseng and certified organic turmeric invigorate the scalp when massaged in.</li><li>Certified organic amla instantly thickens to help lift the hair at the root.</li></ul><p><strong>FREE FROM</strong></p><ul><li>Parabens</li><li>Mineral Oil</li><li>Petrolatum</li><li>Formaldehyde</li><li>Animal Ingredients</li><li>Synthetic Fragrance</li><li>Gluten</li></ul><p><strong>Vegan, Cruelty Free</strong></p><p><i>*Due to breakage from brushing, after using the Invati Advanced™ System for 12 weeks.</i><br><i>**In a 12-week consumer study of 104 women using the Invati Advanced™ System.</i><br><i>***When compared with Invati Advanced™ Exfoliating Shampoo: Light.</i></p>
<p><strong>STEP 1 - EXFOLIATE</strong><br>Massage <strong>Invati Advanced™ Exfoliating Shampoo Rich</strong>&nbsp;into wet hair. Rinse.</p><p><strong>STEP 2 - THICKEN</strong><br>Massage &nbsp;<strong>Invati Advanced™&nbsp;Thickening Conditioner</strong> into wet hair and scalp. Rinse. Towel-dry.</p><p><strong>STEP 3 - ACTIVATE</strong></p><ul><li>Apply <strong>Invati Advanced™ Scalp Revitalizer&nbsp;</strong>once daily</li><li>Lift hair in sections to spray directly onto scalp. Spray 16 times, evenly covering head. Hair may be damp or dry. Gently massage in. Do not rinse.</li><li>Use with the complete Invati advanced™ system. Use it daily. Love it forever.</li></ul>
<p><strong>FUNCTIONAL BOTANICALS</strong></p><ul><li>Wintergreen-derived salicylic acid exfoliates and helps remove build-up that can clog pores.</li><li>Babassu-derived cleanser gently clarifies the hair and scalp.</li><li>Powerful blend of Ayurvedic herbs, including ginseng and certified organic turmeric, invigorate the scalp when massaged in.</li><li>Certified organic amla instantly thickens hair from root to tip.</li><li>Micellar cleansing system enhances purification.</li></ul><p><strong>FULL INGREDIENTS</strong></p><p><strong>AVEDA Invati Advanced™ Exfoliating Shampoo Rich</strong><br>Water\Aqua\Eau, Sodium Lauroyl Methyl Isethionate, Sodium Chloride, Methyl Soyate, Babassuamidopropyl Betaine, Sodium Methyl Cocoyl Taurate, Cocamide Mipa, Glycol Distearate, Propanediol, Curcuma Longa (Turmeric) Root Extract, Panax Ginseng (Ginseng) Root Extract, Emblica Officinalis Fruit (Amla) Extract, Lauric Acid, Glyceryl Caprylate, Lactic Acid, Sodium Laurate, Methyl Trimethicone, Arginine, Salicylic Acid, Acetyl Carnitine Hcl, Sodium Gluconate, Acrylates/Dimethicone Copolymer, Guar Hydroxypropyltrimonium Chloride, Malt Extract, Adenosine Phosphate, Creatine, Yeast Extract\Faex\Extrait De Levure, Caffeine, Dimethicone Peg-8 Polyacrylate, Polyglyceryl-10 Laurate, Fragrance (Parfum), Linalool, Eugenol, Geraniol, Citronellol, Citral, Benzyl Benzoate, Limonene, Potassium Sorbate, Phenoxyethanol</p><p><strong>AVEDA Invati Advanced™&nbsp;Thickening Conditioner</strong><br>Water\Aqua\Eau , Cetearyl Alcohol , Propanediol , Behentrimonium Methosulfate , Cocos Nucifera (Coconut) Oil , Emblica Officinalis (Amla) Fruit Extract , Curcuma Longa (Turmeric) Root Extract , Panax Ginseng (Ginseng) Root Extract , Centella Asiatica (Hydrocotyl) Extract , Aleurites Moluccana (Kukui) Seed Oil , Caffeine , Tocopherol , Hydrolyzed Soy Protein , Malt Extract , Adenosine Phosphate , Creatine , Yeast Extract\Faex\Extrait De Levure , Acetyl Carnitine Hcl , Dihydroxypropyl Arginine Hcl , Distearyldimonium Chloride , Caprylyl Glycol , Dimethicone , Methyl Trimethicone , Dimethicone Peg-8 Polyacrylate , Polyglyceryl-10 Laurate , Acrylates/Dimethicone Copolymer , Citric Acid , Fragrance (Parfum) , Linalool , Eugenol , Geraniol , Citronellol , Citral , Benzyl Benzoate , Limonene , Potassium Sorbate , Phenoxyethanol &lt;ILN43205&gt;</p><p><strong>AVEDA Invati Advanced™ Scalp Revitalizer</strong><br>Alcohol Denat., Water\Aqua\Eau, Glycerin, Citric Acid, Curcuma Longa (Turmeric) Root Extract, Panax Ginseng (Ginseng) Root Extract, Emblica Officinalis (Amla) Fruit Extract, Glycyrrhiza Glabra (Licorice) Root Extract, Citrus Reticulata (Tangerine) Peel Extract, Polygonum Cuspidatum (Japanese Knotweed) Root Extract, Camellia Sinensis (Green Tea) Leaf Extract, Laminaria Saccharina (Seaweed) Extract, Rubus Idaeus (Raspberry) Leaf Extract, Epilobium Fleisheri Extract, Adenosine Phosphate, Arginine, Acetyl Carnitine Hcl, Creatine, Pyridoxine Hcl, Glucosamine Hcl, Caffeine, Tocopheryl Nicotinate, Tocopheryl Acetate, Malt Extract, Yeast Extract\Faex\Extrait De Levure, Panicum Miliaceum (Millet) Seed Extract, Hydroxypropyl Methylcellulose, Dipotassium Glycyrrhizate, Butylene Glycol, Peg-40 Hydrogenated Castor Oil, Hydroxypropylcellulose, Simethicone, Zinc Sulfate, Sodium Hydroxide, Fragrance (Parfum), Linalool, Limonene, Citronellol, Citral, Eugenol, Geraniol, Benzyl Benzoate, Farnesol, Benzyl Salicylate, Potassium Sorbate, Phenoxyethanol&nbsp;</p>